Useful guide uncovers sophisticated drink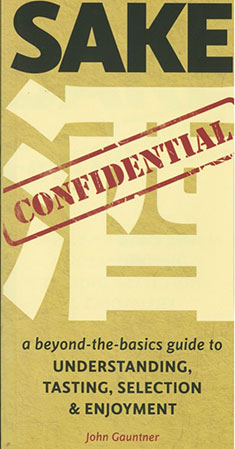 There are libraries full of books about the great wines of the world. Lucrative careers have been forged by those with palettes sensitive enough to discern the subtleties of cat's pee and gooseberries with an after taste of rubber tyres, at wine-tastings.
Many a man has managed to explain the mysteries of what makes a fine malt whisky. But until now, little has been available—in English at least—for those who would like to discover the many layers of sophistication associated with nihon-shu (Japanese sake).
As we report on page 9, London has fallen in love with sake. If you thought that the drink was simply something that you consumed, either chilled or heated, with your raw fish, and that it was nothing special, think again.
There is an entire universe to be explored: do you know your junmai (sake made with only rice, water and koji mould) from your non-junmai? What of namazake (unpasteurised sake)? Think about ginjo (super-premium sake).
John Gauntner is the only non-Japanese certified as both a sake expert assessor and a master of sake tasting. His delightfully readable book affords an insight into the way the sake industry really works.
In a couple of dozen chapters Gauntner explores how sake is made, graded and priced. He also advises on such issues as how to best serve the drink and how to approach the matter of food pairing. He is quick to dispel the belief that sake should only be served with Japanese dishes.
Each section is a distinct essay—on just about every aspect of the sake trade. His work includes a tasters' guide to a range of specific types of sake, including details of the maker.
For example, Yuho "Yama-oroshi Junmai Kimoto" (from Ishikawa Prefecture) is described as having a "rich, honey-lemon nose. Dry and umami-filled flavour, smooth and fine-grained …"
Gauntner's descriptions of the various sake he introduces are never pretentious. His skill and experience in the business mitigates against that, just as they illuminate the chapters that deal with how sake is made and distributed. It is tempting to say that this is the definitive book on the subject.
But in the end, as he puts it, there is no conclusion: "the more you look into [sake], the deeper and deeper the rabbit hole goes".
There is, however, a most helpful glossary that goes at least someway to penetrating that burrow.
This delightful and useful book may be ordered directly from the publisher at www.stonebridge.com. It is a wise investment for anyone who wishes to understand the subtleties of sake.