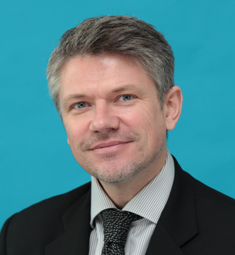 Luc Delaplace
General manager for Japan
Air France and KLM
Founded in 1919, KLM Royal Dutch Airlines is the oldest airline still flying under its original name. Operating safe and comfortable flights in Japan for 61 years, KLM is the only airline that has direct daily links between Narita and Kansai airports and Amsterdam.
What notable advantages does flying with KLM offer?
Our hub airport, Schiphol, offers numerous advanced facilities and smooth connections as part of our "one roof" terminal concept. KLM offers comfortable, efficient transits at this airport and smooth trips to destinations within its network.
In consideration of the environment, KLM has been working to put in place sustainable policies, such as its CO2 Compensation Service and biofuel programmes.
What special services or benefits can frequent flyers receive from your Flying Blue programme?
With our 18 Skyteam airline partners, Flying Blue members can easily accrue and redeem air miles.
Flying Blue members who travel frequently between Japan, China and South Korea can use Skyteam members Korean Air, China Airlines, China Southern Airlines and China Eastern Airlines.
Another point is that, since Japan Airlines is also a Flying Blue partner, travellers from overseas and Flying Blue members can enjoy our mileage programme on domestic flights in Japan.
How is KLM using social media to provide additional service for customers and to promote the KLM brand?
We see social media as one of the most important ways of interacting with our customers and as fundamentally changing the ways in which we engage with our customers by offering a new model for interaction.
KLM provides social media services in several languages, including English and Japanese. Twenty-four hours a day, seven days a week, customers can ask any travel-related questions they might have via Facebook and Twitter.
This year, we are trying to turn what we have learnt from past experiences in social media into business, offering new services such as Trip Planner.
What is your Trip Planner service and how does it benefit your customers?
Trip Planner is a platform that allows one to organise a trip quickly and simply with Facebook friends.
After choosing a destination, travel dates and available ticket prices, the organiser asks their selected Facebook friends to indicate which of the travel plans they prefer.
The flight bookings can then be made very easily on the KLM website
(www.klm.com).
What is Meet and Seat, and why did you decide to launch this service?
With Meet and Seat, passengers with a reservation on a KLM flight can link their Facebook or LinkedIn profiles to their flight, allowing them to see who their fellow travellers are and where they'll be sitting.
If you find someone who has the same background or shares the same interests, you can choose to sit next to them, or arrange to have coffee together before the flight.
This service connects passengers in a new way, and will make air travel even more stimulating for KLM passengers.
We are the first airline to integrate social networking into the regular flight process.
What are the advantages of your Economy Comfort Zone seats?
These seats allow our customers to be more comfortable, have more legroom (10cm), and recline twice as far as do our regular seats. They are at the front of the economy class cabin.
What additional services or benefits do your customers receive when flying between locations in Asia and Amsterdam?
On Asian routes in particular, KLM provides dedicated services, including Asian cabin crews, authentic Asian in-flight meals and entertainment offered in Asian languages. We also have Asian staff at Schiphol airport.
What type of meals do you offer on your flights between Japan and Amsterdam?
We offer two types of meal at no charge: a Western meal and a complete Japanese meal.
In business class, the Japanese meal is managed by Yamazato, the Michelin-starred Japanese restaurant in the Hotel Okura Amsterdam. The Western meal is handled by Dutch chef Jonnie Boer of the Netherlands restaurant De Librije, also a Michelin-starred establishment.
On long-haul flights from Amsterdam, we offer an à la carte paid meal service.
What are your hopes for the future of the KLM brand?
In addition to our existing target segments in Japan, KLM wishes to develop even more brand awareness and affinity with younger generations.
We wish to become a leading European company in the industry and one that is fully environmentally aware.
What developments has KLM planned for the Asia market?
Although the economic situation in Europe remains unstable, Asia's purchasing power—which includes tourist-related activities—remains very strong. KLM is continuing both to invest in providing better products and services to our Asian customers, and to evaluate all possible opportunities to expand our impact in Asia.