"I've just always been obsessed by good quality, things that endure, things that are properly made, things that have some sort of heritage to them, and with a little twist to them as well", said Jeremy Hackett, the firm's founder and chairman. "I like to say it's classic, but not old fashioned, and I think there's a fine line between being old fashioned and classic".
That line is perhaps closely tied to evolution—a sense of progress that is nonetheless rooted in the past. And it is evolution of a sort that brought Hackett to Tokyo in November, when he came to the city to launch Mr. Classic: Yesterday & Tomorrow, a bilingual update from the Japanese publisher Banraisha of the 2008 book of the same name.
"I had no intention of doing another book, really, but I was here last year and Yoshimi [Hasegawa], who has written several books on Savile Row and things, approached me and said, 'Would you like to do a Mr. Classic book?'", said Hackett. "I thought, well, yeah, ok, I've got lots of photos and stories and blogs that I've written before that I've not really done anything with and bits I've written for various magazines, so I thought well, let's cobble it together".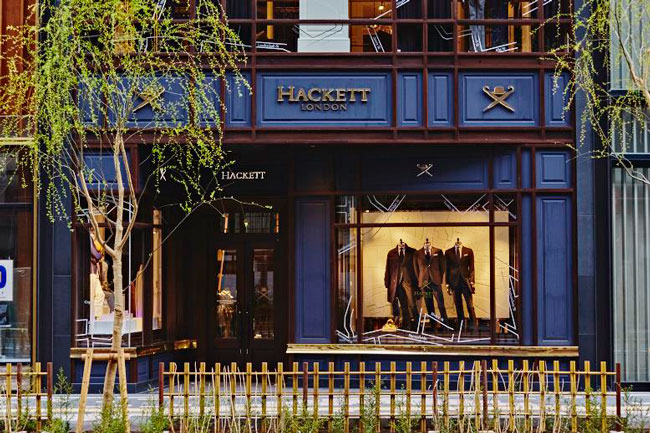 Made up of articles and stories on many of the finer things in life—luxury cars, watches, exotic trips and, of course, fine clothes—the book also includes background on his life and the Hackett brand, his well-received contribution to the Diary of a Somebody series in the Financial Times' How to Spend It magazine and, naturally, a chapter on his visits to Japan. These are all interspersed with photographs, most of them taken by Hackett himself. "I've become quite a fan of Instagram", he said, "so there's quite a lot of Instagram photographs in there".
Those who follow his account—@mrjhackett—will know what to expect—quirky, arty shots of Hackett's work and travels, as well as plenty of photos of his two Sussex Spaniels, Harry and Muffin. And as well as being an outlet for Hackett's passion for photography, it also gives an indication to what is best received, with his pets being particularly popular.
"It's a sort of interesting way of doing market research, I suppose", he added.
Inspiration abroad
As the book's chapter on Japan attests, Hackett has been visiting the country for well over two decades, his first trip having been in 1989. Although primarily for business and not as extensive as he would have liked, the trips have nonetheless afforded him the opportunity to catch a glimpse of Japanese style, and find some inspiration along the way.
"I've always found that the Japanese have a unique way of actually putting British clothes together, and when I come here I'm always inspired by the way [they do it]", said Hackett. "I think, 'Oh, that's good—we should do that in London'.
"It's just the little tweaks they do with things. They're quite playful with it as well, and mix things up quite a bit.
"They might buy tweed and then it will be put together in a really rough way, in a street way that is a million miles away from what you might see in Savile Row, but the original reference was Savile Row.
"Or they might go back to, say, the Prince of Wales, the Duke of Windsor and look at the way they put clothes together, and then reinterpret that. Fair Isle sweaters [for example]. But when you put those on young kids in Aoyama, it looks completely different, but new and fresh.
"Even the real fashion designers still look to Britain as a sort of inspiration", he continued, "whether it's Comme des Garçons or something like that, you can tell in their collections that they've looked back at some historic British reference and used it in a new way. And that's great, I like that."
Of course, underpinning this is the high esteem in which British tailoring and menswear are held globally, something that runs from Tokyo to Dubai and Madrid.
"I believe that whenever people become successful, wherever they are in the world, they think, 'Oh, I must go to London, go to Savile Row and have my shirts made, get my shoes made, get my suits made'", he said.
"The whole concept of British style is something that is exportable all over the world, [where it sells] more so than in England. I think it's one of those things that distance lends enchantment … You go to Milan and you see guys who look more British than anybody you see in London, and they take it very seriously.
"To most people I suppose there's something romantic about the English lifestyle that we apparently live, but most of us don't, of course—the house in the country, the social season that we have, the horse racing, the polo, the tennis, the cricket, the rowing. These are all things that England or Britain has a great reputation for. Again, it's seen abroad much more clearly than it is in our own country".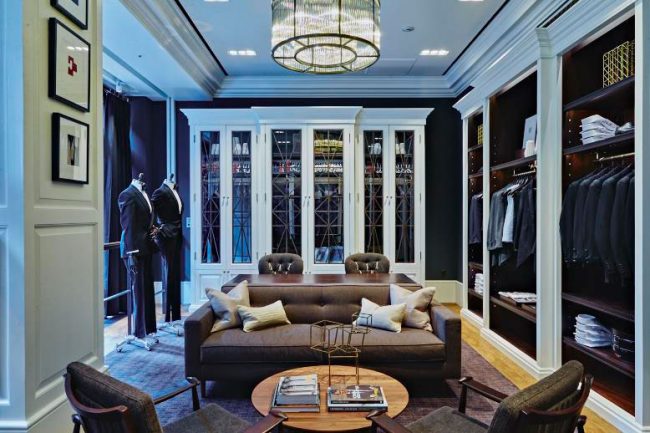 Indeed, it is associations with such events that have helped drive the Hackett brand. The firm has just taken on a partnership with the Henley Royal Regatta, providing clothes for the officials, and this joins existing agreements with Aston Martin Racing, Williams Martini Racing and British Army Polo.

"It's a way of us showing the English heritage as an add-on to not just selling clothes, but selling clothes around the lifestyles that are part of all these sports".

Although quality tailoring can be found in many places around the world, it is fair to say that nowhere has the same cachet as Savile Row. But although an inspiration for so many, few have been as committed to exporting its designs and sensibilities as Hackett London, which has grown from a small shop in Parsons Green, West London, in 1983 to become one of the biggest names in menswear. And those same Savile Row principles have remained embedded in the Hackett brand throughout its history.