It may be shocking, amusing or simply stunning, but Tokyo's street fashion scene is never dull. Asked for the single word that would sum up the city's ever-changing sense of couture, Philomena Keet does not hesitate: Fanatical.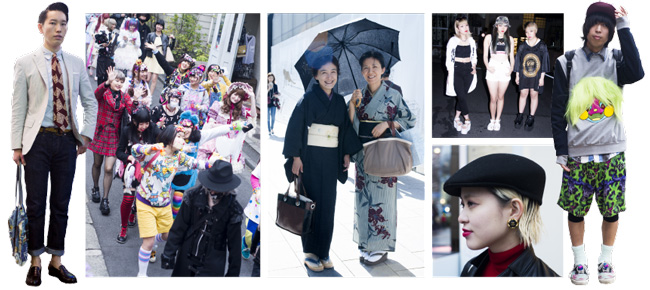 Tokyo's fashion-obsessed inhabitants are the subject of Keet's latest book, Tokyo Fashion City, which is part guide book and part fashion photography album. Released by Tuttle Publishing late last year, the title serves to expand on her first extremely successful fashion work, The Tokyo Look Book.
The book effectively takes readers on a stroll through eight districts of Tokyo that each have a reputation for an interesting fashion scene, be that cutting-edge, traditional or the embracing of a subculture.
From Harajuku's mix of high-fashion and streetwear to eclectic and constantly evolving Shibuya, chic Daikanyama and the goth and geek hangouts of Shinjuku and Ikebukuro, Keet and photographer Yuri Manabe examine what is in vogue and how it is being worn. Other stops on the tour include bohemian Koenji, the otaku streets of Nakano, the cosplay mecca of Akihabara, the more traditional lanes of east Tokyo and the luxury-filled streets of Ginza.
Each of the districts is explored through its history, its most famous and iconic shops and local signature styles. The book also includes maps to the districts, as well as listings of shops and cafés.
New trend
Keet first visited Japan with a friend after completing secondary school, an experience that changed her from being a Sinophile to having a fascination with all things Japanese. After graduating from the University of Oxford, Keet came to Japan with the Japan Exchange and Teaching Programme and taught in Osaka for two years.
She then completed an MA in Japanese Studies at SOAS University of London, which led to a PhD—at the same institution—in anthropology focusing on Tokyo street fashion.
"It was not the fashion industry per se that interested me, but how differently many young people that I saw when I was living in Osaka seemed to treat their clothes and appearance than I was used to from England", she told BCCJ ACUMEN.
"Phenomena such as cosplay, subcultural styles such as gothic lolita, and the creative and egregious youth street fashions", she said. "It was from the anthropological perspective—how did these Japanese youths' clothes contribute to their construction of self and so on—that I became interested in fashion".

Still got it
Keet says that much has been made of the "death of the creative and individualistic street fashion" that made Harajuku famous about 20 years ago, but she insists it has not evaporated entirely. The rise of social media in the same time frame means that it has instead moved elsewhere.
"Photographs on sites such as tokyofashion.com show that there are still plenty of interesting and original dressers out there—it is just they are harder to spot among the hordes of more plainly dressed visitors to the area", she said.
In comparison with London, Paris or New York, Tokyo has a wider diversity of styles, while the "extremes" to which people will go with their fashion sense also mark the city out, she said.
"Some Japanese are so fanatical about what they wear that they will push the boundaries of a certain style, often creating new sub-subcultures", she added. "It also means that rarely does a 'style tribe' totally disappear, as there are likely to be at least a handful of hardcore fans keeping it alive somewhere, if not on the streets any more".
Looking back to 2000, she points out, the yamanba girls were turning heads in Shibuya with their deeply tanned faces, white panda eyes and brightly coloured hair and clothes. They continued to exist for many years after they disappeared from the streets, instead congregating in smaller numbers at events organised by and for their subculture and away from the public eye.
"It can be a very anonymous experience living in this city", said Keet. "People tend to blank strangers when commuting and so on, and so they don't bat an eyelid when they see something out of the ordinary—even if it's a gothic lolita in full regalia.
"This allows styles that might get a more unkind reception in London, Paris or New York to flourish in the public eye here".
She also points out that Japan's history of Western fashion is still relatively recent. That brief, approximately 100-year exposure period "means that Western garments are not infused with the social rules and historical context that they are elsewhere, so they can be treated with a more playful freedom".