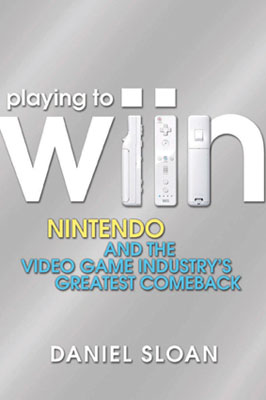 By Daniel Sloan
Tracing the history of media-shy Nintendo, from its origins as a 19th century family business specialising in playing cards to a world-beater that transformed the handheld and home video game-console markets, the book seeks to explain more than simply the success of the Wii. The author examines the dominating influence of former President Hiroshi Yamauchi as he forged a new Nintendo in his own image during his half century tenure, laying the foundations that would make him Japan's richest man after he'd retired.
A chapter on the succession to the role of president of Satoru Iwata—the first non-Yamauchi to occupy the post—illustrates how the founder was able to see the crucial need for fresh blood despite of his traditional Kyoto-centric ways.
After the less-than-stellar performance of the GameCube system, many expected Nintendo to exit the console business the way Sega and others had left it. The book explains how, instead, it went on to retake the mantle of No. 1 video-game maker through the DS and Wii.
Not only did the two consoles outsell their rivals, but by expanding the entire sector through a widening of the gaming demographic, they helped the gaming industry overtake cinema to become the largest entertainment market. (Britain's game development studios and publishers alone employ around 10,000 people and have revenues of £2 billion—making it the world's third largest game development industry).
The final chapter touches on the next phase in Nintendo's history: its glasses-free 3DS portable (which like its predecessors contains chips from British firm ARM) that will be launched in Japan on 26 February, and globally over the following months.