Scones are a popular item in Japanese bakeries, but there is something different about those found here and the ones back in Britain. On a mission to bring the flavour of Cornwall to Japan, UK-based baker Ryan Smedley crafts delicate scones according to authentic recipes. The delightful aroma of baked goodness can be found wafting through Shinjuku Station's NEWoMan complex, and ACUMEN talked to Smedley to find out how it all got started.
How did you become connected with Japan?
It started back in 2013, when I was head baker at the Chough Bakery in Padstow, Cornwall. We were invited to showcase our award-winning pasties at the British Fair at Hankyu Department Store in Osaka and Fukuoka. At those fairs, we made more than 2,000 pasties a day. It was there that I formed a friendship with our buyer, Daisuke Yamada of Mangos Company Limited.

What inspired you to become a baker?
After leaving school at age 16, I decided to go to catering college and become a chef. During my training, and while working in different kitchen environments, I decided to concentrate on and specialise in one area. As I enjoy working with my hands, baking seemed like the perfect fit. I started to work in a local shop, the Chough Bakery, and continued my training until I became a fully qualified baker. Many years later, I became a partner in a family-run business. Over the years, I have continually expanded my knowledge of the trade, explored different methods and techniques, and become more passionate about the food which I produce.
What makes Cornish scones unique?
Scones have been made in Britain as far back as the 1500s. One of the things which makes Cornish scones unique is the way in which you eat them. Our scones are made using only the finest ingredients, and they should only be topped with Cornish jam and Cornish clotted cream—in that precise order. Many parts of Britain top their scones differently, but in Cornwall you'll only find them served one way.
At Demerara we offer five flavours: fig and walnuts; cocoa and chocolate with raspberry; Earl Grey, orange and white chocolate; rum and raisins; and original double butter.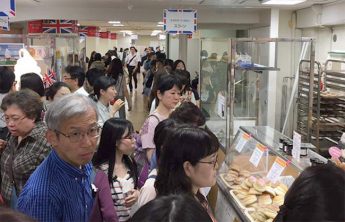 How did Demerara Bakery get started?
Demerara Bakery was founded after I went to Japan to train the Japanese staff. I am often in contact with Mr Yamada, who is the owner, regarding new recipes or to offer technical advice.
What's different about each location?
We have three locations in Tokyo—in Ogikubo, Shinjuku and Futako-Tamagawa—and all are based on the same concept: selling a variety of handmade scones, Cornish jam and clotted cream, as well as offering lots of British bakery treats and goodies.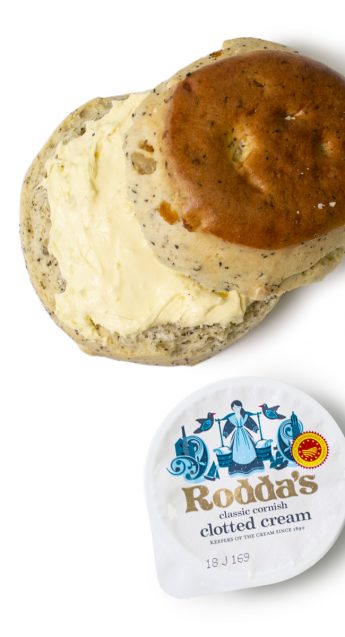 How has Japan reacted to Cornish recipes?
From my experience doing the British fairs over the years, I have found that Cornish scones are always the most popular. The difference between our recipe and that of other scones you may find in Japan is that ours have a lighter texture and we make them according to an authentic Cornish recipe.
Any special memories of Japan?
I've been to Japan three times now for different events, and each trip has been amazing. The people I have met through my visits have been very friendly and welcoming, and they have offered me incredible hospitality. I am always amazed by the response of the Japanese people to British products. I remember when we first went to the British Fair in Osaka. The queues lasted all day just to see us making the pasties. Of course, people also bought some, and we sold out before the fair was closed every day.