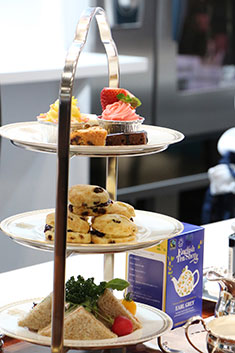 Foodex brings together top UK vendors and refined local palates
Japan sales could help offset falling revenue from EU nations
Traditional British stamp of quality appeals to local buyers
Small UK firms expanding presence in Japan
First-time British exhibitors at Japan's most important food and drink exhibition picked up a range of tips about doing business in this market—with every single one of them taken aback at the enthusiasm for a taste of the UK.
"This is our first time at Foodex Japan and, I would have to say, we came not expecting too much", said James Buchan, chairman of the Edinburgh-based Scottish Fishermen's Organisation Ltd. (SFO).
"We know our product and we know that it is extremely good, but the response here has exceeded our expectations.
"I am very hopeful that I will be going back to Scotland with an order, and if we can do that, then it will be a great day for Japanese customers but an even better one for the Scottish fishing industry".
The organisation represents 200 privately owned Scottish fishing vessels, the majority of which are dedicated to landing langoustine that are widely regarded as among the best in the world.
But the economic crisis that has struck parts of Europe—and particularly Spain—has affected sales, so the SFO made the decision to look further afield and try to crack the Japanese market.
Buchan believes it is a good fit because "this is a mature market where Japanese people are willing to pay for a product they know is going to be good quality".
From Wales to the world
The Welsh food industry also had a strong presence at Foodex, with Keith Smyton, the head of the Food Division in the Welsh Government, also emphasising the close fit between artisan-made Welsh products and a market that appreciates quality.
"In my view, Welsh food is the best in the world, and I appreciate that the market for food and drink here is very sophisticated", Smyton told BCCJ ACUMEN. "Most Welsh food is crafted by companies that are still family-owned and therefore follow all the stages of production, meaning that they are able to bring the very best tastes to your table".
As many as 150 Welsh firms had expressed an interest in entering the Japanese market, with those that were able to take part in Foodex 2014 (4–7 March) reporting positive results.
"We came as part of a trade mission, primarily to get an appreciation of the market", said Edward Burt, managing director of Burts Biscuits & Cakes Ltd. "I have been flabbergasted by the sheer array of products here, but also with the appreciation of food, for quality and price".
Burt did not anticipate reaching an agreement on his first trip to Japan, but was delighted to sign a deal to provide three varieties of the firm's fruit cakes to Barakura English Garden in Nagano.
"Once someone tastes the product, they are able to appreciate it, and it fits very well with retailers here", Burt said. He also met with representatives of department stores and buyers' groups that expressed interest.
The Welsh confectioner is considering working with a local distributor to bring its products to Japan.
The Anglesey Sea Salt Co. Ltd. already has a foot in the door of the Japanese market, said director Alison Lea-Wilson, but there are high hopes for a bigger local presence.
On the menu at the wedding of the Duke and Duchess of Cambridge in April 2011, Anglesey Sea Salt has been recognised with the coveted Protected Designation of Origin status, which guarantees that a product is traditionally and entirely prepared, processed and produced within a specific region.
"It really builds consumer trust that something is an authentic product, and Japanese people understand this", Lea-Wilson said.
Bangers sizzle
The great British sausage was admirably represented at the show by Westaway Sausages Ltd and Charles Baughan, managing director of the Devon-based firm.
"Exports are a long game for us. This is our second year at Foodex and we are getting some tremendous support from Hobgoblin Japan with coming here", Baughan said.
"Japan is a unique country and it would have been foolish of me to come here and think straight off that I had the right product. But I have learned a lot this time and I think we will reach critical mass next year", he said.
In Japan, 98% of the sausages sold are pre-cooked, a major difference compared with other markets, and one that Baughan is working to overcome.
The scent of sizzling Cumberland and Lincolnshire bangers attracted a steady stream of visitors to the Westaway stand, although Baughan expressed regret that Japan is not yet ready to resume sales of prime British beef.
Imports were halted in 1996 due to the outbreak of bovine spongiform encephalopathy (BSE), but there had been hopes in the industry, particularly among manufacturers, that the ban would be lifted in the early part of 2013.
"I have been particularly struck by the number of small producers with extremely high quality cheese and dairy products", said British Ambassador Tim Hitchens.
"I'm also impressed by the small companies that first came three or four years ago and are now seeing their sales rising", he told ACUMEN, picking out the Scottish langoustines, Westaway sausages and the array of real ales being displayed by Loch Ness Brewery.
Stephen Crossland, one of the founding brothers behind the brewery, said, "When we started in 2001, we were a two-barrel brewery, and now we are up to 20, but we have plans to go up to 40 barrels".
Loch Ness's 4.4% bitter and Hoppyness IPA-style ale were favourites among the Japanese.
"We did think that Loch Ness beer would play well in the American market, but there were too many restrictions there so we decided to take a look at Japan.
"I've been very impressed with the country and I think the possibilities for us here are very good, but it's early days and we want to have more of a conversation with the importers that I have been speaking to this week", Crossland added.
"It's important for us to present the brand in the right way, even if that means we go more slowly".