Bling and Home Loans Are Midyear Hits
Keeping up with a 42-year tradition, the
Nikkei Marketing Journal
(19 June) announced its midyear list of
hitto shohin
(popular products).
Using an elaborately lettered sumo-style banzuke design, the thrice-weekly publication, which has picked hit products and services in Japan since December 1971, named high-priced wristwatches, jewellery items and home loans as its respective east and west yokozuna (grand champions).
The watches earned top rating according to sales figures issued by Daimaru Matsuzakaya Department Stores Co. Ltd., which reported a 75% year-on-year increase—perhaps buoyed by Abenomics.
Meanwhile, loosening of the money supply by the Bank of Japan led large numbers of borrowers to inquire about refinancing their mortgages based on historically low fixed rates.
Other strong contenders included Thai tourists in Japan. Having taken advantage of the drop in the value of the yen, their numbers increased for 13 straight months.
In addition, Seven-Eleven Japan Co., Ltd. outlets sold 65mn cups of self-service coffee; Dutch electronics giant Philips scored big with its electric multi-cooker that requires no oil; while Ginza's rebuilt Kabukiza theatre, which opened in April, was expecting 1.1mn visitors in its first year, a projected increase of 20%.
Further down the list was the Volkswagen up!, a one-litre, three-cylinder compact car that in October went on sale in Japan at the basic list price of ¥1.49mn. Since going on sale, Volkswagen Japan has sold over 10,000 units of the vehicle.
Also selling well have been action cameras, which are fastened to helmets or skis to safely record videos while users are engaged in frantic activity.
And Mount Fuji—now a World Heritage Site—is expecting a flood of visitors  during the summer climbing season.
The newspaper bestowed special prizes on Tokyo Disney Resort on the occasion of its 30th anniversary, and a "nice try" award on beef bowl chain Yoshinoya Co., Ltd. for offering extra-cheap ¥280 special meals.
For reasons that should require no explanation, this summer's zannen-sho (booby prize) went to the Boeing 787.

"Moonlighting" Mini Cafes Perk up Coffee Sales
According to the All Japan Coffee Association, the number of coffee shops in Japan in 1981 peaked at 154,630, while the figure for 2012 is expected to reach about 67,000.
This implies not so much a drop in coffee's popularity as it does diversification of how the beverage is marketed.
Nikkei Business (17 June) reported that in May, Nestlé Professional, a division of Nestlé Japan, launched their Nescafé Milano dispenser machine for the food service industry and their ProCare beverage service programme.
As part of the ProCare programme, shops or outlets can rent a Nescafé Milano machine for a flat monthly payment of just ¥15,750. In addition, they will receive continuous technical maintenance, café management support and promotional displays. The firm expects to have 500 machine placements by the end of 2013.
The outlets are free to set their own prices, but their merchandise offerings (up to 14 different blends) are expected to undersell the major chains.
Some 60% of the existing owners of the machines are food and beverage outlets, bars and ice-cream parlours, with the remaining 40% located in retail outlets such as bookstores seeking to make use of surplus space.
Nestlé's marketing manager described the new business—made possible by lending the coffee-making equipment—as "moonlighting cafes".
In addition, coffee importer Key Coffee Inc. is seeking to expand its Key café mini-outlets that can be set up in a space as small as 9.9m2.
Currently there are 13 mini-cafés, and the firm hopes to have 30 of the turnkey operations up and running by the end of the year. Key Coffee provides all the equipment necessary, including menus.
Since the firm eschews a franchising system for these cafés, customers are not obliged to pay licensing fees or royalties. The outlets are treated as a niche business, able to fill … small niches.

Putting the Alpha into Accommodation
Shukan Toyo Keizai's 25 May issue featured a comprehensive review of Japan's air and hotel industries.
Of particular interest are the top five performers among the nation's major hotels in each of four categories (the latest data is from FY2011).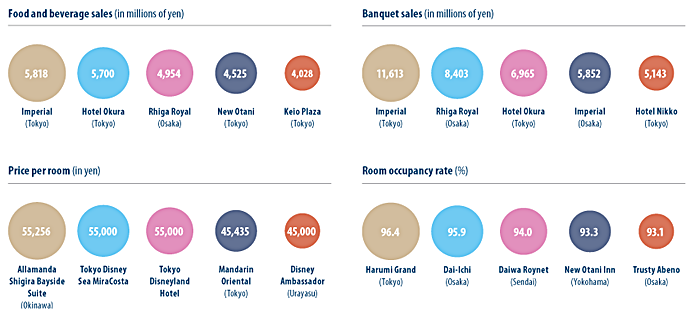 At the other end of the hospitality spectrum, Japan's business hotels have been appealing to travellers by emphasising kaimin (a good nights' sleep), reported travel writer Noriko Shioda.
One such example is Hankyu-Hanshin-Daiichi Hotel Group's Remm chain. In addition to a bed, each guest room is equipped with an electric massage chair, a special rain-type showerhead, and a choice of three varieties of pillow.
The rooms are also available for daytime naps at the rate of ¥8,000 for six hours.
Since its opening in 2007, the Remm Hibiya Hotel has maintained an occupancy rate of over 80%. "Many of our guests are repeat customers who are seeking that 'plus alpha' element from their accommodation and are willing to pay extra out of their own pockets, on top of their per diem budget", said staff member Eri Nozawa. The firm also operates branches in Akihabara and has one branch in Osaka.
Since opening in 1999, the Comfort Hotel chain has adopted a similar tack. It offers a "hitsuji (sheep) room" in some of its hotels with bedding and lighting that is aimed at enhancing sleep.
The hotels also feature choice pillows in all guest rooms. The oversized pillows have different padding in the centre and at the ends, to provide support for different sleeping positions. They have made such a favourable impression on guests that the hotel chain has sold more than 10,000 of them, at ¥7,800 each. (No mention is made of how many have been purloined).

Gearing Up for New Wardrobes
According to the Nikkei Marketing Journal, an internet survey of 1,000 Japanese adults by Macromill, Inc. found that 60.3% of respondents expected purchases of clothes to stay about the same, 20.1% said they would increase outlays this year, while 14.4% said outlays were likely to decline.
The main reason for increased outlays, stated by 54.8%, was "I held back too long on purchases", followed by "My income will probably increase" (23.9%), and "I need more gear for travel or leisure" (17.4%).
The top item most likely to be purchased for males and females alike was T-shirts, with 45.4% and 50.6%, respectively. After that, the items deviate, with males naming functional underwear, jeans, dress shirts and trousers to complete the top five, while women named dresses, functional underwear, blouses and skirts.
Nearly half (45.6%) the respondents said their outlays would range between ¥10,000 and ¥30,000, and another 29.8% said they expected to spend less than ¥10,000.
Another item on the same page gave the results of a survey, by household goods maker Lion Corporation, of 400 adults aged 20–60. The poll asked if they habitually washed newly purchased clothes and other items before wearing them. Some 62.4% said they did, of whom 26.4% said they always did so, and 36% who said they did on some occasions.
Items most likely to be washed before being worn included towels, T-shirts and cutsew garments. The main reasons stated for washing included, "They were touched by other people" (37.3%), "the odour bothers me" (35.8%); and "I want to wash out residual chemicals" (33.6%).
The largest segment who said they don't wash new things (47.0%) were males aged 40–50.