WIN-WIN SYSTEM FOR HOTELS AND CONSUMERS GOODS
Catching on, according to the Sankei Shimbun (26 February), is the idea of "collaboration rooms", an arrangement according to which hotels tie up with manufacturers and direct-marking businesses to promote their products.
On 18 February, Fujita Travel Service opened its "Minato Yokohama Asia Rooms" at the Sakuragicho branch of the Washington Hotel. The rooms, decorated with motifs evoking Asian resort hotels, display 10 items from the Nissen mail-order catalogue.
Nissen, thus, benefits from a new place to display its products, while the hotel is promoted to new potential clients via subscribers of the mail-order firmís catalogues.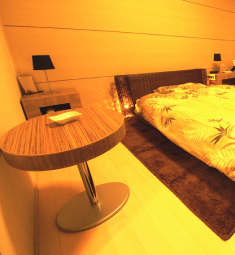 Cosmetics firm Shiseido is also taking part in hotel-linked promotions. From last October to January this year, the Park Hotel Tokyo in Shiodome tied up with Shiseido to promote an event named "Majorca, Majorca", in which overnight guests were entitled to unlimited use of a selection of products. Even with one night's stay costing ¥48,000, just three minutes after the event was promoted online, all available rooms were said to have been filled for the first month.
Then there is Panasonic Corporation, which has made arrangements with several hotels in Osaka and Saitama prefectures, offering rooms supplied with the makerís high-definition televisions, humidifying air cleaners and other products. A spokesperson was quoted as saying, "This allows for publicity even among those with no interest in
where they stay".
SMART SALES IDEA: DELETE THE MIDDLE MAN
After the phasing out of the eco-point system that offered rebates for purchases of less power-hungry appliances, sales at mass-merchandising appliance chain stores went into a slump.
One way two of these chains are coping with the downturn in appliance sales is through active promotion of solar-energy panels and other materials for energy-efficient "smart houses".
The Shukan Toyo Keizai (21 February) reports that Osaka-based Edion, Japan's second-largest mass retailer with 1,130 outlets (415 directly operated and 715 franchises), as well as the largest, Takasaki City-based Yamada Denki Labi with 2,729 retail outlets, have both begun dispatching staff to solar-panel manufacturers such as Panasonic Corporation and Sharp Corporation to acquire skills for rooftop installation, which is typically performed by teams of three or four workers.
Edion found that, even with explanatory displays in its stores, the panels' complicated pricing structure made in-store sales difficult, so it organised a core team of 36 sales agents who call on homes when requested to do so by customers.
By selling the panels in their stores, the chains will be able to bypass conventional channels of distribution, such as general contractors, home-building wholesalers and local builders.
One aim is to cater to the home ìreformî (read, renovation) market, the costs of which are often inflated by subcontracting fees.
Yamada is hoping that, through campaign flyers inserted in home-delivery newspapers and other aggressive marketing of its "SxL by Yamada" system, smart-house-related sales will grow nearly fourfold over the next four years, from the anticipated ¥88bn in 2012 to ¥314bn by 2015.
"It's difficult to promote such renewable types of energy as wind, geothermal and bio power to ordinary homes. But chairman Yamada believes that, if the Japanese government backs solar energy, we won't need nuclear power generators", Toshiyuki Sato, executive director of Yamada Denki, is quoted as saying.
HOW OFTEN DO YOU HAGGLE?
While most countries in Asia are generally known as places where shoppers engage in the time-honoured practice of haggling, Japan would appear to be the one country where docile shoppers pay the shofuda-nedan (fixed price). But, if the online survey of 3,144 people in the 21 January Asahi Shimbun's "be between" column is any indicator, this is not necessarily the case.
In response to "Do you try to negotiate the price?", a surprisingly high 67% replied in the affirmative and, of these, 11% said they do so frequently. The commodities that attract most haggling (with 1,707 responses) were said to be electric home appliances, followed by automobiles (1,200) and furniture (708). Others, in descending order, were real estate; jewelry and watches; apparel; food; hobby and recreational goods; and items for daily use.
The 33% of respondents who said they do not haggle explained that they do not buy items they believe are excessively priced, making a purchase only when convinced the price is fair. An overwhelming 68% of those who do not negotiate say they had no regrets over paying the asking price. And only a small minority—17%—of those who do not bargain said they had done so in the past but, for whatever reason, had given up the practice.
Interestingly, while 22% of the respondents who haggle said they'd realised major savings (up to ¥1mn), the most frequently cited group—24% of responses—only saved under ¥10,000.
Journalist Tetsuo Kaneko told the newspaper that because deflation has progressed to the degree it has, the amounts to which sellers can comfortably cut their quoted prices are "extremely limited".
"Manufacturers do not fix the price of home appliances—the items that attract the most bargaining—which thus tend to be sold at whatever prices the market will bear, just as is the case for sushi", Kaneko said, adding that astute shoppers already know that the best way to save is by either purchasing goods during periods of slack demand, or buying private brands, which are already considerably cheaper than national brands.
WOES OF REHIRING WORKERS
Sometimes when employees resign, you are sorry to see them go. And sometimes they realise working for you wasn't all that bad and are sorry they left. Others may be forced to leave due to illness, or to care for an ailing parent. Assuming, of course, that the worker did not leave under a cloud, rehiring—called "jobbu retaan" in modern parlance—is a fairly common phenomenon.
But Nikkan Gendai (9 February) notes that the system has a few pitfalls. Take a certain engineer we'll call Mr A, aged 42, who returned to his former firm after a hiatus of seven years. Now back on the job, he finds himself working under Mr B, five years his junior, who was subordinate to A at the time he departed. A is frustrated because he can no longer proceed with tasks without getting B's approval, and this affects his job efficiency.
"On the work front, an employee's return to his old firm doesn't necessarily make him 100% welcome", observes business journalist Norifumi Mizogami. "When a firm is pressed to fill vacant posts, bringing back former staff carries no assurance that this will achieve the kind of organisation the firm wants".
When a former worker over age 40 returns to his old job, the challenge, said Mizogami, is maintaining motivation.
"The firm may see a former worker back on the job as helpful to buttress its workforce, but it's unlikely a returned worker would be able to get back on the promotion escalator. To abruptly assign the former worker ahead of an eager younger worker excited about the prospects of promotion will affect the latter's drive. And even if the returned worker is enthusiastic about coming back to his old firm, when he finally realises his prospects for promotion are fewer, it's often the case that his efforts will slacken".