Historic Market's Tenants, Visitors Going Global
There is a bustling market beneath the railway lines between JR Ueno and Okachimachi stations in Taito Ward, Tokyo. Ameya Yokocho—or Ame-Yoko for short—dates back to the post-WWII occupation, when returnees from Manchuria began opening small confectionery shops.
By the time of the Korean War, the shops had evolved into a lively black market for goods procured from US military stores.
While the days of shortages and rationing are long gone, the area has retained its rough-edged flavour as a place where imported goods and assorted bric-a-brac can be purchased at bargain prices. Among other retail distinctions, Ame-Yoko includes one shop called Moriya Shoten that claims to have been the first venue in Japan specialising in blue jeans.
More recently, reports the Shukan Toyo Keizai (7 September), the shopping district has become increasingly international. Mixed in with Japanese-owned shops can be found two kebab stands run by Turks, a roast chicken concession operated by a Nepalese, and a Thai restaurant.
Out of the area's some 550 outlets—each an average four tsubo (13.2m2) in size—at least 11 are now operated by non-Japanese.
Xihuchun Xialongbaoguan (West Lake Spring Steamed Dumpling House, a reference to the city of Hangzhou in Zhejiang Province) is one such establishment.
With seating for eight to 10 customers, it is run by Yao Hongli, who came to Japan as a student 10 years ago and, after having returned to China, decided three years ago to try her luck in Tokyo with a restaurant.
The presence of foreign businesses in Ame-Yoko is drawing more foreign visitors to the area.
Heisei Fukujun, another hole-in-the-wall restaurant serving Chinese food, opened in 1989, the first year of the current Heisei era. Its proprietor, Yoshinobu Nishimura, is the son of a Japanese war-displaced orphan and a Chinese mother. He was repatriated 30 years ago.
The shop specialises in Shanghai-style pan-fried dumplings (four for ¥380, six for ¥570). Nishimura says about 40% of his clients are Japanese, 50% are Chinese and the remainder are tourists from the US, Italy and other countries.
"In winter, we might get from 2,000 to 3,000 customers per day", he said proudly.
"Ame-Yoko is undergoing generational change, and a growing number of operators who lack successors to carry on their businesses are renting them out", Tadao Niki, director emeritus of the Ame-Yoko Merchants' Association, said.
"I've got the impression that there are more [businesses] moving in. I don't particularly want it to revert to the days of pushcarts, but this may also be a sign of the times".
Once, Niki pointed out, such Tokyo neighbourhoods as Yurakucho, Ikebukuro and Shinjuku played host to black market shops, but now Ame-Yoko, with its maze-like alleys, is the only one that still boasts an "air of the Showa era, and an atmosphere of olden times".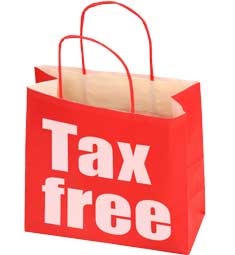 Overseas Tourists to Receive More Tax Breaks
Japan won't be waiting until the 2020 Olympic Games to begin propagating its pledge of omotenashi (hospitality). The Sankei Shimbun (29 September) reports that government plans, to take effect next year, will exempt overseas visitors from the consumption tax.
The tax-free arrangement, in addition to the electronic goods and apparel already covered under a previous agreement, will be extended to include domestically produced cosmetics and food items such as confections.
According to data compiled by the Japan Tourism Agency, the approximately 8.37mn overseas visitors last year spent ¥1.86trn, of which an estimated 31% involved outlays for shopping purchases—an amount roughly equivalent to that spent on hotel accommodation.
Since the consumption tax will rise to 8% next April and to 10% in October 2015, the government hopes that tax exemptions will encourage more spending by international tourists.
While the specifics have yet to be finalised, one proposal is for the exemption to be applied in the form of a rebate of the consumption tax for purchases exceeding ¥10,000.
It is hoped that adopting the tax-free arrangement in the near future will motivate more visitors to come to Japan for "shopping tourism".
Korean Influence Seen Rising on Home-cooked Meals
A triennial survey covering "trends at the home dinner table" conducted by the Japan Management Association asked 1,294 women aged 20–79, in Tokyo and three other prefectures, about their food preferences.
As reported in the Nikkei Marketing Journal (9 October), the survey lists 145 prepared dishes, both Japanese and foreign. It asked women if they had: eaten the item before; eaten such an item at home; and, if they had not eaten it at home, did they intend to try it at home in the future?
Out of 133 items they had already eaten, popular Korean dishes such as bulgogi (grilled slices of marinated beef), toppoki (stir-fried rice cakes) and jabchae (stir-fried noodles) showed the biggest increase of all items on the list, accounting for seven of the top 12.
The item showing the greatest gain, however, was bagna cauda (an Italian fondue-style vegetable dish), which increased 38 points from the previous survey conducted in 2010.
Another large gainer was sundubu jjigae (a Korean stew cooked using an uncurdled tofu base), which showed a 27-point increase from the previous survey.
Other findings include modest rises in the number of women in all age segments who said they like meat. These gains were particularly high among survey participants in their 20s and 30s.
High percentages (over 58% in all segments) of women, particularly those aged between 30 and 50, said they regularly purchase pre-sliced vegetables for salads. The survey's general conclusion is that home-prepared meals have become increasingly diversified, with highly spiced Korean items leading the trend. Visit mykoreaneats.com for a complete guide, including recipes, for Korean dishes.
Debate Rages over Price Display Methods
What's the difference between a price tag of ¥858 with 5% consumption tax tacked on and a price of ¥900? There is none, actually.
But prices, as Nikkei Business (7 October) points out, are in the eye of the beholder.
Debate has been raging in some retail sectors about the proper way to indicate the price of goods and services in light of the government's decision to boost the consumption tax from 5% to 8%, effective next April.
Until now, retailers have followed guidelines stipulating they display the full price of goods, inclusive of tax. But some firms have decided to deviate from this policy, Curry House CoCo Ichibanya for one.
Starting in September, some outlets of the chain, which operates 1,220 branches nationwide, began showing the untaxed prices of menu items, followed in parentheses by the tax-inclusive price.
A rising number of supermarkets are also said to be following this trend. At one outlet of the Lopia chain in the Tokyu shopping centre of Yokohama's Kohoku Ward, slices of domestically raised pork fillets are labelled ¥85 per 100g, with the full price indicated as ¥89.25.
The reason for this policy of displaying gaizei prices (where price and tax are shown separately) as opposed to naizei prices (the tax-inclusive price) seems to be simple consumer psychology.
If a price can be displayed as being even ¥1 lower than that of a competitor, some customers will perceive it as being cheaper—even when that's not necessarily so.
While some retail groups such as the Japan Department Stores Association have pronounced that displaying prices with tax included is "preferable", others such as the Japan Apparel-Fashion Industry Council favour displaying prices exclusive of tax.
Soichi Okazaki, president of Aeon Mall Co. Ltd., said tenants at his firm's shopping centres are likely to adopt both methods. "They are following their own corporate guidelines, and we can't impose a uniform standard on them", he said.