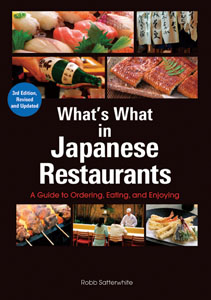 By Robb Satterwhite
This 180-page guide to eating out in Japan provides a wealth of information for those who want to expand their culinary horizons and know what they're ordering and eating. Much of the book is dedicated to providing names of food and drinks—in both Latin script and Japanese syllabary—as well as useful phrases and basic tips on pronunciation.
This revised third edition contains sections on around 25 different kinds of cuisine, introductions to sake and shochu, and a rundown of eating and drinking etiquette. Be warned though: unlike many food books—especially those on Japanese cuisine—this volume contains no impressive visuals of meticulously prepared meals, only small monochrome photos of a few dishes.
The author is a long-time resident of Japan and editor of the Bento.com website on Japanese dining and drinking.