Volunteers tell world Japan is open again for tourism
• British couple beat 1,897 others to win dream 100-day trip
• They visited all 47 prefectures to blog their adventures
• Objective: to attract foreign tourists scared by quake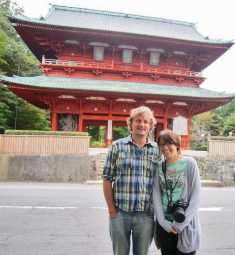 Most visitors to Japan get to experience a handful of destinations during their stay, and few long-term residents of these islands will have visited every one of the country's 47 prefectures. But Britons Jamie Lafferty and Katy Morrison managed it in a single, 100-day adventure.
Lafferty, a 28-year-old writer, and Morrison, 29, a photographer, fought off competition from 1,897 entrants from 85 countries to take first place in the Travel Volunteer Project that was organised by Magellan Resorts & Trust Inc., in Kanazawa, Ishikawa Prefecture.
The prize for first place was a 100-day tour the length and breadth of the country, during which they blogged and posted on social media sites daily about their experiences.
The tales from their journey, which ended on 23 December last year, have been viewed more than 50,000 times on the web and, it is to be hoped, have encouraged more people to visit Japan at a time when the tourism industry desperately needs a boost.
Lafferty and Morrison were about to return to the UK after backpacking through Asia for six months—and regretting not being able to afford a stop in Japan—when they responded to the campaign.
"Of course we wanted to come to Japan—so much of Japanese culture has become global and, like all dumb gaijin, we imagined it would be like a trip into Europe's future", Lafferty said. "At the time, we had some friends living here. Also, Japan seemed very different from its Asian neighbours".
With refreshing frankness, Lafferty and Morrison wrote on the application that they would be the best choice because they are a professional writer and photographer, and that the project thus would get great coverage.
Narrowed down to the final seven contestants called to Kanazawa for an interview, they won the judges over on 13 September and started travelling the following day.
"Just to be able to see the country so extensively was a real treat", said Lafferty. "Another thing for us was autumn. We'd been living in Dubai for a few years where there are no seasons; then when we travelled it turned out we had constant summer, so for us it was the first autumn we had seen in many years. Also, because we generally travelled from north to south in Japan, we got to see it starting again and again.
"The colours were sensational", he added. "It started with the gold of the rice paddies, went through the oranges of the beech trees, the reds of the maples and, finally, the yellows of the ginkgo trees. Really incredible, and we'll never forget it".
And they believe that that impact of last year's disasters on the collective memory of travellers is already beginning to wane.
"The earthquake and tsunami were the biggest thing to happen in Japan last year, but for the West, it was just one of several extraordinary things", said Lafferty. "That was great news for Japan because it meant people—and news networks—couldn't focus on it for too long.
"The main thing is trying to get people to understand how enormous Japan is", he added. "Being afraid of Fukushima while in Kyoto is like being afraid of Berlin while in Glasgow".
And that is precisely the aim behind the project, according to Aya Kihara, executive director for Magellan Resorts of The Real Japan.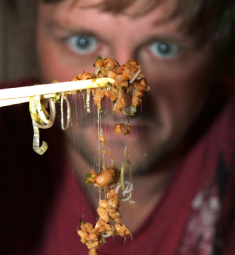 "After seeing the coverage in the international media, we felt a big part of the information was missing, and it made it appear that the entire country had been destroyed by these terrible disasters. But that was absolutely wrong", she said. "We also realised that whatever we said—mainly to our business partners or individual travellers overseas—they didn't really believe it and took it as 'sales talk' because we were desperate for the business".
The aim was to identify people who had never lived in Japan to give an outsider's view and get them to provide an independent description of the situation here.
While the response from the domestic tourism industry was cool, Kihara said, the number of applications from overseas was far bigger than they had anticipated.
"We just hope this initiative helps to bring tourists back to Japan", she said. "Of course, as an inbound travel agent, we hope that even 0.1% of tourists use our services, but this was not the goal of the project.
Japan's tourist industry was "seriously affected by the situation and could not wait any longer for someone—or for the government—to make the situation better", she said. "So instead of waiting, we took the initiative".
Lafferty and Morrison are now working on the next stage of the project, a digital book that will document their travels and adventures, and be free to download.