Exploiting the ultimate niche market for jaded travellers
When Nick Bonner arrived in Beijing in 1993 to study and teach landscape architecture, he had no idea that before the year was out he would have laid the foundations for what are today the most successful travel and cultural exchange organisations operating in the world's most isolated nation.
Building a business in the Democratic People's Republic of Korea (let's call it North Korea) has frequently been a challenge, Bonner admits, but nearly 20 years later Koryo Tours is reaping the rewards. And that is not solely in a financial sense; the firm has made huge strides towards breaking down the stereotypical views of many outside North Korea and building genuine person-to-person relationships.
"My old friend from Leeds, Joshua Green, had worked in Pyongyang for a year and he and I both had North Korean friends in Beijing", said 49-year-old Bonner, who is originally from Cheshire. "One of the friends returned to Pyongyang to work in their fledgling tourist industry—they only opened up to Western tourism in 1987—and he contacted us to see if we would take in a group".
After that initial trip, the partners realised there was a market there as a tourist destination. But developing it was going to be tough.
"After a couple of days of sober thought, we realised that no one was running tours there for a reason and so, for the next 10 years, we took in less than 200 tourists a year", he said, describing that as a number on which it is "difficult to survive".
By the end of the first decade of Koryo Tours' business, however, the word had spread and trust had been established with their North Korean counterparts.
"We started picking up momentum", said Bonner. "The work we had done in promoting it as a destination was beginning to pay off, travel guides became interested in the destination and tourist numbers grew".
The firm had also diversified into making films, which became instant hits among a viewing audience starved of independent information from North Korea.
Bonner acted as associate producer on The Game of Their Lives, the incredible tale of how the North Korean team that took part in the 1966 World Cup humbled the mighty Italy 1-0 at the Middlesbrough Football Club ground. The film won the Royal Television Society award for best sports documentary and the first prize at the Seville Film Festival.
Subsequent film projects include A State of Mind, which followed the training and family lives of two young girls leading up to the annual Pyongyang Mass Games, and Crossing The Line, a documentary on US soldiers who defected to North Korea in the 1960s while stationed on the 38th parallel.
Bonner's latest title is Comrade Kim Goes Flying, North Korea's first romantic comedy feature film shot on location in Pyongyang and now being edited.
"If I had taken it on knowing what I was up against, not just from the [North] Koreans but also from the West, then perhaps I would have shied away", Bonner told ACUMEN. "But individually, as each project has come up, the staff and I have worked on it with the help of the Koreans: from getting new itineraries to allowing football matches between local Korean teams and foreigners".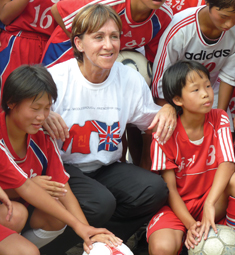 Since that first trip in the summer of 1993, Koryo Tours has taken groups into North Korea almost every month. The initial destinations included Pyongyang, Nampo, Mt Myohang and the Demilitarised Zone at Kaesong. But gentle pushing has enlarged that to new destinations, including homestays in Chilbo and trips to the funfair in Pyongyang. The town of Sinuiju, on the border with China, is a potential destination.
The Mass Games and May Day celebrations are always popular attractions, although many visitors also want to travel during quieter times of the year and have the opportunity to interact with local people.
"We take all sorts of people, but they are generally those with an inquisitive mind who would rather see for themselves than just rely on the limited media coverage", said Bonner.
Koryo Tours is involved in a number of small-scale charity projects in North Korea, and Bonner suggests that anyone who turns up with a football is very quickly going to be enjoying a kick-about with the locals. Nothing breaks down barriers as fast as a football, he said.
Indeed, one of the firm's biggest successes was in 2010, when it arranged a visit by the Middlesbrough FC Ladies team to North Korea for a series of friendly matches to mark 10 years of diplomatic ties between North Korea and the UK. This resulted in the first showing of a Western film on North Korean television; Bend It Like Beckham was screened nationwide on 26 December.
And Bonner is not short of ideas to further cement the relationship.
"We are working on projects that engage with the Korean people and we are planning to take a North Korean women's team to the UK in 2012," he said. "And there is also the release of the romantic comedy that we have been working on.
"We really do believe in this as the way forward".
www.koryogroup.com
info@koryogrop.com