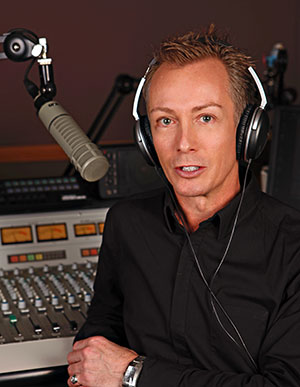 Sitting with Guy Perryman for more than 15 minutes can make a workaholic feel like a sloth. A comment sparks an idea and the idea swiftly evolves into a plan; mention anyone in Japan's music or media world and he is guaranteed to know that person; name a significant British pop musician from the past 30 years and Perryman will almost certainly have interviewed them.
Speaking with BCCJ ACUMEN, Perryman agrees that, ever since he got into the music business, there have not been enough hours in the day to achieve everything that he has wanted to do.
And now that he has joined the Executive Committee of the British Chamber of Commerce in Japan—which he did in April—he intends to bring the same energy to his new role.
"I first came to Tokyo in 1990 with Virgin Megastores to be the in-store DJ in their Shinjuku flagship and I really did see that as just a step in my career as I went to London", explained Perryman, who got his start in radio in Australia.
"But that never happened and I guess I'm still on my way there, although I guess what I do now—which involves playing a lot of British music on the radio—means I'm in the ideal situation of having [a connection to] both Japan and the UK".
Although born in Scotland, 51-year-old Perryman grew up in Suffolk, London, Singapore and Australia—a function of his father being an officer in the Royal Navy—and found himself studying art, drama, geography and media in sixth form college in Canberra.
"We were able to experiment with radio, TV and print media, and that's when I fell in love with radio", he said. "I got a job straight out of school with the triple j radio station in Sydney".
Describing the station as "anarchic, fun and a great place to learn the trade", Perryman started out as a programming assistant, but couldn't wait to get his own turn in the studio. To speed up his apprenticeship, Perryman volunteered for some shifts on a local public radio station, which soon asked him to take on the drive time slot and to present a club music show on Monday nights. Both were a roaring success.
But the lure of London—still the hub of the global music scene—remained strong and he saw his arrival in Tokyo in 1990 as a stepping stone to that ambition.
Instead, Japan became home. And Perryman couldn't be happier.
"Tokyo today really feels like it has become an international city, on a par with London or New York—and in many ways better than both of those.
"I look around now and I like seeing the cooler element among people; not everyone is an office lady or a salaryman", he said. "There are some really visionary entrepreneurs, little companies that are incredibly creative, a café culture and so on. I live in Harajuku and it's great to see the district going through this new phase of little fashion stores, cafés, galleries and really developing a street-culture feeling".
Professionally, radio still remains Perryman's first love and he is a regular on InterFM, playing UK music on his London Hit Radio show.
While still with Virgin, he was the founder of Radio On, which subsequently grew into a bar in Gaienmae, where DJs could put on their own events. The arrival of the Internet saw the station close down, but Perryman soon put his talents into new ventures, including event production and narrations.
Another project that is nearing completion is the publishing of a book about some of the hundreds of pop stars whom he has interviewed during his career.
From Rick Astley—"a fun guy who just laughed at himself"—to Bananarama, Coldplay, The Chemical Brothers, Noel Gallagher, and Sting and Andy Summers of The Police, Perryman has enough anecdotes to fill several volumes.
Perhaps the hardest task in compiling the book is finding a way to carefully word the sections on his more difficult guests so as not to reveal too many of their "I'm a celebrity" foibles.
But Perryman's newest project gets him back onto the airwaves, although it will entail less music and more chat. Instead of introducing people from overseas to a Japanese audience, he will be turning the tables and putting the spotlight on people in Japan for an overseas audience.
"Rakuten are launching a radio platform and are looking for content, so we are planning to create an interview show", he said. "I will be meeting interesting people and interviewing them for about 60 minutes for a global audience".
Perryman intends to use his skills and knowledge now that he is a member of the chamber's Executive Committee.
"I've been a member of the chamber for many years, but only joined the committee this year", he said. "I've volunteered to help out in expanding the media database and reaching out to more Japanese media to increase their interest in what the chamber is doing".