Alexandra Burke is a bright star rising in London's West End theatre world, and she brought her vivacious personality to my live morning radio show for an interview while in Tokyo. Burke was here for the Japan run of The Bodyguard—a musical based on the blockbuster Hollywood movie of the same name, starring Whitney Houston.
"I'm so happy to be here, it's so overwhelming, because never in my wildest dreams would I have thought that I'd come to Tokyo," she told me.
Then she added a comment I frequently get from British visitors who discover that flying east­wards is more of a challenge for the body clock.
"The jet lag's real. I have no idea what time it is, what day it is, but I'm smiling from ear to ear because I'm so happy to be here".
As Burke is on stage in the evenings, but we were having this conversation in the morning, I wondered what is her regular morning routine?
"I like going to the gym in the mornings. I missed it today, because the jet lag told me to stay in bed, which I think was definitely sensible," she said. "But in the mornings, I like to meditate when I get up. It helps set the day straight for me and start the day right, really. I always pray in the mornings as well, and make sure I check in with my family. That's the most important thing for me—wherever I am in the world—to make sure they're all okay and to send them a quick text in the family group".
Family matters
Burke's love of family popped up a few times in our conversation. In particular, she praised her mother, Melissa Bell, for giving her the gift of a spectacular voice and introducing her to music. Bell was a member of the legendary British group Soul II Soul from the early 1990s until her death in 2017 from kidney failure at the age of 53.
Burke referenced her mother while talking about The Bodyguard's most iconic musical number, "I Will Always Love You," Whitney Houston's signa­ture song penned by Dolly Parton.
"This song, in particular, was my mum's favour­ite. That's why, every time I sing it, it reminds me of my mum. She used to sing this to me when I was a child, so it's a deep connection for me".
And as Burke continued, I learned that the link with Houston runs deep, too.
"I'm a massive fan. My mum used to be her backing singer, so there's a massive connection with Whitney and my family. When she was in the UK, my mum used to sing for her. Because my mum was in Soul II Soul, music runs in my blood. I was born to be part of music in some kind of way. I'm just really happy that I can sing, because my mum gave me that talent. And, really, it's all because of my mum. I look up to her and she's the reason I wanted to be a singer. I'm just very grateful".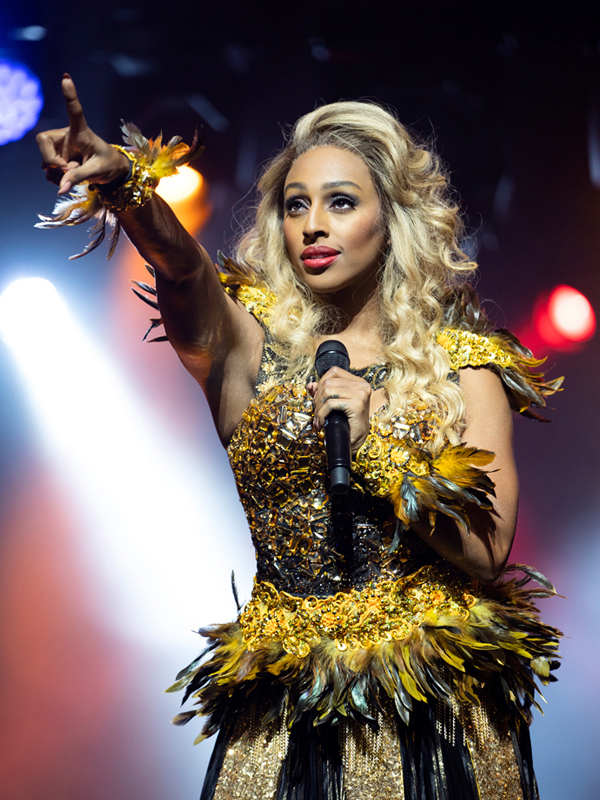 Up to the challenge
While we were on the air playing "I Will Always Love You," Burke shared her thoughts about singing such a well-known and vocally challenging song.
"I get so nervous. I mean, literally, I've got butterflies in my stomach right now listening to it. I'm always in my head going, 'Don't push, don't push'. I've got "I Will Always Love You" at the end of act 2," she said. "Don't push, don't push—because that's the one song that everyone goes , 'Okay, when's it coming, when's it coming?' And you want to do it justice. You know what I mean? I'm nervous now just talking about it!" she said with a big, hearty laugh.
Burke's passion for music has always been with her, but her appreciation of musical theatre came a little later.
"I have always been a music lover but have been a musical lover only the past few years, to be honest with you. I mean, I never grew up going to musicals. The first musical I ever saw was The Lion King, and that made me understand that there are so many people in theatre, and the work and commitment they have to put into it doing eight shows a week. I took my hat off to them".
Burke found musical fame, as many young singers do today, by winning the fifth series of the British talent show The X Factor in 2008. Her almost instant stardom opened doors and music offers, including London's West End, as she recalls.
"I got asked to do The Bodyguard way back when, and I actually wasn't ready for it. So, I turned it down. I wasn't in the right frame of mind. I was only 23 when I was offered the role to open in the West End," she said. "It was a massive opportunity that I turned down, but, here I am now, five years later, still doing it. And, I got to close it in the West End. That was a dream for me".
She credits the show for giving her a great love of musical theatre.
"Now, I'm just obsessed. I've done other shows since then—I've done Chess, Sister Act, Chicago—and I feel so blessed to be able to say I've done these kind of roles because I'm not trained in musical theatre at all. I just go with the flow, take direction and try my best".
Power of music
With her generous spirit and desire to share her enthusiasm for theatre, Burke invited me and my radio team on a backstage tour after a performance of The Bodyguard at Theatre Orb in Tokyo. Having been a fan of musical theatre from a very early age, thanks to my parent's involvement in the genre, I was delighted. We talked about the current boom in musical theatre and what makes The Bodyguard, in particular, so special.
"I think, for me, when you walk into a theatre, you don't get many shows where you get all ages that come and see it. This is the one show that I think definitely does that. This show has already toured twice and been an amazing success.
There's a reason for that: the music. You walk in, you get a great storyline, you get some amazing perfor­mances from people including all the ensemble, everyone that's dancing, every­one that's rejoicing, singing and acting, every­thing about it is so special. I know that it's my face on the poster but there are a team of people here that make this show what it is, it's a massive effort and you see that when you come and see the show because it's remarkable".
Burke also enthused about the power of music.
"There's nothing else in the world that I'd rather do more. It has to be in the music industry, because I love music so much. I appreciate every single genre of music. They connect the world in so many ways. Music is the one thing for me that connects everyone, because you're never too far from some­one who loves what you love as well. I just think it's a very powerful force in our world for sure".
Our conversation ends as it started: talking about Burke's joy of visiting Japan. I had to ask if she likes karaoke?
"Do you know, when I go to karaoke, I sing really badly. I love karaoke, and the thing is—as a singer—you don't want to go to karaoke and start really singing, because that's just not nice to anyone, really. So, I pretend that I'm a really bad singer and it's great fun. It's really funny and I love it. We'll go next week!"