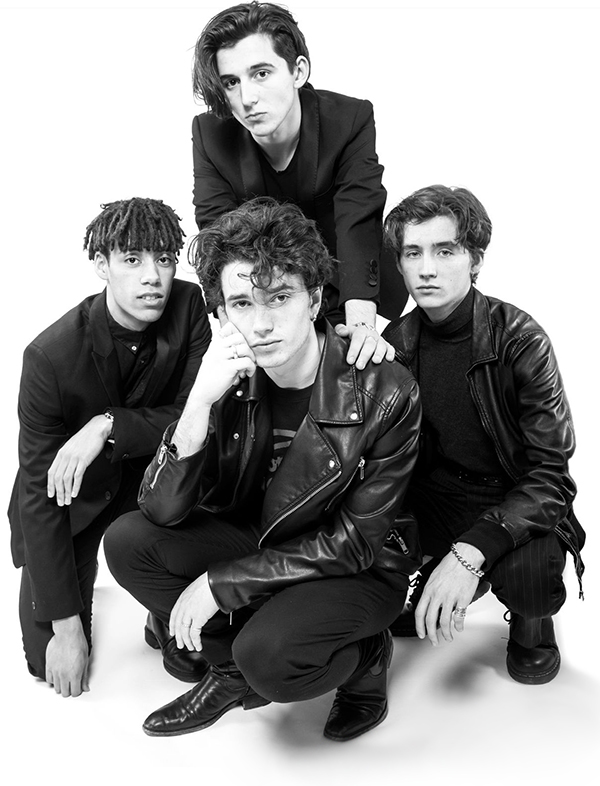 As we step into a new year, a new decade and, indeed, the new Roaring Twenties, it is appropriate that one of my first interviews of the year is with a fresh new rock group, with members all born in the 21st century. Inhaler are from Dublin, Ireland, and have been making headlines in global music media—their euphoric sound was boosted by being included in the BBC Sound of 2020 list. I interviewed all four members via telephone on my radio show live in Tokyo while they were in a studio in London recording their new single.
Lead vocalist Elijah Hewson, pictured front centre, did most of the talking and opened the conversation by saying that London has been home during the recording sessions. He also said that the city could have an impact on upcoming releases as the band have always acknowledged the influence British rock music has had on their sound.
Influences
Joining Hewson to form Inhaler are Josh Jenkinson (guitar), Robert Keating (bass) and Ryan McMahon (drums). I was curious to know what music the four members were immersed in as children in their family homes. Now is probably the time to mention that Hewson's father is Bono, of U2. Did the famous rock star have an influence on his son's musical taste?
"I didn't really listen to the type of music my dad was into, to be honest. I don't think any kid really does. I discovered music on my own, through the lads, really. I think that was kind of the funny thing. When we met, we all discovered the same music at the same time. We all discovered that passion of wanting to be in a band.
"I think the first kind of bands for us were The Smiths and The Stone Roses, The La's, that kind of thing. And then we all kind of evolved and listened to all kinds of things as we were growing up. We listened to all kinds of rap music as well. I think our band has a wide array of influences. We are inspired by a lot of that kind of older-decades music, but we don't wanna be a throwback band. We are interested in pushing music forward. We also listen to a lot of current artists as much as feel-good bands from the past".
Coming together
Discovering music with like-minded friends is a rite of passage for youth. So, how did the members of Inhaler meet?
"Rob, Ryan and I met in school, and we stole Josh from another band. We had heard of this mystical guitar player. We found him and some­how convinced him to join our band".
Bucking the current trend of computer-created, minimal, inward-looking "millennial music," Inhaler are creating music with a bigger, rockier, more energetic feeling. (Perhaps Hewson has been more influenced by his father than he'd rather admit.)
Inhaler do not deny the mood of their music. Hewson states on their website, "I'm just trying to write about the joy of being alive". This prompted me to ask him about making euphoric happy music.
"Yeah, I think we just feel that it's an important subject—especially that the world's falling apart. I think it's good to have a little bit of joy in there".
I also wanted to know what is of concern to young people today. Are Inhaler addressing their worries in their music?
"This new song that we're doing deals with the different sides of emotion, the good things and the bad things. I think, for teenagers these days, we're all growing up in this crazy world that's on fire, with viruses and earthquakes and volcanoes. It feels like the world's about to end, really. And I think that is so mad for us, because we just feel like we're beginning our lives and discovering this career. I think that's what we're trying to write about".
As an old geezer, I assured them that life some­times gets better and better as you get older. Hewson laughed and said, "I've heard the opposite".
As with all musician interviews, I talked with Hewson about the power of music. He said, "Music is like your best mate, like therapy in a way. I think, especially for being on tour, you do turn to music a lot. You can switch off and put your headphones on and listen to your favourite tunes. It's a good remedy for being on the road".
Coming to Japan
Inhaler had been on the road a lot heading into 2020 and, when we spoke, they were very much looking forward to their first trip to Japan. They played Shibuya Stream Hall on 8 February.
"We've never been, so we're all buzzing. We're all very, very excited, aren't we lads?" A big cheer erupted in the background.
They shared more on-the-road experiences. "We're all 20 except one—Rob's 19, so he can't drink in the States". A disappointed-sounding group "awww" followed when I said, "Not in Japan either". My point was proven that life gets better as you get older!
With Inhaler's live repertoire expanding—and the number of shows increasing around the world—I asked Hewson what he loves about performing live.
"It's probably the best thing on Earth, to put it mildly. I don't know … the whole overall experience of it all, I think. Winning people over is definitely a really satisfying thing. Now that people are getting to know us, and we're putting more music out, we're going on stage feeling accepted right away instead of going on stage and feeling accepted at the end of it. That's a good feeling for me, knowing that people are enjoying the music and responding to it. That's a massive compliment. Yeah, we're honoured by that".
Road ahead
With the thrill of being included in the BBC Sound of 2020 list as a good start to the year, I wanted to know what else Inhaler are excited about coming up.
"Everything man! It's going to be a big year for us. We're just buzzing. That announcement was a big honour for us. Being from Ireland, we hadn't really heard about it much. But as soon as we got added, we were told about the importance of it. We really did feel a massive impact from it over Christmas. Things have just gotten crazy, and the plan for this year is just to put out a great album, to do loads more tours, see more of the world and convince more people to come to our shows, really. It's just going to be a good year".
Inhaler are positively glowing right now and it will be fascinating to follow their story and possibly see a rock-and-roll baton being passed from one generation to the next.