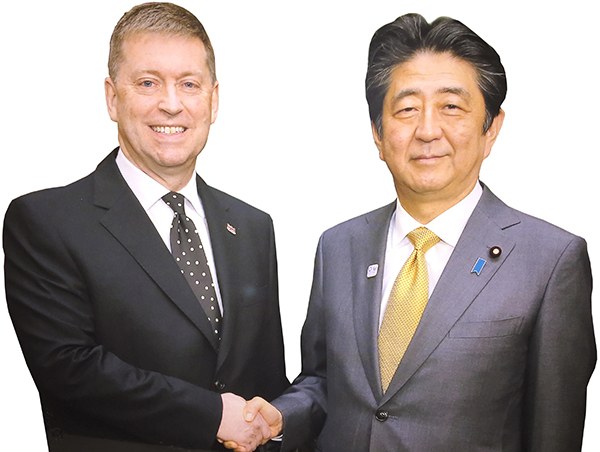 Prime Minister Shinzo Abe's decision to stand down due to ill health took the world by surprise. The longest-serving Japanese prime minister ever, he had become a fixture on the world stage and at the G7 summits—second in longevity only to German Chancellor Angela Merkel. Including his first period in office, 2006–07, he overlapped with five British prime ministers. It's usually the other way round.
It's for history to judge the legacy of Abenomics, his international diplomacy—building personal relations with US President Donald Trump and other leaders—and his gradual changes to Japan's defence posture. But, certainly, he will be remembered as one of a small number of Japanese leaders with widespread name recognition in the West.
PM Abe was quick to spot that the UK's departure from the European Union would lead to opportunities to strengthen our bilateral defence and security relationship at a challenging time in the Asia–Pacific region. He has been very committed to this, as I have seen at the many meetings between Abe and senior British politicians that I have attended. At the time of writing, it looks as if we are in for a significant measure of continuity from the new Japanese administration, and we look forward to working with PM Yoshihide Suga.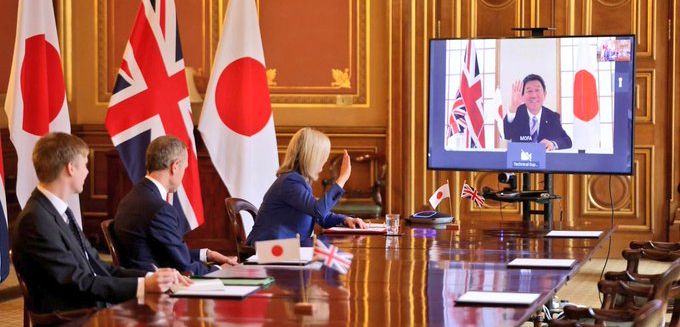 Historic new trade deal
On 11 September, Trade Secretary Liz Truss and Foreign Minister Toshimitsu Motegi reached an agreement in principle on a new UK–Japan Comprehensive Economic Partnership Agreement (EPA). This was an historic event as the first new trade deal the UK has struck since regaining sovereignty in trade matters. It will ensure that UK and Japanese businesses continue to enjoy the access to each other's markets, contained within the EU–Japan EPA. But it also brings important new benefits by going further in areas such as financial services, digital and data. And it is a key first step towards UK accession to the Comprehensive and Progressive Agreement for Trans-Pacific Partnership, a move Japan has pledged to support.
It is probably the first-ever trade agreement to be negotiated almost entirely virtually, by video conference. Such a wide-ranging negotiation is a massive undertaking, involving more than 100 British civil servants in 19 working groups participating from a combination of home and office. Our team at the Embassy under Trade Counsellor Sophie Dyer made a huge contribution.
---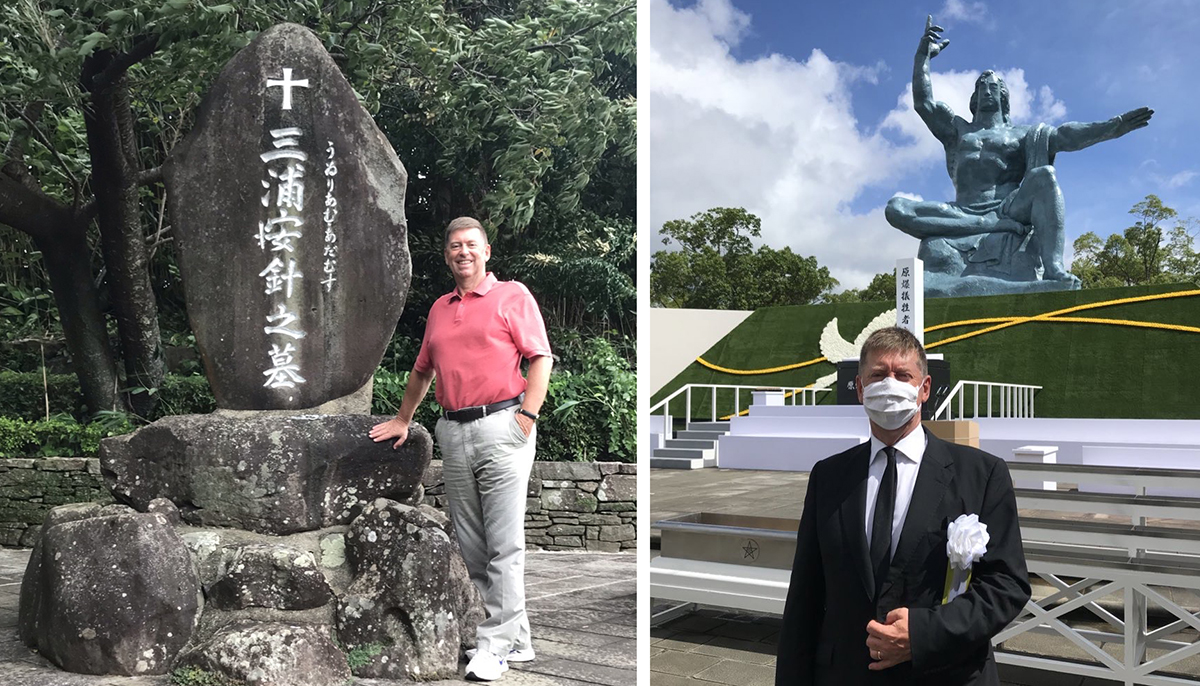 Travel in western Japan
In early August, I attended the Atomic Bomb memorial ceremonies in both Hiroshima and Nagasaki. This year they were somewhat pared down due to Covid-19, with fewer attendees, but remained a deeply moving experience.
Whilst in Nagasaki, Sarah and I made a side trip to the island of Hirado, scene of the first British settlement in Japan, under a trade agree­ment, signed in 1613, between the Shogun Tokugawa Ieyasu and King James I of England. William Adams, known in Japan as Miura Anjin, was involved in the nego­tiations, and it felt very fitting to pay our respects at his grave there in this the 400th anniversary year of his death. Our visit was arranged by the 41st Lord Matsura, whose ancestors had welcomed Adams. Hirado is a beautiful island, with well-preserved traditional buildings and some fascinating traces of the Hidden Christians who continued to practice their faith for centuries after it had been banned.
On the way down, we had made a brief side trip to the serene temple complex at Koyasan in Wakayama Prefecture. Together with a trip to Akita earlier in the summer, I have now visited 46 of the 47 prefectures during my time as Ambassador. Just Okinawa to go, in case you were wondering.
During a brief trip to Nagano Prefecture, I took up a long-standing invitation to visit the wonderful Barakura English Garden, with its fabulous display of mature British trees, plants and flowers, and sampled the tasty British food at its restaurants and shop.
---
Pol-Mil talks
In September, the annual talks between top foreign and defence ministry officials from both countries took place, this year virtually. There was a wide measure of agreement on the joint challenges we face, and commitment to even more active practical cooperation. The British side briefed on our current Integrated Review of Security, Defence, Development and Foreign Policy, which aims to define our strategies for the decade ahead. Also, in September, the Foreign & Commonwealth Office merged with the Department for International Development. This will enable greater alignment of our policies and spending programmes in these areas, though the direct impact on staff at the Embassy here in Tokyo is much less than in some other countries.
Life under Covid-19
In Japan and Britain, life is returning to a new normal as we all learn to live with Covid-19. Many travel restrictions and new social practices remain in place, and, for most of us, work will remain a mixture of office and work-from-home for some time to come. Personally, I have found that much of my normal work has returned, and I am pretty busy. The big difference is that I am not hosting or attending the many official dinners, receptions and other events that are a normal part of diplomatic life.
I know that many British long-term residents of Japan have found it a frustrating time, unable to return to Japan if they left, making it impossible to get back to see family and friends. Many felt they were being unfairly treated, as Japanese nationals were free to come and go. Along with other G7 embassies, we regularly lobbied the Japanese government on this and were pleased to see the rules finally relaxed in August.
Climate change
Like the Tokyo 2020 Olympic and Paralympic Games, another casualty of Covid-19 was the major UN Climate Change Conference (COP26), which the UK was due to host in November. It has been postponed to November 2021 but remains a top priority for the Embassy as we seek to persuade Japan to make more ambi­tious commitments, including an end to the financing of coal projects in third countries. I have had a number of meetings on this with Environment Minister Shinjiro Koizumi and senior officials in different ministries.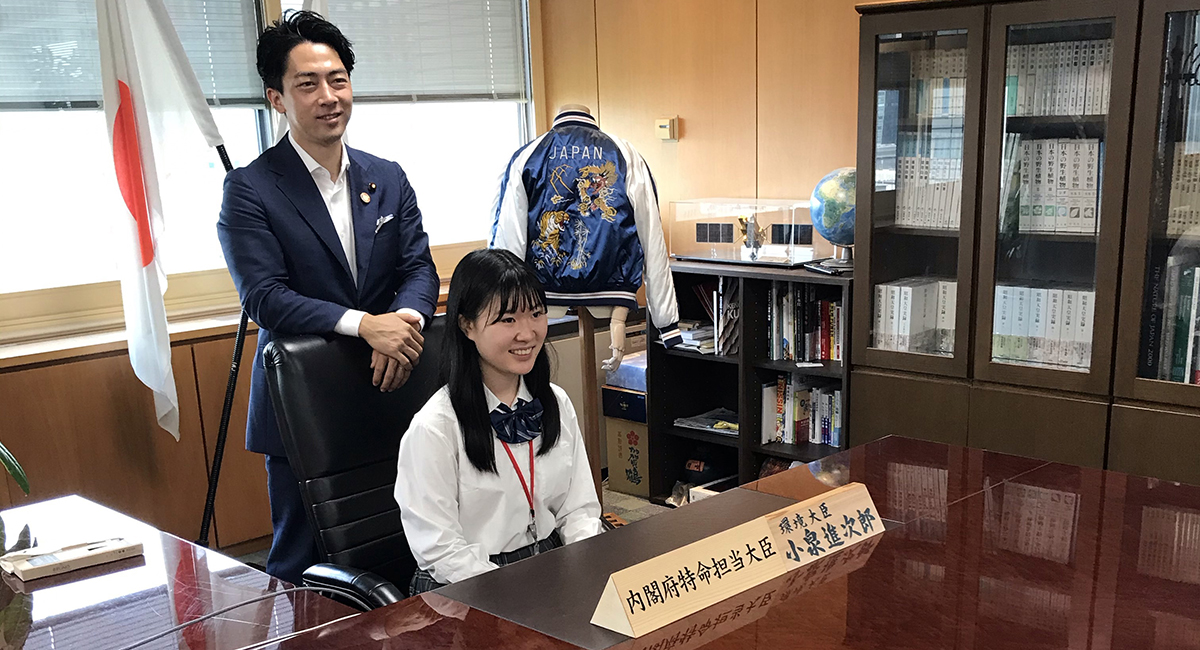 The British Council organised a climate change essay contest for Japanese high school students. We were looking for the Japanese Greta Thunberg. I'm not quite sure we achieved that, but Taisei Yamashita and Shiho Igarashi were worthy winners, and Minister Koizumi was kind enough to invite them in for a chat.