The worldwide spread of Coronavirus has cast a long shadow over all our lives. As I write, many countries including the UK are in effective lockdown, with big impacts on global economic activity. A combination of travel bans by different countries, and massive reductions in airline schedules means that international travel is grinding to a halt. Many events, including the Emperor's State Visit and the Olympics & Paralympics have been postponed. People fear for the health and livelihood of loved ones.
Clean Growth GREAT Week
February had begun reasonably normally in Japan. As part of our UK in JAPAN 2019–20 campaign, we held our Clean Growth GREAT Week from 17 to 28 February. There were a whole series of events—covering a variety of aspects of clean energy—which brought many hundreds of participants into the Embassy.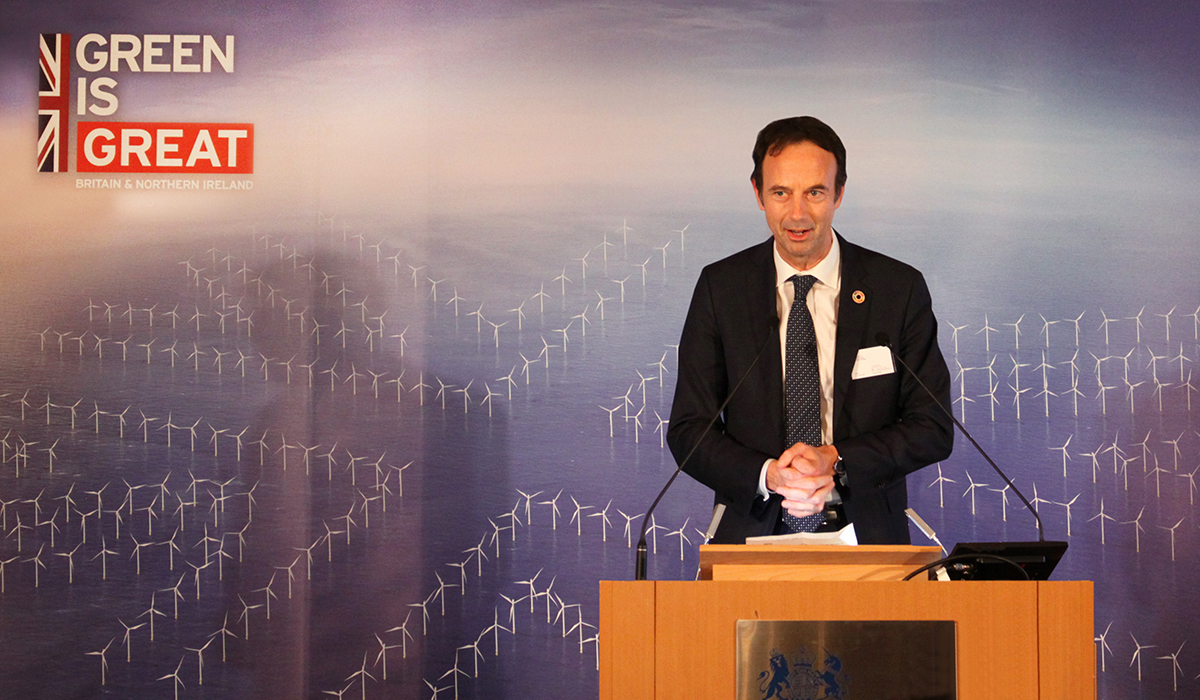 At the launch event, I was able to introduce both Alex Chisholm (above), the Permanent Secretary of the Depart­ment of Business, Energy and Industrial Strategy (BEIS), and John Murton, the UK envoy to the United Nations COP26 climate change conference. They both spoke compellingly about the UK's commitment to decarbonising its economy and the need for others, including Japan, to increase the level of their ambition in time for the COP26 meeting in Glasgow in November. John made the same point in an interview on NHK.
Other individual events promoted Japanese energy invest­ment in the UK and UK exports of offshore wind tech­no­logy to Japan. We also hosted a seminar on nuclear decommissioning, which has been a big growth area for UK firms here since the Fukushima incident. A trade mission of UK energy firms visited Japan and took part in a seminar on improving access to energy in Africa, in which the Japan International Cooperation Agency and Japanese business also participated. We announced that Japan's Albatross Technology, which works on offshore floating wind energy, had won our Energy Tech Rocketship Award, giving them a free trip to the UK to identify opportunities to develop their business there. And the British Council launched a climate change essay contest for school students. Perhaps this will help find the Japanese Greta Thunberg?
The BEIS permanent secretary held annual industrial policy talks with his counterpart, Vice-Minister Shigehiro Tanaka of Japan's Ministry of Economy, Trade and Industry (METI). Alex Chisholm also called on some significant Japanese investors with big operations in the UK.
During the same period, Foreign Office Political Director Richard Moore visited for a range of talks on foreign policy issues—from North Korea to Iran to Syria—with counterparts across the Japanese system.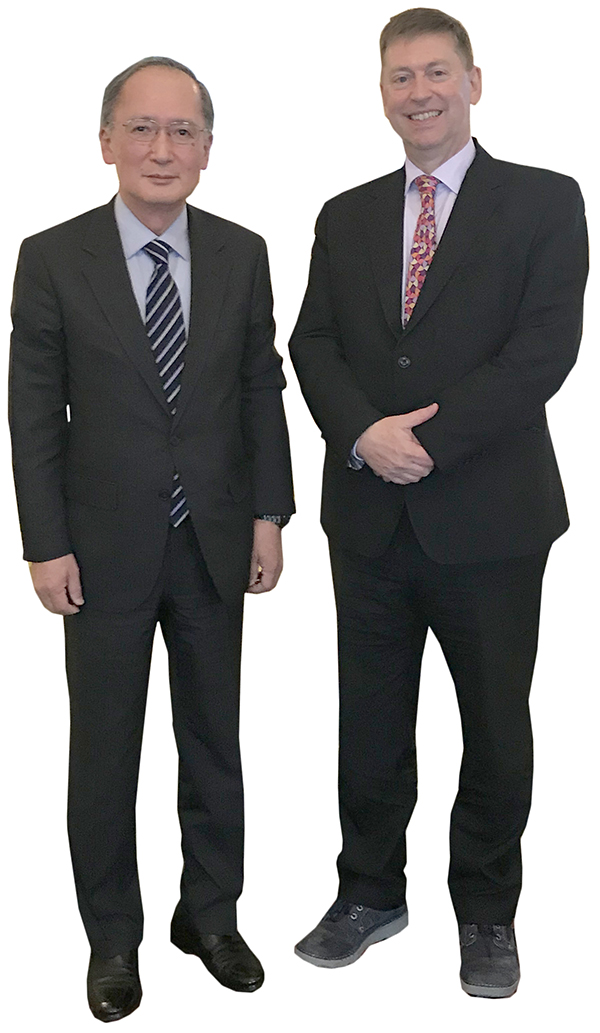 Visits to UK and West Japan
In early March, I was back in the UK for a series of meetings. I had calls at Buckingham Palace. The new Japanese Ambassador in London, Yasumasa Nagamine, kindly invited me round for lunch. He is settling in well in London and enjoying being back in the country once again.
I gave the annual Ambassador's address to the Japan Society of the UK, hosted by Nomura International in the City, an opportunity to describe what has been happening in Japan over the previous 12 months. I was pleased to be able to report that UK–Japan relations were still going from strength to strength. Afterwards there was a lively Q&A chaired by the Society's president, Bill Emmott (formerly editor-in-chief of The Economist).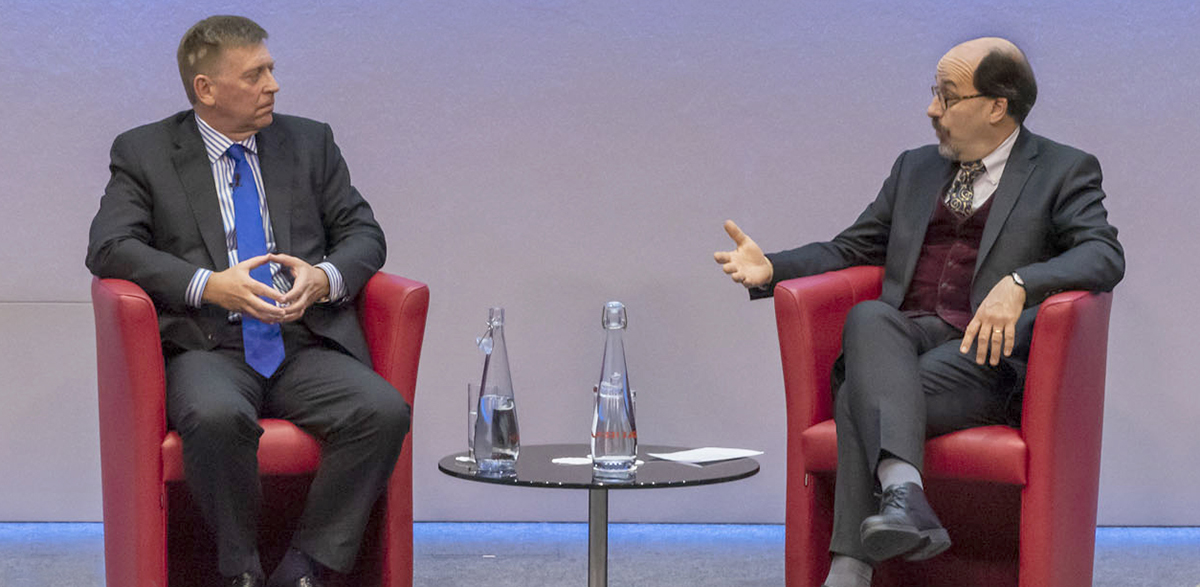 I particularly enjoyed visiting the big Kimono: Kyoto to Catwalk exhibition, which had just opened at the Victoria and Albert (V&A) Museum, with Anna Jackson, who had curated it. It was a fascinating look at the huge impact the kimono has had on global fashion from the earliest days of Japan's contacts with the West.
I also visited Mitsui Fudosan Co., Ltd., the Japanese real estate giant, for a briefing on their property interests in the UK. Fresh on the heels of their highly successful redevelopment of the former BBC site in White City, West London, they are now working on the plans for a new British Library extension in the dynamic tech hub area around King's Cross Station, right next to the very impressive Francis Crick Institute for bio­medical research.
In March I visited Nagoya and Kyoto, meeting the Governors of Aichi and Kyoto prefectures, as well as investors, academics and media. We discussed coronavirus, local economic developments and opportunities in the UK.
Stay safe!