As I write, in early July, we are seeing increasing signs in both the UK and Japan of a world returning more to normal, after a period that has seen many Covid-19-related tragedies and massive disruption to people's lives. In both countries, with Japan somewhat ahead, we are seeing more schools, offices, shops and pubs opening, and people returning to work. It is nice to see the streets looking busier. But it is, of course, a new normal. Everyone is proceeding cautiously, and many measures have had to be put in place to reduce the spread of infection.
Commercial flights continued to fly between London and Tokyo all through the crisis, unlike many international routes. But border restrictions and quarantine requirements reduced passenger numbers to a trickle. Japan is no longer on the list of countries that the British government recommends against travelling to, and quarantine is no longer required for arrivals from Japan to the UK. But travellers from most countries—including the UK—are still not able to visit Japan. And if permanent residents depart, they are unable to come back to Japan for now, which I know is a concern to many Britons living here—particularly as we get into the summer holiday season. Please continue to check our travel advice, as we are in close touch with the Japanese authorities on this and will be communicating any changes in the rules as soon as they happen.
At the Embassy, we continued to be busy throughout the crisis, initially mainly on Covid-19 work but increasingly with more normal business in recent weeks. Our consular section is open for visitors by appointment. At the height of the crisis, about 95% of our staff were working from home. Actually, we found that the technology worked surprisingly well, and we have all got familiar with the new etiquettes of video conferencing. The "chat function" on many platforms seems to have made it a bit easier to participate for people who might normally be a bit shy of doing so. We have had to reconfigure our open-plan office space to ensure adequate social distancing, which reduces the overall capacity. But, like other offices, we are seeing more and more of our staff coming
back in.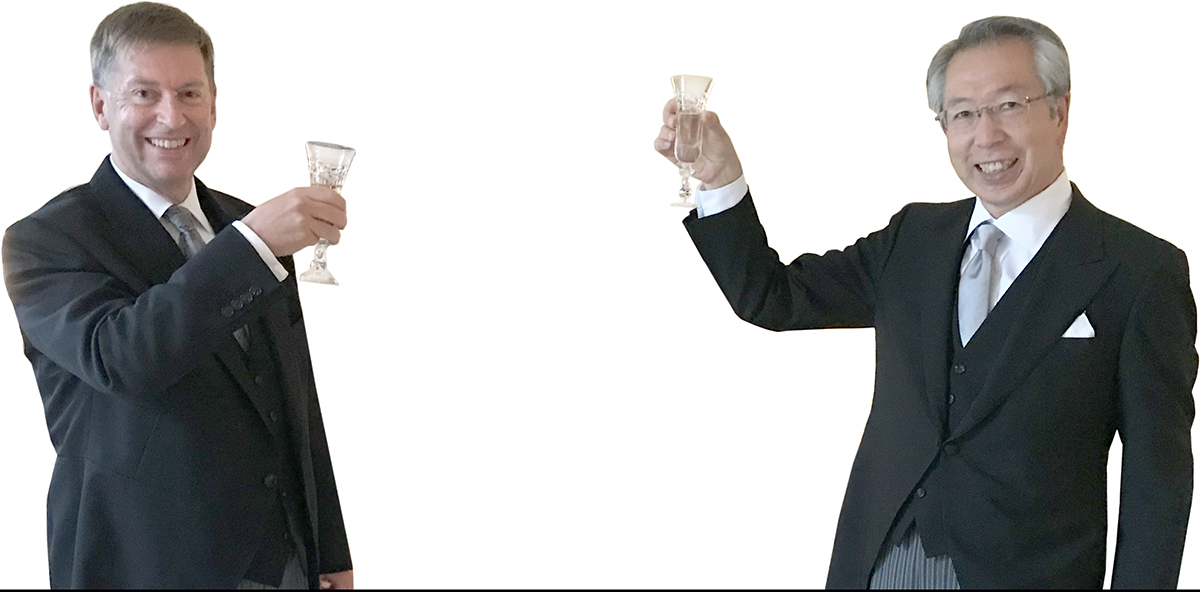 Virtual negotiations for a new trade deal …
Our biggest focus for the past month has been the negotiations for a new free trade agreement (FTA) with Japan. There are tight timing concerns on the Japanese side, because of the Diet's schedule, so both teams are working flat out.
It is very unusual to be negotiating a major trade deal entirely virtually, but there are some benefits. Instead of negotiators having to leap onto planes to travel to each other's country for periodic negotiating rounds, they are able to work in a more continuous flow of online meetings. This is very useful when you consider that the FTA talks involve more than 20 negotiating groups covering different subjects and more than 100 UK officials from a wide range of govern­ment departments. I'm sure that many ACUMEN readers are finding that, in your own businesses, questions are being asked about how the balance between international travel and meeting online will change in the future.
My trade and investment team and I have been keeping in close touch with major Japanese investors in the UK, as well as British firms here. British ministers have engaged directly in video meetings with leaders of the Keidanren and heads of big firms. I hosted a webinar for Japanese small and medium-sized investors and was impressed to be joined by more than 400 firms. Many were very appreciative of the Covid-19 support programmes introduced by the British government—from liquidity support by the Bank of England to funding for workers who had been furloughed.
… and a virtual visit by the Lord Mayor
Japan usually features on the annual visit programme of the Lord Mayor of the City of London, as ambassador for the UK's financial services industry. This year's incumbent, William Russell, was unable to travel as planned, so in June he made a "virtual visit," replicating many features of the programme he would normally have done. He spearheaded seminars on green finance and asset manage­ment, as well as having virtual meetings with the heads of major Japanese financial institutions and Bank of Japan Governor Haruhiko Kuroda. On several of these, he was joined by the new Investment Minister in the Department of Interna­tional Trade, Lord Grimstone. I recalled receiving the minister at my Residence a couple of years ago, when he was chairman of Barclays Bank.
You may have seen the announcement that the Foreign & Commonwealth Office is being merged with the Department for International Development (DFID), a very significant step in reforming the machinery of government. It won't have a major immediate impact on the Embassy, as we don't have any DFID staff. But, the increasing coordination of our foreign policy and overseas aid will give us opportunities to build on the cooperation that we already have with Japan in these important areas.
Gradually opening up for business
The biggest public day of the year for all our embassies around the world is the Queen's Birthday Party. It can take place either in April (HM's real birthday) or June (her official birthday). Typically, we host up to 600 guests at the Residence. This year, sadly, there were no parties. But the Master of Ceremonies at the Imperial Palace, Ambassador Yoshitaka Akimoto, came round to present a message of congratulations from HM the Emperor. It felt rather strange putting my morning suit on to receive him after weeks of working from home in casual clothes.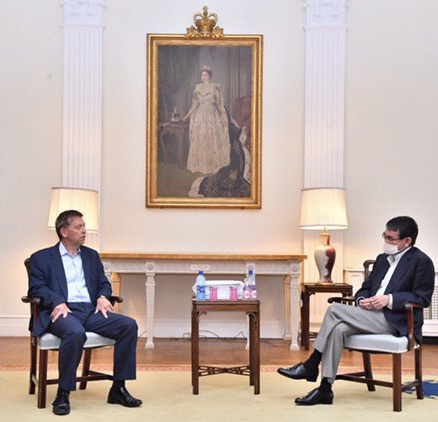 Normally, my Residence is buzzing with up to 20,000 visitors a year for seminars, commercial events, receptions and meals. Since March, it has been echoingly quiet. I fear it will be some time before we are hosting large events again. But the first official visitor, as we began to open up cautiously in June, was Defence Minister Taro Kono. He expressed good wishes for Prime Minister Boris Johnson's recovery, having worked closely with him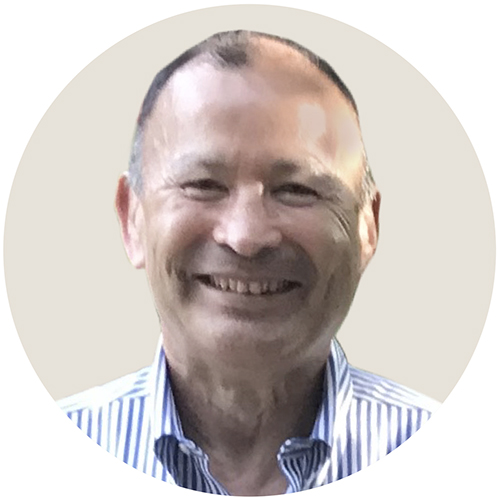 when they were both foreign ministers. We talked about growing UK–Japan cooperation in the defence and security fields, including the prospects for collaborating on future fighter aircraft programmes. My next visitor was England rugby coach Eddie Jones, who dropped round for tea and a chat about last year's wonderful World Cup.
Here comes the sunflowers
A further sign of life returning closer to normal was the long-postponed opening of the exhibition Masterpieces from the National Gallery, London, at the National Museum of Western Art in Ueno on 18 June. We were lucky enough to have a sneak preview the day before it opened officially. There seems to be a work by almost every famous painter you can think of, from artists of the Italian Renaissance through to the Impressionists. The most iconic is probably van Gogh's Sunflowers (actually one of 12 he painted). But my favourite was a huge Turner: Ulysses deriding Polyphemus – Homer's Odyssey. Inevitably, in the current climate, you need to make a reservation—and numbers are strictly controlled—but do go along to see it if you can. If you can't, there is an excellent video introduction to the collection by the curator on: www.britishcouncil.jp/en/programmes/arts/national-gallery-online-guided-exhibition-tour
Sadly, a number of major events in our UK in JAPAN programme, such as visits by the Royal Shakespeare Company and the London Symphony Orchestra, were lost to the coronavirus pandemic. We hope they will be rescheduled in due course. In the meantime, we will be running some of the business aspects of the programme digitally, hoping to move towards more real-world events in the run-up to the rescheduled Tokyo 2020 Olympic and Paralympic Games next year.
---
Cream Tea
I discovered that 26 June was National Cream Tea Day in Britain. Who knew? So, I decided to make a video tweet for the many Japanese aficionados of English afternoon tea. As a native of the glorious county of Devon, I explained the correct way of preparing the scone, with the clotted cream first, followed by the jam. I noted that some misguided people in Cornwall mistakenly think it is the other way round. To my surprise, it turned out to be one of my most popular tweets ever, viewed more than 80,000 times. A large number of Japanese took the trouble to respond, reminiscing about holidays in the UK and, I'm pleased to report, voting 4:1 in favour of the Devon method.
---