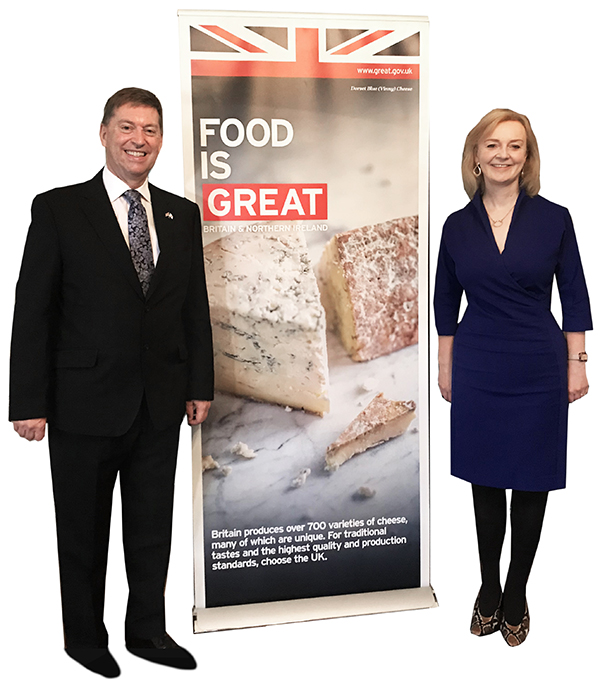 During my time here, I have had the pleasure of welcoming many senior British Cabinet ministers to Japan. But this year we had no VIP visitors, following the Foreign Secretary's February trip. So, it was a great pleasure to have Secretary of State for International Trade Liz Truss here in October. And even more so, because it was for the historic signing of our new trade deal, the UK–Japan Comprehensive Economic Partnership Agreement.
Fortunately, the Japanese government exempted SOS Truss and her small party from the compulsory two-week self-isolation for arrivals from overseas, but set very strict Covid-19 protocols around what they could do here. Essentially, they were confined to meetings at the ministries and my Residence.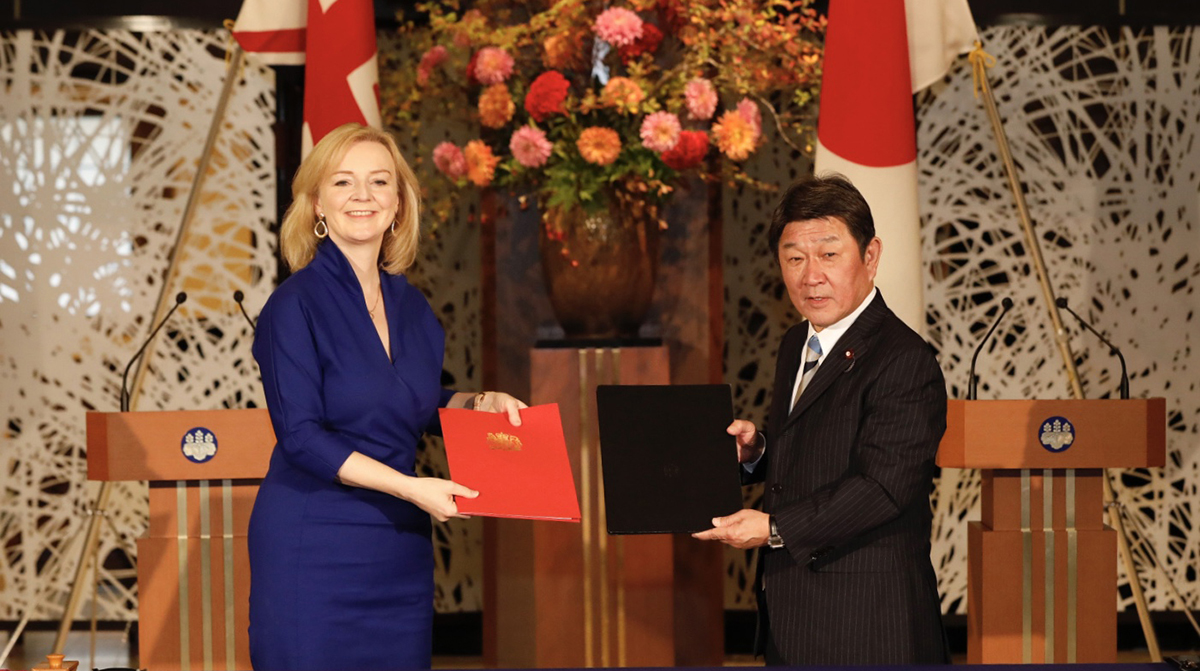 Nevertheless, she had a very full programme. After the signing cere­mony with Foreign Minister Toshimitsu Motegi (pictured above), we had lunch at the Foreign Ministry Guest House, Iikura House,  where we discussed reform of the World Trade Organization and the UK's plans for our G7 presidency next year.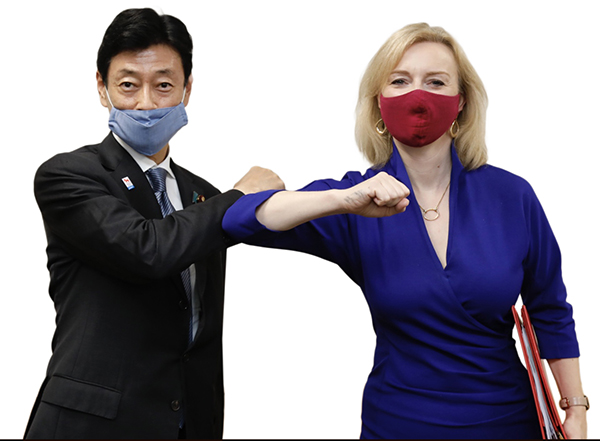 She also called on Minister for Economy, Trade and Industry Hiroshi Kajiyama to discuss UK–Japan business cooperation, and on Cabinet Office Minister Yasutoshi Nishimura (right), who is a familiar face from our TV screens here, as lead minister on the Covid-19 response. He is also responsible for the Comprehensive and Progressive Agreement for Trans-Pacific Partnership (CPTPP). He undertook to do every­thing possible to advance the UK's interest in joining the CPTPP during Japan's presidency of the process next year.
Liz Truss also undertook a range of press engagements and met Japanese business representatives, including leaders of the Keidanren, whilst her lead trade negotiator, Graham Zebedee, briefed the British Chamber of Commerce in Japan (BCCJ) and British businesses. Having now worked out a formula for the logistics of VIP visits during the coronavirus pandemic, we are hoping for further ministerial visitors.
Prime Minister Suga commits to net zero carbon emissions by 2050
We were also delighted by PM Yoshihide Suga's announcement—in his speech at the opening of the extraordinary Diet session on 26 October—that Japan would commit to zero greenhouse gas emissions by 2050. This represented a significant policy shift, and one that Britain had long been pressing for—together with like-minded partners within Japan—as we prepare to host the United Nations Climate Change Conference (COP26) next year.
PM Boris Johnson, together with French President Emmanuel Macron and UN Secretary General António Guterres, is hosting on 12 December a virtual Climate Ambition Summit, at which PM Suga will speak, to mark the fifth anniversary of the historic Paris Agreement.
We now look forward to hearing Japan's detailed plans for implementing this commitment, including, hopefully, a full phase-out of support for coal. PM Suga has quickly got into action on the international scene. Following early phone calls with PM Johnson and other world leaders, he made his first overseas visit as PM—to Vietnam and Indonesia—in October.
Back in the UK, as Covid-19 position tightens
Just before SOS Truss's visit, I had made a brief visit to the UK, my first since the spring. I called on the Defence Secretary, Ben Wallace, to talk about the continued deepening of the UK–Japan security relationship, which has been going from strength to strength. I also met senior officials in a range of Whitehall departments. We discussed the UK's Integrated Review of Security, Defence, Development and Foreign Policy, which is currently underway. It is not clear at the time of writing when, exactly, this will be published. But it is expected to feature a significant shift of emphasis towards this region, sometimes described as an Indo–Pacific tilt.
I also caught up with my counterpart, Ambassador Yasumasa Nagamine, and with British Paralympic Association Chief Executive Mike Sharrock. The postponement of the Tokyo 2020 Olympic and Paralympic Games to 2021 has created a number of logistical and financial challenges for Mike and his team—just as it has for the organisers in Japan. But they are very much looking forward to coming to Tokyo to compete next year.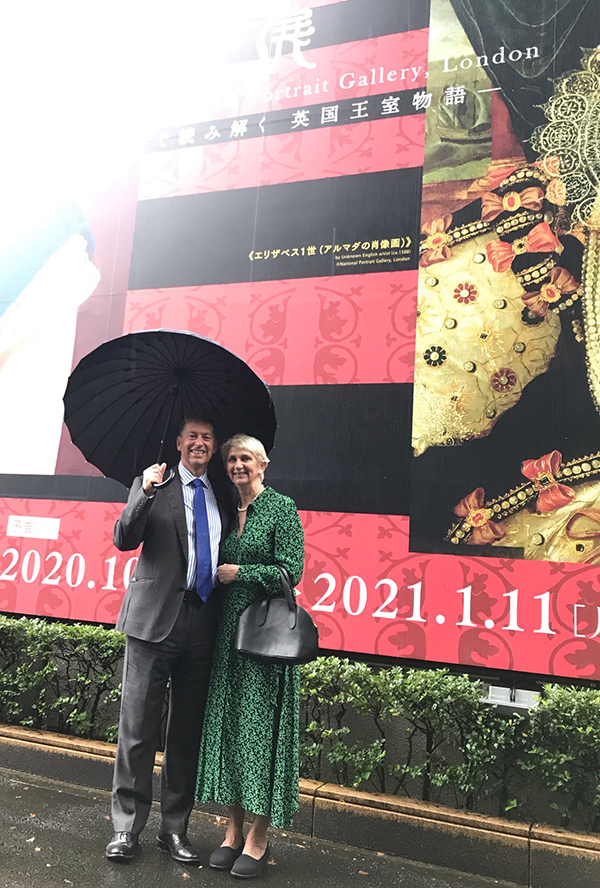 Whilst I was in London, the city went into Tier 2 of the government's Covid-19 designation. I was still able to do business meetings but, when meeting up with our children, we had to remain outside as we were not part of their immediate households. It was strange to see central London so quiet. As the second wave hits Europe, moving into the winter, many governments are having to tighten up lockdown measures, often at a city or regional level. England has subsequently moved into full lockdown. Once again, it is a very worrying situation, but hopefully the healthcare systems are a bit more prepared for it this time round. And academia and the pharmaceutical industry continue to make progress towards vaccines.
---
Christmas in Japan
As the evenings draw in, thoughts begin to turn towards Christmas. As a diplomat, I've experienced Christmas in various ways in different countries: beach holidays in Australia; fake snow in Singapore shopping malls; schmaltzy decorations in America. It's always a bit different in non-Christian Japan, where it's not even a public holiday. But those of us who do celebrate it always manage to make it a special time here, too. The BCCJ's British Business Awards usually feel like one of the first signs of Christmas. This year, that too was a virtual event. And for the first time in nearly 30 years, travel restrictions mean Sarah and I won't be spending Christmas with any of our three children. No doubt many of you are similarly affected. I hope you still manage a happy and peaceful Christmas. And I'm sure we're all hoping that things will look brighter in the new year.