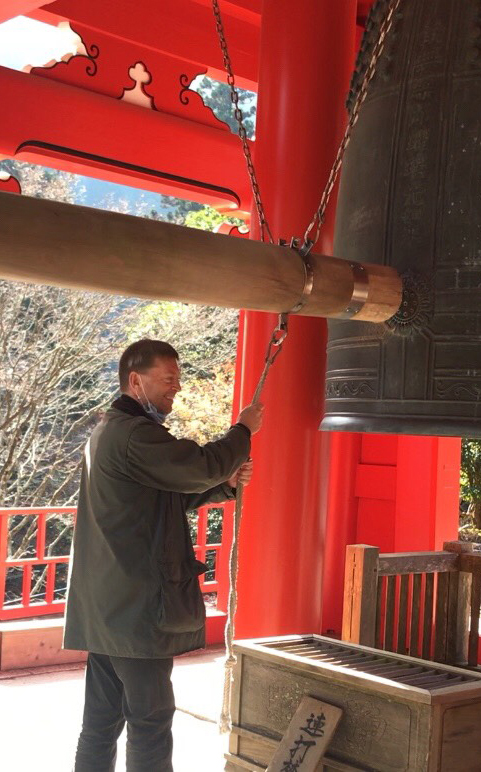 The difficult year of Covid-19—2020—ended with things looking a little brighter. Following our historic new trade deal in October, we welcomed Prime Minister Yoshihide Suga's November announce­ment that Japan would achieve net-zero greenhouse gas emissions by 2050. This was something that the UK, as host of the major UN climate change conference COP26 this year, had been encouraging Japan towards for some time. The positive news on vaccines was very heartening, not least for everyone looking forward to the Tokyo 2020 Olympic and Paralympic Games. Of course, eco­nomic recovery will remain a big focus for governments and business for a long time to come.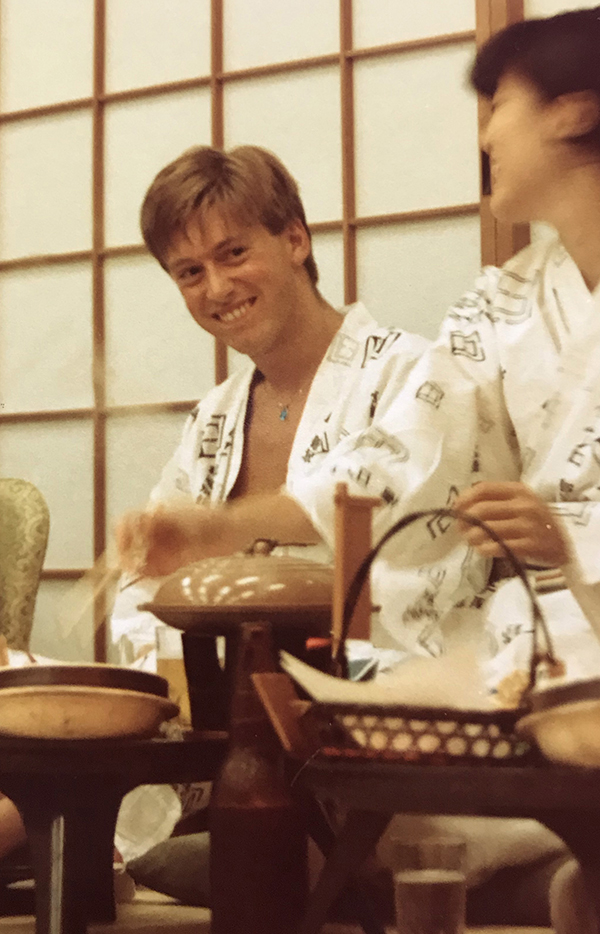 Looking back
As this is my last column for ACUMEN as British Ambassador, I hope you will permit me to reflect on my time here and my almost 40-year connection with Japan. My first visit in 1983, on a study tour organised by the Ministry of Foreign Affairs of Japan, after winning an essay contest, inspired me to want to live in the country. I transferred from the then-Department of Trade and Industry to the Foreign Office, studied Japanese at London University's School of Oriental and African studies and at the Embassy's language school in Kamakura, and was posted to the Embassy in Tokyo from 1988 to 1992.
Many of my subsequent postings were in the region, including ambassador­ships in Australia and Singapore. I also had the pleasure of being responsible for the UK Pavilion at Expo 2005, Aichi, so am very much looking forward to Osaka hosting the expo in 2025. I returned as Ambassador in January 2017.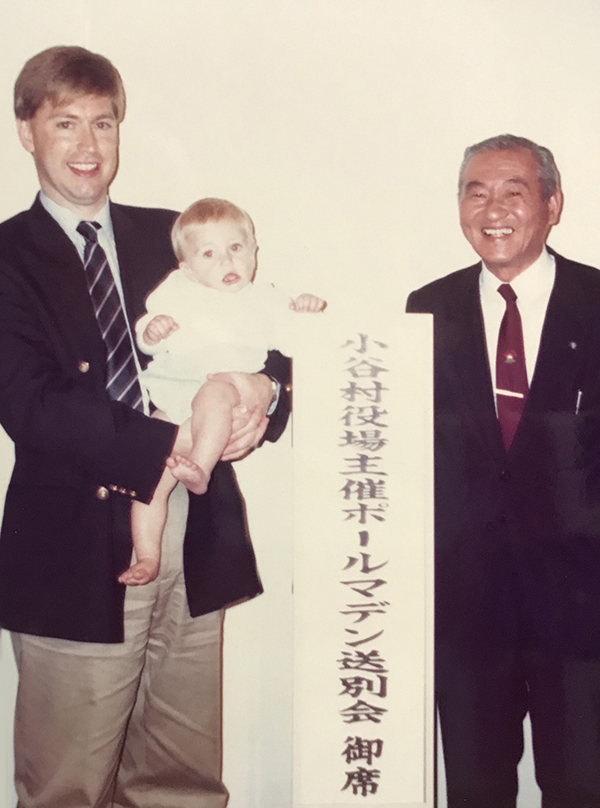 The bubble era
Younger colleagues often ask me what it was like to be living in Japan during the "bubble jidai". It's hard to describe the buzz, the sense of excitement and change that all of us here then felt, as Tokyo seemed to become, briefly, the centre of the world. The word I heard most was kokusaika (internationalisation), as Japanese businesses poured abroad, acquiring firms and assets. The flow of Japanese investment into the UK has brought much benefit to both countries over subsequent decades. Many individual Japanese were travelling overseas for the first time as tourists and students—all fuelled by the strong yen. Tokyo was a magnet for young foreigners like me. Some of my friends stayed, married and made their lives here, as I was pleased to see when I returned.
Sarah and I have many happy memo­ries from that time. They include the birth of our first son in Seibo Hospital, in Shinjuku, as well as homestays with Japanese families—in Oita on Kyushu, the Kansai region and Bihoro on Hokkaido—and twinning my hometown Ottery in Devon with Otari-mura, in the beautiful Japanese Alps. There was also the end of the Showa era and the beginning of the Heisei, a fascinating three-month secondment to the then-Ministry of International Trade and Industry, and Japan's huge trade surpluses and major trade friction with the US, plus my efforts to reduce the liquor tax on Scotch whisky. Who could have predicted that, by 2020, UK–Japan trade would be broadly in balance?
Working on the Expo 2005, Aichi was a fascinating experience. For a start, it introduced me to Nagoya, the industrial powerhouse which still accounts for about 1% of the world's gross domestic product. The area is home to one of my favourite museums in Japan, Meiji-mura, which preserves buildings that reflect the incredible fusion of East meeting West in Japan's rapid 19th-century industrial revolution.
Returning to Japan
Coming back to Tokyo 25 years after our first posting, what had changed? I guess the biggest difference was the rise of China. People rarely talked about China then; now they talk about little else. The ageing, shrinking population has assumed more prominence. You don't always notice it in Tokyo, but out in the provincial cities and countryside, it is much in evidence. Ordinary Japanese seem to lead more-comfortable, less workaholic lives than I remember from the 1980s. Dads have more time to spend with their families—although fewer people seem to be getting married and having kids. If I'm honest, I had thought Japan would have progressed further in advancing the opportunities for women by now.
There are fewer transient expats here nowadays, and far more long-term ones, often married to Japanese and with a long-term stake in this country. Travelling round the country meeting British people on the Japan Exchange and Teaching (JET) Programme working in schools, I am sometimes a little concerned to hear that fewer young Japanese nowadays seem interested in studying or working overseas.
In the 1980s, government ministries were relatively independent, battling fiefdoms. Now, thanks to structural changes and the longevity in office of former Prime Minister Shinzo Abe, government feels much more joined up and centralised.
I was also struck by the psychological overhang of the 2011 tsunami and Fukushima nuclear disaster—a "far bigger impact than Covid-19," as someone reminded me—long after the physical and economic reconstruction had happened. That's why I chose Fukushima for my first official visit outside Tokyo as Ambassador, visiting the Daiichi Nuclear Power Plant and meeting workers.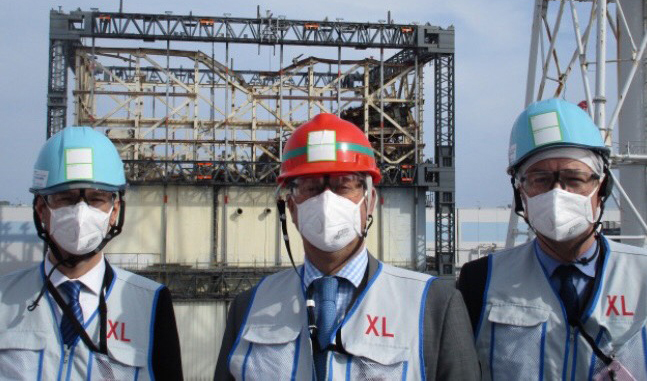 The life of an Ambassador is pretty diverse. You have an opportunity to be associated with so many aspects of the interchange between two significant countries. On top of the business as usual come some major one-off issues and events, some of which you are aware of when you get the job and others which—like the coronavirus—just catch you unawares.
My main areas of focus over the past four years have been: security; business (including Brexit); Covid-19; and big, ad-hoc events such as the Imperial Enthronement and Rugby World Cup 2019.
Business ties
Business has always been a top priority for British Ambassadors in Tokyo. With some 150,000 British workers directly employed in Japanese firms in the UK, I have always been clear that supporting them was a key task for me. I've visited Japanese investors all over the UK, including Scotland, Wales and Northern Ireland, as well as kept in close touch with their headquarters here.
So, the UK's decision to leave the EU was a significant issue in Japan. Japanese investors, who dislike uncertainty, were particularly concerned during the period when our minority government seemed unable to get its policies through Parliament. The election of Boris Johnson with a big majority in December 2019 reduced that uncertainty, and we left the EU in January 2020. So far, a small number of Japanese firms have had to make minor adjustments to their UK presence for regulatory reasons. But my sense is that most remain committed to staying in the UK, because of all the advantages that brought them there in the first place. And, despite the recent global economic challenges, we have continued to see new investment from Japan in tech sectors.
I was particularly pleased to be involved in the conclusion of a historic new trade deal, the UK–Japan Comprehensive Economic Partnership Agreement (EPA), in October 2020, towards the end of my posting. This will ensure continued market access for business on both sides. It goes further than the EU–Japan EPA in a number of areas, including financial services and digital, and marks an important first step towards UK accession to the Comprehensive and Progressive Agreement for Trans-Pacific Partnership (CPTPP).
Royals, rugby and Covid-19

You hope to get one big event in the course of your posting, if you're lucky. But during my time in Japan, they came thick and fast. Enthronements only happen once in a generation, so I was very fortunate that the Reiwa era began on my watch. Attending this ancient ceremony together with the Prince of Wales was one of the highlights of my whole career. It was disappointing that the State Visit to the UK by His Majesty the Emperor, due in 2020, had to be postponed.
Thanks to the Rugby World Cup, I ended up having three members of the Royal Family staying at my Residence in the space of a few weeks, with Princess Anne here as patron of the Scottish team, and Prince Harry as the English patron. Having four teams to follow—England, Scotland, Wales and the shared all-of-Ireland team—at venues all over Japan was a huge privilege and great fun. Just a shame England faltered at the very end after a magnif–icent tournament. I was also very sorry to see the Tokyo 2020 Olympic and Paralympic Games postponed to this year. I'm sure they'll be a big success.
---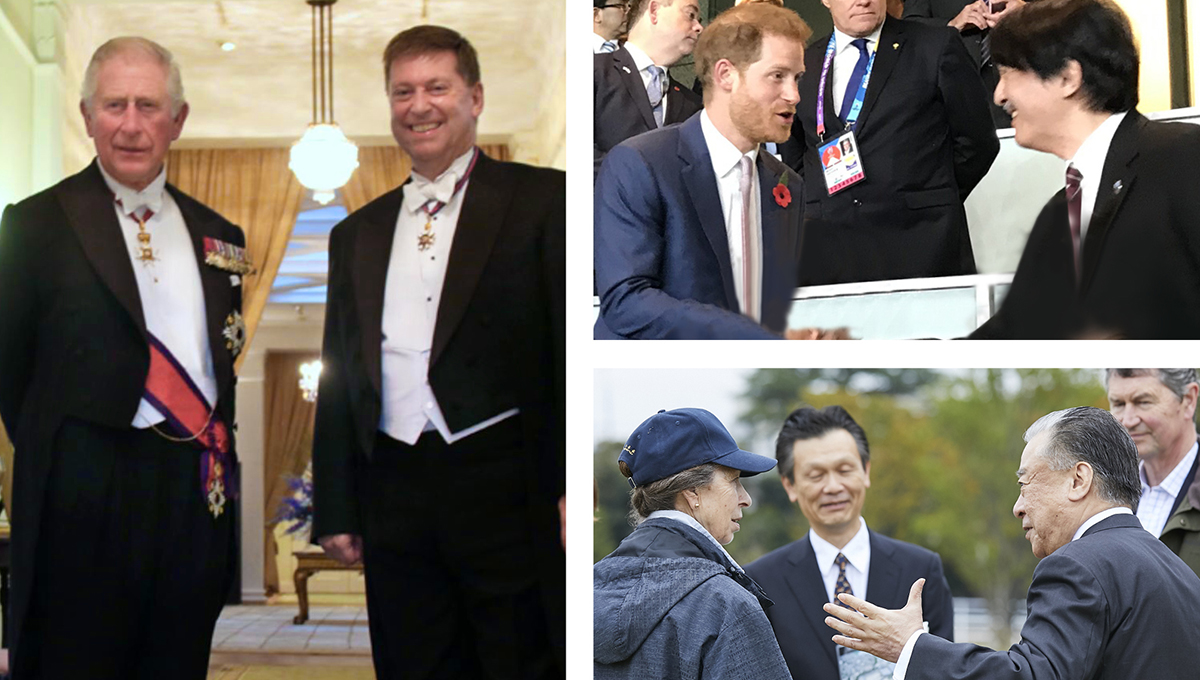 Thanks to the Rugby World Cup, I ended up having three members of the Royal Family staying at my Residence in the space of a few weeks, with Princess Anne here as patron of the Scottish team, and Prince Harry as the English patron. Having four teams to follow—England, Scotland, Wales and the shared all-of-Ireland team—at venues all over Japan was a huge privilege and great fun. Just a shame England faltered at the very end after a magnif–icent tournament. I was also very sorry to see the Tokyo 2020 Olympic and Paralympic Games postponed to this year. I'm sure they'll be a big success.
---
Japan's G20 Presidency in 2019 was also a big deal for the Embassy. It brought Prime Minister Theresa May to Japan for the Osaka summit, as well as many other Cabinet ministers for separate meetings. PM May was also in Japan in 2017 for a high-profile visit that ran from a tea ceremony with PM Abe in Kyoto, and a joint Shinkansen journey back to Tokyo, to a state banquet at the Akasaka Palace. I also accompanied PM Abe's UK visit in 2019. These top-level contacts between leaders really help to shape the overall bilateral relationship, producing joint vision statements that set out a wide programme of action for working together ever more closely.
I wasn't expecting my final year in Japan to be completely dominated by a pandemic. Here in Tokyo, we got an early taste of what was to come with Covid-19 from the crisis on board the Diamond Princess cruise ship docked at Yokohama. With about 80 Brits on board, we were soon in the thick of it, organising emergency evacuation on a specially chartered plane. As the disease spread worldwide, wreaking havoc in health and economic spheres, and upturning everyone's lives, all our plans were transformed. Our UK in JAPAN campaign, which had begun so well, was also sadly impacted by the cancellation of many blockbuster events.
At the Embassy, our main focus became helping vulnerable British citizens, assisting the NHS's efforts to purchase supplies from the Asia–Pacific region, and detailed reporting of Japan's coronavirus experience and policies. As a resident of Japan, it is hard not to be impressed with the very low level of Covid-19 cases and deaths compared with other developed countries. I'm not sure anyone has identified a single magic bullet to explain this: it was a combi­na­tion of some good policy measures, social behaviours and underlying good public health.
It's another example of the safe, secure, comfortable living environment that makes so many foreigners fall in love with Japan and choose to make their lives here. Of course, there are some frustrations with the speed of getting things done in a society that is often risk- and change-averse. But these are far outweighed by the attractions of stunning natural landscapes and a unique culture and history—which I've seen as I've travelled to all 47 prefectures—and, above all, by the decency, warmth and friendship of the Japanese people as you really get to know them.
On my study wall at the Residence is a collection of black-and-white photo­graphs of elderly, often bewhiskered men: my predecessors as HM Ambassador Tokyo. My successor, Julia Longbottom CMG, will be a refreshing change as our first female representative here. As a highly respected colleague, and a friend of more than 30 years' standing, I wish her all the best. I hope she has as much fun as I've had.
So, farewell Japan. You've been such an important and wonderful part of my life. Don't worry; I'll be staying in touch.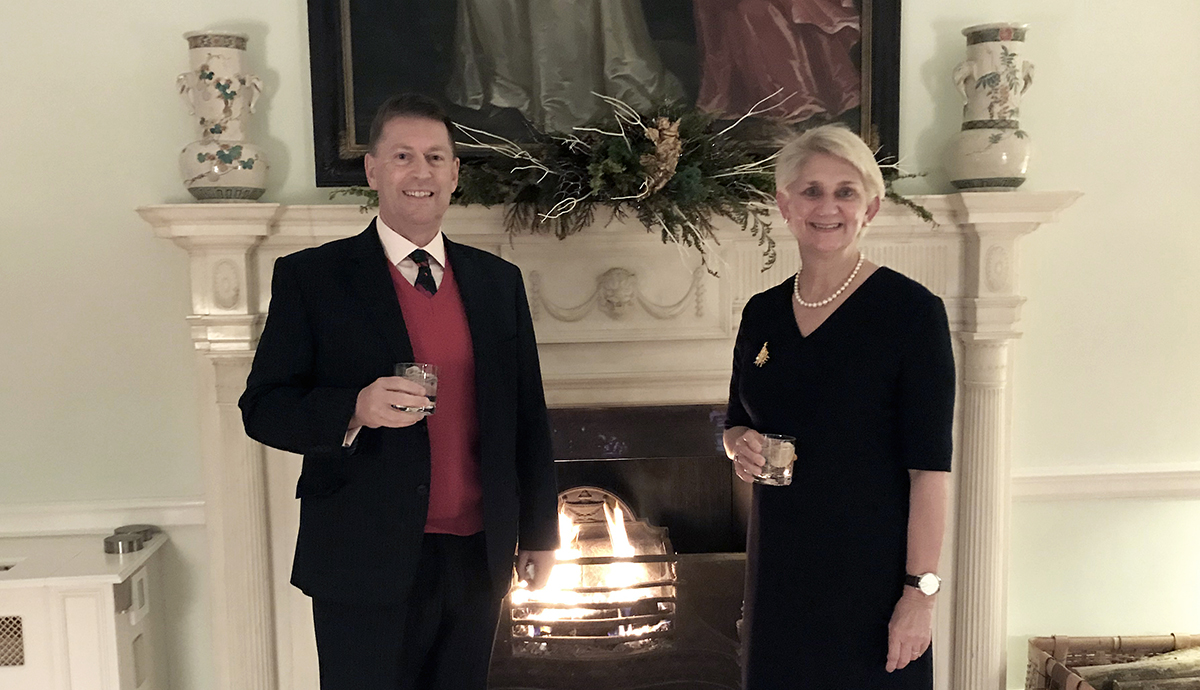 CUSTOM MEDIA, BCCJ AND THE BRITISH COMMUNITY IN JAPAN THANK PAUL MADDEN CMG FOR MAKING BILATERAL BUSINESS AND CULTURAL TIES STRONGER AND BETTER