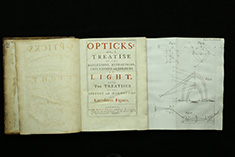 HIKARI—The Wonder of Light
Until 22 February
Featuring the first editions of the works of famous British scientists in the field of optics including Isaac Newton, Robert Hooke and Thomas Young, this showcase will explore the allure of not only visible light, but also that which is not visible to the naked eye.
Artwork: From Opticks: Or a Treatise of the Reflexions, Refractions, Inflexions and Colours of Light, London, 1704, first edition by Sir Isaac Newton
Photo: Kanazawa Institute of Technology Library Center
National Museum of Nature and Science
7-20 Ueno Park
Taito-ku, Tokyo
9am–5pm (open until 8pm on Fridays; closed Mondays)
Adults: ¥1,600
www.kahaku.go.jp/english/exhibitions/ueno/special/2014/hikari/
03-5777-8600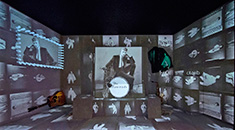 David Bowie is
24–29 January
Marking 50 years, in 2014, since UK singer David Bowie's debut, this documentary explores an exhibition at the Victoria and Albert Museum, London, on the musical innovator and cultural icon.
The film was directed by BAFTA Award-winning director Hamish Hamilton, who directed the opening ceremony of the London 2012 Olympic and Paralympic Games.
Shinjuku Piccadilly
3-15-15 Shinjuku
Shinjuku-ku, Tokyo
Schedule: Contact venue for details.
Adults: ¥2,500
www.culture-ville.jp
03-5367-1144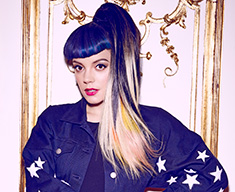 Lily Allen LIVE IN JAPAN 2015
27 January
The London-born singer and songwriter will perform popular favourites, as well as pieces from her new album Sheezus (released in May 2014) in her first performance in Japan since 2009.
Toyosu PIT
6-1-23 Toyosu
Koto-ku, Tokyo
7pm (Doors open at 6pm)
¥8,000
www.sunrisetokyo.com/schedule/details.php?id=2558
05-7000-3337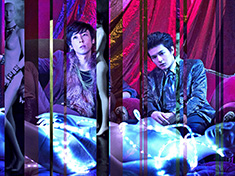 Mercury Fur
1–22 February
Based on the original play by English writer and artist Philip Ridley, this performance, produced by Setagaya Public Theatre, will be directed by Akira Shirai and performed in Japanese.
Mercury Fur is set in a dystopian future, where gang violence and drugs wreak havoc on communities.
Photo: Atsushi Nishimura
Theatre Tram
4-1-1 Taishiodo
Setagaya-ku, Tokyo
Various show times
Adults: ¥6,800
www.setagaya-pt.jp/theater_info/2015/02/mercury_fur.html
03-5432-1515
Japan Grand Prix International Orchid Festival 2015
14–22 February
This special exhibition, marking the 25th anniversary of the festival, will feature the species oncidium alexandrae from Buckingham Palace in London.
The orchid was used for Queen Elizabeth II's wedding bouquet. The 2014 gala showcased over 1,200 exhibits of Western, oriental and Japanese orchids from over 20 countries.
Tokyo Dome
1-3-61 Koraku
Bunkyo-ku, Tokyo
10am–5:30pm
Adults: ¥2,200
www.jgpweb.com/outline/english.php
03-3591-0551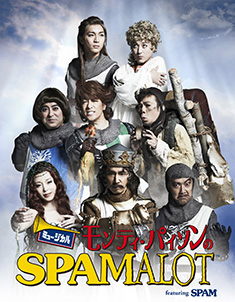 Monty Python's Spamalot
16 February–1 March
This musical comedy is adapted from the British film, Monty Python and the Holy Grail. The 2005 winner of three Tony Awards, which recognise excellence in live Broadway theatre, Spamalot is a parody of the legend of King Arthur, and will be performed in Japanese.
Akasaka ACT Theater
5-3-2 Akasaka
Minato-ku, Tokyo
Various show times
Adults: from ¥9,000
www.spamalot.jp/
0570-00-3337