UK Events in Japan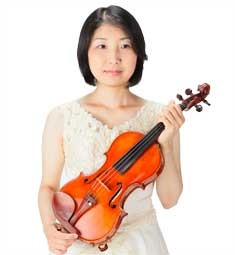 Violin Recital by Michiko Kobayashi
24 November
London-educated violinist Michiko Kobayashi has been introducing pieces by British composers to Japanese audiences since her debut in 2004. In past recitals she has performed works by Hubert Howells, Sir Edward Elgar and Howard Ferguson. This year, she will perform pieces from Frederick Delius with prominent Japanese pianist Yusuke Kikuchi. Kobayashi has won numerous awards in Japan and abroad, including the silver medal at the Guildhall School of Music and Drama.
Tokyo Opera City, Recital Hall
3-20-2 Shinjuku
Shinjuku-ku, Tokyo 163-1403
Starts: 2pm
047-335-2002
Adults ¥4,000
www.michikolondonviolin.com/page/schedule.html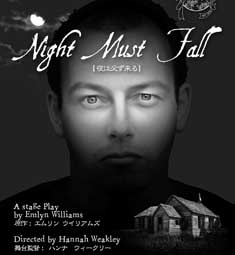 Night Must Fall
5–8 December
This psychological thriller was written by Emlyn Williams, a Welsh dramatist and actor. In October 1935, deep in a forest in Essex, England, an otherwise ordinary household is turned upside down when the maid becomes pregnant and brings around her charming boyfriend. The mistress of the house's niece soon becomes suspicious of the man's motives. This 1930s stage and screen classic was an instant hit in the West End and on Broadway.
Theater BonBon Nakano
3-22-8 Nakano
Nakano-ku, Tokyo 164-0001
5 & 6 December at 7pm
7 December at 1pm (director's talk to follow) and 7pm
8 December at 3pm
090-6009-4171
Adults ¥4,500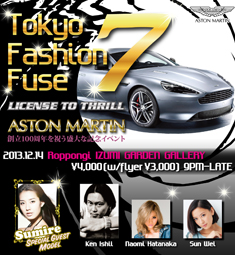 Tokyo Fashion Fuse 7
14 December
Celebrate the centennial year of Aston Martin Lagonda Ltd. at this fashion and car-centred party. Three fashion shows will be held throughout the evening, with the glamorous DressCamp brand leading the way. Special guest model Sumire, who was recently chosen as a presenter on NHK World TV, will be in the spotlight on the runway. Ken Ishii, one of Japan's biggest deejays, will provide music for the event. Aston Martin will be a focus of the show, with two of the brand's cars on display by the runway, including a Bond series DB9.
Izumi Garden Gallery
1-5-2 Roppongi
Minato-ku 106-0032
Starts: 9pm
03-3589-5276
Adults ¥4,000
(¥3,000 with printout of this page or screen shot on phone)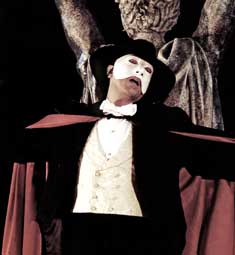 Ken Hill's Phantom of the Opera
19–29 December
This original classic musical is coming to Japan for the fifth time. Peter Straker is once again playing the title role of the Phantom. Ken Hill, originally from Birmingham, was the first to create a script and lyrics for the Phantom of the Opera novel by Gaston Leroux. Initially staged in 1976, his version of the musical was revived in 1984 in its current form. Since then, it has played around the world.
Tokyo International Forum Hall C
1-5-3 Marunouchi
Chiyoda-ku, Tokyo 100-0005
0570-550-799
Adults from ¥6,000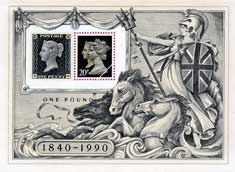 Stamps from the UK
Until 27 December
The first postage stamps were invented in Britain. Nowadays stamps can reveal the history, traditions, arts, famous sites and beautiful wilderness found in the UK and elsewhere. Visitors to this exhibition can view the latest Royal Family stamp, and see for themselves how stamps can be an interesting way to learn about a country.
The Philatelic Museum
1-4-23 Mejiro
Toshima-ku, Tokyo 171-0031
10:30am–5pm (Closed on Mondays)
03-5951-3331
Adults ¥200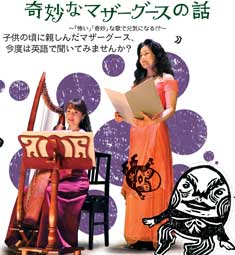 Curious Tales from Mother Goose
23 & 28 December
The Mother Goose stories have been passed down for generations. Readers may not have realised it when they were young, but the bizarre stories are actually full of social satire and often obscure lessons for children. In Curious Tales from Mother Goose, readings in English will be accompanied by baroque harp music. Wooden cutouts of the characters from the stories will be displayed as the stories are recited.
Jiyugakuen Myonichikan auditorium
23 December, 2pm
Yokohama Red Brick Warehouse
28 December, 3pm
042-422-0373
Adults from ¥6,000
http://kproductions.co.jp/mothergoose2013_top_page.html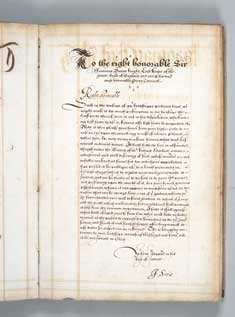 Marco Polo and the Silk Road World Heritage Sites: "The Birth of Oriental Studies in the Occident"

Until 26 December
In 1613, when the British ship Clove arrived in Hirado, Nagasaki, Commander John Saris delivered official letters from King James I to Tokugawa Ieyasu. As part of the official celebrations marking the 400th anniversary of UK–Japan relations, on display will be Saris' diary, which is registered as an important cultural property.
Toyo Bunko Museum
2-28-21 Honkomagome
Bunkyo-ku, Tokyo 113-0021
10am–8pm (closed on Tuesdays)
03-3942-0280
Adults ¥880