"The People by Kishin"
Until 24 December
Kishin Shinoyama has been at the forefront of photography since the late 1950s. However, this is the photographer's first large-scale solo show to be staged in a Japanese museum, all previous requests to hold retrospective exhibitions having been turned down. The exhibition focuses on portraits of famous people and features the well-known photograph of John Lennon and Yoko Ono taken in 1980.
Tokyo Opera City Art Gallery
3-20-2 Nishi-shinjuku
Shinjuku-ku, Tokyo 163-1403
11am–7pm (8pm on Fridays and Saturdays)
Last entry 30 minutes before closing timeClosed on Mondays (Tuesday if the Monday is a public holiday)
Adults ¥1,000
03-5353-0756
www.operacity.jp/ag/exh145/index_e.html
"Two Times: Antony Gormley Project in Hayama"
Until March 2013
Turner Prize winner Antony Gormley's project asks the question of where human existence can be found in the wider scheme of things—providing evidence of what it is like to be alive and alone in space and time. The exhibition reflects different moments in time by the placement of two human statues in different locations.
The Museum of Modern Art, Hayama
2208-1 Isshiki
Hayama, Kanagawa 240-0111
8:30am–7pm (March, September–November)
8:30am–6pm (December–February)
Closed on Mondays (excluding national holidays) and 29 December–3 January 2013
Free admission (does not include exhibitions inside the museum or parking)
http://gormleyinhayama.blogspot.jp/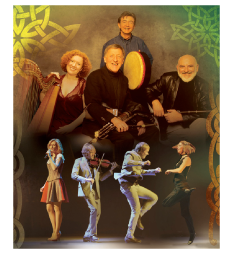 The Chieftains: The 50th Anniversary Tour
22 November–7 December
The original traditional Irish folk band to some, the Chieftains have had an important musical influence worldwide on country, bluegrass, folk, rock and pop music. In celebration of 50 years together, this legendary Irish band will tour Japan.
22 November
Orchard Hall, Bunkamura
7pm (Doors open 6:15pm)
¥5,500 (sold out), ¥7,000, ¥8,500
30 November
Sumida Triphony Hall
Featuring the New Japan Philharmonic
Conductor: Taizo Takemoto
7pm (doors open 6:15pm)
Preschool children will not be admitted
From ¥5,500
1 December
Oympus Hall Hachioji
Special guest: Yoko Yano
5pm (doors open 4:15pm)
From ¥6,000
http://plankton.co.jp/chieftains/
03-3477-9111 (switchboard)
Rain: A Tribute to the Beatles
16–28 November
This Beatles tribute show began as a spin-off of the 2011 Broadway production Beatlemania. Rain was hugely successful in the US and Europe, and will be performed in three Japanese cities in celebration of the Beatles' golden anniversary.
23–28 November
Tokyo tour
Tokyu Theatre Orb
11F Shibuya Hikarie
2-21 Shibuya
Shibuya-ku, Tokyo
24 November 1pm
23, 25, 27, 28 November 2pm
24 November 6pm
26, 27 November 7pm
Weekdays from ¥5,500
Saturdays, Sundays, national holidays from ¥6,500
For further dates, please visit:
www.rain-in-japan.com/
Japan in a Day
From 3 November
Constructed from YouTube videos of individuals' daily lives on 11 March 2012—one year after the Tohoku earthquake—this film was led by British director Ridley Scott. The project was conducted in Japan and around the world, in memory of the day.
TOHO Cinemas, Roppongi Hills
6-10-2 Roppongi
Minato-ku, Tokyo
http://japan-in-a-day.gaga.ne.jp/
You Will Meet a Tall Dark Stranger
From 1 December
This 2010 film is a Spanish–American co-production comedy-drama, written and directed by Woody Allen. Set in London, the story follows two married couples as their passions, ambitions and anxieties lead them into trouble and turn their lives upside down. Well-known British actors Anthony Hopkins, Gemma Jones and Naomi Watts star in the film.
TOHO Cinemas Chanter
1-2-2 Yurakucho
Chiyoda-ku, Tokyo