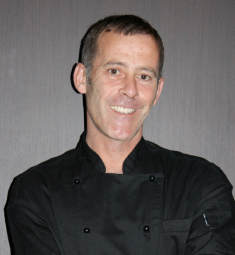 Photos: Joao Longo Pereira
No tablecloths, fast service and real food
• Briton uses French method to cook US food
• Honed skills in Hollywood and … Oklahoma
• Grill and rotisserie cuisine in a brasserie setting
• Still strong after 11 years in tough market
In the 11 years since chef Ian Tozer opened Roti, a US-style grill and rotisserie, he has noticed big differences in the way in which a substantial portion of the restaurant's clientele likes to eat.
And he is delighted.
"There has been a huge shift in the way many of our Japanese customers eat and I really welcome it", said Tozer, 50, who in February 2001 opened the first-floor restaurant in the heart of Roppongi.
"Lots of people tended to have a nibble of this and a little taste of that, and then move on to something else. But now, nothing gives me more pleasure than seeing a Japanese person ordering a huge steak, or a young woman picking up a big burger and eating it as a burger is meant to be eaten", he said.
"When we first opened, I used to send out 10 steaks and seven would come back with a request for them to be cut up", he told BCCJ ACUMEN. "That makes the meat dry, as the juice runs out and it quickly goes cold. There were times I went out and had words with customers, but we don't get much of that any more.
"Our Japanese diners want the full experience of what we do here and I'm really pleased to see that".
Over the years, many of the items on the menu have become classics, making it impossible to replace them. Roti—a reference to the French-style revolving grill—has a rotisserie constantly in motion in the kitchen.
"I have customers coming in here who are addicted to some of the things on the menu", said Tozer. "The American president of the Virgin Toho Cinema that was being built in Roppongi Hills came in here five times a week for over a year and always ordered our Bang Bang Chicken Salad", he said.
"And then he would often return the same evening with some colleagues, and order the same for everyone.
"As a chef, to see that happening gives me the greatest satisfaction, but it makes it difficult to radically revamp the menu as there would be a riot".
The concept behind the restaurant is that of an American wine bar and grill in a chic, modern brasserie setting. Tozer is unsure if a single term has been coined to describe precisely what he does, but draws on knowledge and skills gained from over three decades in the business on three continents.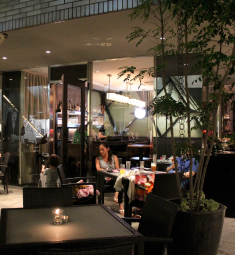 Born in Shaftesbury, Dorset, Tozer left school aged 16 to start chef training, but faced the unappetising prospect of serving meat-and-two-veg for the foreseeable future after graduating. He answered a trade magazine advert that was looking for chefs to work in the US, and received a telegram five days later telling him to pack for Tulsa, Oklahoma.
Tozer admits that arriving in Tulsa, a small city in the Midwest, as a 21-year-old from the exciting London scene was "a mighty culture shock", but was also a learning experience.
After a stint working in the city's Kensington Hotel, he threw his motorbike in the back of a U-Haul rental truck and drove to Hollywood. He began working at the Radisson Plaza Hotel in Los Angeles just as the California food movement was starting to take off.
A few years later, a spell in San Francisco cemented his love of American cuisine and gave him some fantastic anecdotes. Tozer catered for movie-wrap parties thrown by George Lucas on his Skywalker Ranch in Marin County, and fed 400 investment bankers from New York on Alcatraz Island— despite there being no running water, limited electricity and the kitchen being set up in the former prison library.
On a brief visit to Tokyo to see his friend and fellow chef David Chiddo, who left LA in 1992, Tozer fell in love with the city's vibrant atmosphere. He moved here in 1994, "before the bubble burst and when all the excesses of the heyday were still in vogue".
He opened the 240-seat Farm Grill rotisserie and wine bar in Shimbashi and then joined staff of the West Park Café in trendy Yoyogi-Uehara.
Together with Chiddo, Tozer went on to work at T.Y. Harbor Brewery in Tennoz Isle where they revamped the entire operation, all the while refining his exciting ideas for his own restaurant.
Convinced that his vision for a restaurant would work, everything in Roti—from the menu, décor and management, to the carefully selected wines and craft beers—is Tozer's.
"You could say that I have something of an obsession with Paris-style brasseries", he said. "We have no tablecloths, fast service and our own style of food: real food. This is a brasserie on my terms".
Tozer is constantly searching for the best ingredients for the restaurant's menu, be it a juicy American or New Zealand steak, or an Old or New World wine. He tweaks the menu three or four times a year, but is careful to retain the dishes for which Roti can be justifiably proud.
Popular appetisers include New Orleans-style Oysters Rockefeller, Cajun barbecue shrimp, and popcorn mushrooms stuffed with blue cheese. The Bang Bang Chicken Salad needs no introduction and is just as tasty as the house-smoked Altantic salmon, grilled Australian lamb chops, or the classic roti chicken, also available in a Peruvian-style, which means it is brushed with spicy chilli sauce.
And that is even before the burgers have been added to the mix.
Thursdays to Saturdays have recently become lobster nights at Roti. Live Maine lobsters are prepared in a variety of ways, including the East Coast speciality method of lobster rolls.
Sundays are steak nights when a selection of prime US sirloin and New Zealand bone-in rib eyes can be enjoyed by diners.
"My thinking is that we like to be busy every day, because when we are not, our energy level goes down", he said. "So why not throw open the doors, slash the prices and welcome some people in that might not usually dine with us?
"Who knows; we may convert them and they will come back other nights with friends", he added with a shrug. "Bold, but why not?"
Roti's popular weekend brunches run from 11:30am to 5pm. Happy hour is Mondays to Fridays, 5pm to 7pm, which allows connoisseurs to sample six rotating craft beers on tap—including brews from Scotland.
Like all good chefs, Tozer has some secrets up his sleeve. He won't reveal what ingredients are added to his barbecue sauce, but warns that while most burgers will send you to sleep in the afternoon, his version will revitalise you for the rest of the working day.
Those secrets have undoubtedly contributed to Roti's longevity—many other restaurants have come and gone in the decade during which Tozer has been building his reputation. But it takes a lot more than that to be a success.
"It's about staying positive, keeping at it. It's the determination and dedication on my part and of the team", he said. "There are a lot of chefs in Japan who are doing some fine work, but you still have to stay at the stove and remain involved, hands-on and keep the passion.
"It's a very hard business and you certainly don't get into this business for the money", he added. "If you lack the passion—and a love of extremely hard work—that shows, and the customer can see it.
"With a small restaurant like this, it's as if we are welcoming people into our home", he said. "We want this to be a place where not only can you be sure of an excellent meal, but also of being welcomed like an old friend".
Roti Roppongi
Piramide Building 1F
6-6-9 Roppongi
Minato-ku
03-5785-3671
www.roti.jp
Open: 11:30am–11pm