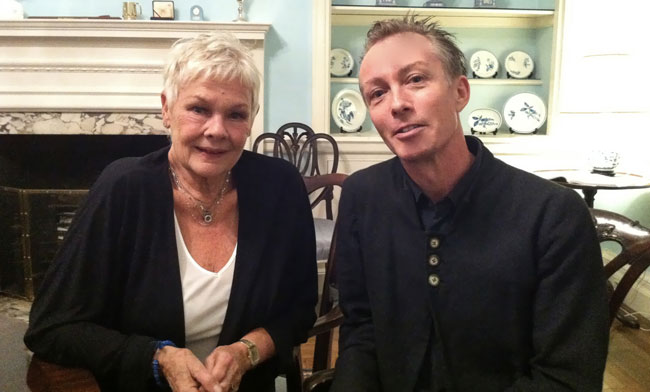 Dame Judi Dench CH DBE has won many awards and accolades throughout her 60-year career, but at the Chelsea Flower Show this year there was a first—she had a rose named after her. I think it's rather appropriate. Both are pretty, delicate, can be prickly, smell delightful and are very English icons.
It was at another reception celebrating her career that we met for an interview. In 2011, the British Embassy Tokyo commemorated Dench being awarded the Praemium Imperiale, a global arts prize from the Japan Art Association in honour of the late Prince Takamatsu (1905–1987), the younger brother of the late Emperor Hirohito.
We had a conversation in a private sitting room away from the guests, and yes, just like a rose, she did smell delightful. A soft powdery perfume you would associate with a mum or granny, which Dench is—apart from being a global film star and legend of the stage.
She immediately reminded me of my mother: of the same generation, petite, softly mannered and with a similar cheeky twinkle in her eye. So it felt a bit odd having to interview her, instead of just giving her a hug and having a gossip. I suddenly felt nervous. I didn't want to be too familiar. But she put me at ease and we had a laugh comparing our spiky haircuts.
Dench is a Dame of the British Empire, has an Oscar, a Tony, two Golden Globes, seven Oliviers, 10 BAFTAs and many more awards. But when I asked her what is the most rewarding part of her work, she said, "Being in a company in the theatre. Getting a go at doing a play, night after night and, hopefully, getting better".
Getting better is something she has certainly achieved. She has become a master of her trade by being on stage, as well as the small and big screens, since 1957. And yet the fear of never working again hasn't diminished. She touched wood and said, "I'm always frightened of where the next job is going to come from".
Work hard
When I asked her why she keeps working so hard, she bristled slightly. "Why do I keep working? Because I love it so much. What is the percentage of people who really love the job and run to work? I'm in that tiny little percentage".
The prickly Dench demands respect for the craft of the theatre and "can't bear being referred to as a luvvie". She recently berated young actors for lacking curiosity in their artistic heritage, not speaking or projecting properly nor understanding Shakespeare. She has never stopped studying, saying, "There's always something to learn. If I come into a job being complacent, that's the moment I trip up".
And what advice would she give to people entering this career, which can be a very a tough ride? "If you're inclined towards another career, do that".
Our conversation took place one week before Dench was to start shooting Skyfall, which would be her final instalment in the James Bond series as M, the head of MI5. I had no idea at the time that her character was to be killed off, and if I had, I might have shed a tear—007 is a bit of a guilty pleasure.
Dame Judi said playing M was great fun, but that it was also quite a challenge learning to use all of the gadgets on set. When rehearsing unsuccessfully with some high-tech gizmo while her husband was by her side, he said in jest, "Judi, if you've got to save the world, we've given up". She was sworn to secrecy and wouldn't tell me any more about the incident. I commented on how good she was at playing the role on screen and carrying it over into real life.
Talking about working on the Bond films, Dame Judi said, "Again, it's like family. It's very, very exciting". She obviously has many loyal colleagues in the acting world and noted, "I love working with other actors, and find the generosity of actors a very remarkable thing. Their friendship, I wouldn't exchange it for anything".
Her own generosity on stage and screen has been for our enjoyment, and I'm sure many people are delighted to know they can now have a Dame Judi Dench growing in the garden. Described by its creators as "a beautiful rich apricot rose, with a lovely light-medium tea scent. A vigorous grower that is particularly reliable and healthy". Now that sums up Dench to a T!