This summer saw another frenzied off-season for British football teams, with clubs in the English Premier League splashing out a record amount on new players, and teams again spent the period jetting off to all corners of the world on money-spinning tours to raise the profile of the already stratospherically popular competition. All the while they were preparing for the start of the new season, which kicked off on 12 August.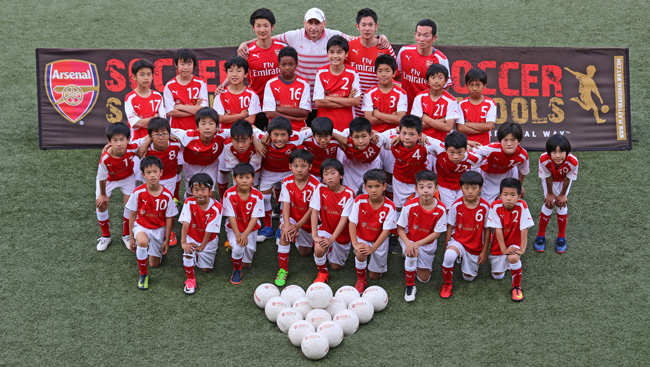 Unfortunately, this year no British teams came to Japan as part of their pre-season preparations, although this country is borne very much in mind by clubs looking to expand their fan bases and, potentially, discover the next Shinji Kagawa or Hidetoshi Nakata.
"As a club, we are fortunate to have millions of fans around the world", said Neil Murphy, head coach of the Liverpool Football Club (LFC) International Academy in Japan.
"Through the various international academy projects, we can bring the club to those fans and provide opportunities for young players to learn to play the Liverpool way", he told BCCJ ACUMEN. "Japan fits perfectly with that philosophy, so it was a natural fit and logical next step for us back in 2014 to set up an official youth coaching programme here".
The club operates year-round coaching programmes in which young players are taught the Liverpool coaching curriculum. That can be supplemented with soccer schools or camps that take place during the school holidays and can be held over two, three or five days.
The courses are open to boys and girls between the ages of five and 12, with coaches working to a maximum of 16 players to one instructor. Two Liverpool coaches are based in Japan full time, supported by a team of Japanese instructors.
"The young players are taught the same curriculum with the same coaching philosophy we implement at the LFC Academy", Murphy said.
"This is a holistic player development programme which not only develops players on the pitch, but just as importantly improves their attributes off the pitch as well.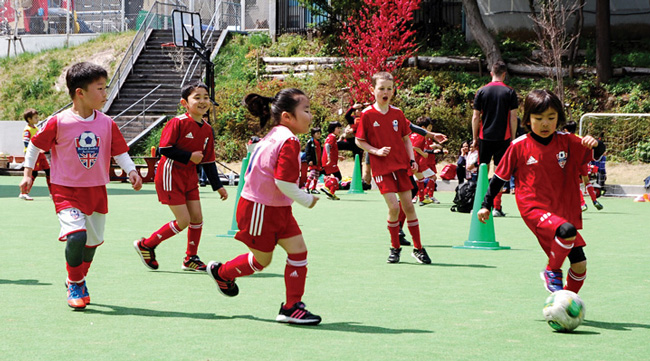 "On the pitch we look to advance players in all aspects of our development model, in the technical, tactical, physical, mental and socials areas", he said. "The level and rate of development very much depend on the age of the players, so all aspects of training are age- and ability-specific.
"Off the pitch, we focus on a certain way of doing things, what we call the Liverpool Way", he added. "To educate the players and help to develop their life skills, we talk to them about our values, the things that are unique and important to LFC. So we focus on our four core family values—ambition, commitment, dignity and unity—and also challenge our players to demonstrate these values and develop themselves in these areas".
New signing
Chelsea and Manchester United football clubs have training schools in Japan, but the newest arrivals are Arsenal, who opened a football school in April. And Peter Kirov, the director of coaching, says the club has a strong historical link with Japan.
"As a former manager of Nagoya Grampus Eight, Arsène Wenger is still a very popular manager in Japan and he had great success winning the J.League", he said. "Also, the Arsenal style of play is very suitable for Japanese players, where the players' technical skill, speed of movement—with and without the ball—and intelligence are the most important qualities.
"Arsenal players are relatively small in comparison with many other Premiership teams, but they are very skilful under pressure—and very fast".
Arsenal camps operate on weekdays and school holidays, with 30 to 50 youngsters typically taking part in groups of a maximum of 10 players per coach. The camps currently take place in Tokyo and are open to boys and girls between the ages of seven and 15.
"The technical skills, tactical knowledge and history of the club are only a few of the things that we teach our students", Kirov said. "We also want them to learn to be responsible, to be honest, to respect their parents and teachers, to communicate properly with their teammates, coaches and officials, to become leaders rather then followers, to be creative, to learn some English—and just to be good human beings".
And Kirov believes the potential for the game in Japan is huge.
"The game is growing in popularity and more and more youth players are joining select football clubs and chasing their dream to become professional footballers", he said.
"In my opinion, Japanese youth players are some of the most talented in the world because they possess all the qualities needed to play top-class football in the future, such as great ball control skills, good balance, speed of movement, as well football intelligence.
"The drawback is just the quality of coaching at the moment in Japan", he said. "It is still in the very early stages in terms of true knowledge of coaching and player development".
Love of the game
The soaring popularity of football has its disadvantages, however, with Sid Lloyd, founder of the British Football Academy (BFA), warning that the upcoming 2019 Rugby World Cup and the Tokyo 2020 Olympic and Paralympic Games are likely to lead to an upsurge in the number of people wanting to take part in sport and put further pressure on facilities.
"Football is incredibly popular right now, especially with youngsters, and I do believe it would be even more popular if there were enough pitches for people to play on", Lloyd said.
Originally from Shropshire, Lloyd has been in Japan for more than 30 years and set up the BFA in 2004, after having completed his Football Association coaching badges. Currently, there are around 600 children enrolled in courses at seven sites in and around Tokyo and Yokohama. Players can start as young as three in the Pups class and go on to become Academy Stars, for 11 to 13 year olds.
"We really want to make football fun for all", said Lloyd. "The training is very varied and includes shooting drills, small matches and games involving a ball that might not be seen in normal football but still develop skills that are important in the sport.
"For us, it is all about teaching the children a love of the game and, to me, there is nothing better than seeing kids play with a smile on their faces".