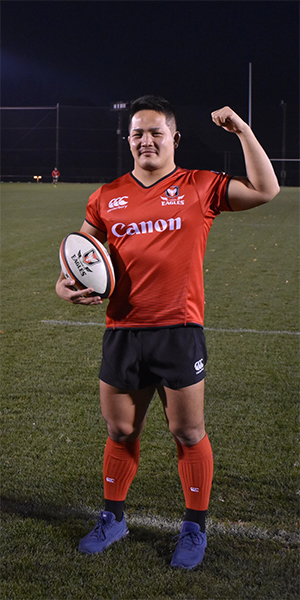 When the Rugby World Cup (RWC) 2019 kicks off on 20 September, Kobe, the capital of central Japan's Hyogo Prefecture, will play host to four matches, three of which will feature England, Scotland and Ireland. In preparation for the tournament, Kobe native and Brave Blossoms' star hooker Yusuke Niwai took part in an official training camp in Twickenham, London. During his three weeks there, the 27-year-old played in a test match against England and soaked up UK rugby culture.
In addition to being part of Japan's national team, Niwai also plays for the Sunwolves in the Super Rugby league and is captain of the Canon Eagles in Japan's Top League. To learn more about his experience in the UK,  ACUMEN spoke with Niwai.
Why did you start playing rugby?
When I was 10, I started playing rugby together with my friend. Before that, I played football, but I had become bored with it and was looking for something more exciting. Then I found rugby. Being a full-contact sport I found it more exciting, which is the main reason I still enjoy playing rugby.
Why did you decide to go pro?
When I was a high school student, although I was as big then as I am now, I was not big for a rugby player. I thought it would be impossible to play professionally. But, while I was at university and looking for a career path, I gained confidence in playing rugby and decided to join the Top League.
What is your most memorable experience?
Honestly, all the memorable experiences are those when I felt frustrated rather than happy. The score is often close when our Top League team—the Canon Eagles—loses. I feel so frustrated. I hate losing! It might sound childish but, when I lose, I am in a bad mood for the rest of the day.
What are your goals as a player?
I would like to become a player whom people trust. Both as a rugby player and a person, trust is important. Even if you play well, if you are not trusted you will never do well in games. But it is difficult to earn trust, so I always make a conscious effort to be a person on whom people can count.
How do you spend your free time?
When I have days off, I like to relax at home. When I hang out with teammates, we some­times organise a barbecue. Recently, we had a Christmas party at a fellow player's house and exchanged gifts. This year I got body cream and lip cream as a Christmas gift.
What was the turning point in your life?
There is a moment when I was in junior high school that I have never forgotten. It is something my rugby coach told me when we were in the same car on the way home. At that time, I was in the school rugby squad's Team B—the reserves. But, at the last minute just before a match, Coach had moved me up to Team A. My goal had been nothing more than to move up to Team A.
Looking back, I know that was a mistake, but I did not realise it at the time. I was satisfied to be on Team A and forgot my real goal. I did not play well in matches, and the matches did not go well. We lost to a team we easily should have beaten.
After the matches, when Coach and I were talking alone in the car, he said: "Generally, I do not tell people but, this time, I will tell you the truth. I made a mistake moving you up to Team A". He probably no longer remembers saying that, but those words pierced my heart and have stayed with me ever since.
I said earlier that I want to become a player whom people trust. This memory is the reason. When Coach told me this, I felt so frustrated. I realised that I had made him tell me because I had betrayed his trust. I was angry at myself.
This happened more than 10 years ago, but I still hear those words every day, no matter what I do. When I'm in a slump, I think back to this moment and I tell myself: "If I quit now, I will betray trust again. I do not want to do that". I do not want to repeat that mistake.
What is your motto?
"Where there is a will, there is a way". If there is no will, nothing can be achieved. The first thing I prepare is my mindset. I try not to lose sight of my true intentions.
How was your recent visit to the UK?
When we arrived at Heathrow Airport, people asked us if we were football players! When we told them we are Brave Blossoms, they remembered the RWC in 2015 and welcomed us.
London is very beautiful and the atmo­sphere is traditional. We did not have much free time but, when we could, we all went out and explored the city. I took lots of photos at Piccadilly Circus and Buckingham Palace. I felt like a country boy visiting Tokyo for the first time. I was surprised by how multicultural and international London is. It has lots of authentic traditional Japanese restaurants, and we found a yakiniku place and had some meals there.
On the final day, after the last test match, which was against Russia, we all had fish and chips together at the hotel. It was lovely! As rugby players, we shouldn't eat fried food too often, so it was something of a reward. We all enjoyed it so much.
What will you remember most?
It was a great honour for me to play at Twickenham Stadium. It is the stadium rugby players around the world dream of. I was absolutely delighted to play there and felt that one of my life dreams had come true. One day, after I have learnt more English, I would like to play for a UK club.
Which UK player do you most respect?
After the test match against England, we exchanged uniforms. I swapped mine with Maro Itoje, an English rugby union lock. I felt he was the most impactful player I had seen while in the UK. When I saw his back as we traded uniforms, I was surprised at his strong build! I am really looking forward to battling him in the future.
Is it true that you have a sumo ancestor?
Yes, my grandmother told me that one of her Edo period ancestors was a professional sumo wrestler in Osaka, and that his name was on the rankings list. As a descendant of a sumo wrestler from hundreds of years ago, I just might have some powerful genes.
How do you maintain your strength?
I pay attention to what I eat, consuming as much protein as possible, and vary my daily physical training. Weight training is very important for upper body strength, so I bench press up to 160kg. To make up for being relatively small for a rugby player, I make an effort to build strength.
What do you recommend in Kobe?
Kobe is famous for beef, and I would definitely recommend trying it when you visit. It is delicious and has a delicate taste.
Then Kobe boasts lots of great places to visit, including Kitano-Ijinkan and, my favourite, Mount Maya. At night, you get an amazing view from there; it is probably one of the most beautiful night views in Japan. When the weather is nice, one can see Osaka from Mount Maya. I love my city; it is very romantic at night.
Any messages for our readers?
At the last RWC in 2015, we surprised the world. So the first thing we have to do is win in the RWC 2019. We will outdo our 2015 performance. Please come and watch us in Japan. We will play against Scotland and Ireland and, I'm afraid, all I can tell your readers is that we will defeat them both.