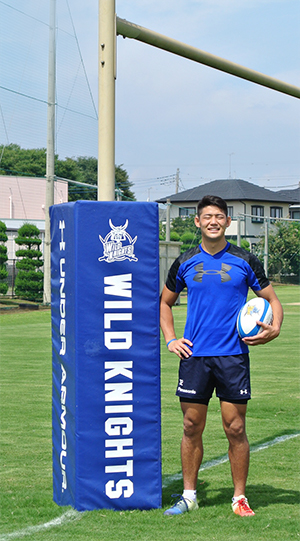 Twenty-five-year-old Yoshikazu Fujita, the Japanese rugby star born in Kyoto, played at Higashi Fukuoka High School and Waseda University—both known for the sport. At the age of 18, the winger and fullback became the youngest Japanese player to play abroad. As we look to the Rugby World Cup (RWC) 2019, BCCJ ACUMEN sat down with Fujita to learn about his career and dreams.
Tell us about your time in the UK.
I feel a deep affinity with the UK. I went there three times in one month. The first week, I went for the RWC 2015 inspection tour. The second week, I went to the Rugby Sevens World Series. And the third week, I went to play for the Barbarians. Immigration stopped me that third time. I said, "I'm here to play for the Barbarians." But the officer didn't believe me and said, "Don't lie".
I knew that the style of rugby played in the UK was different, but most surprising to me was the attitude of the fans. They appreciate and applaud good plays even when made by the other team. When I saw this, in the country where rugby was born, I truly understood the meaning of the term "no side". This is such a good culture. I was immensely impressed.
When I played in Australia and New Zealand, I didn't feel this. But when I play in the UK, I feel so good. The audience is united, and everyone knows rugby. The day after we defeated South Africa in 2015, everyone in town applauded us. People in the UK respect the sport and value it greatly. When I felt this culture, I understood why rugby really is a gentleman's sport.
What drew you to rugby?
When I first started playing, I had a friend whose older brother was taking baseball lessons. If I went to their hands-on course, I could get a hamburger! So, I went there and they asked me to join their baseball team. I was ready to start, but my father, who had played rugby for a long time, didn't want me to. When I told him that I would take up baseball, he said, "Wait." Soon after, we were in front of a shop selling rugby goods. "If you start rugby, I will buy you everything here", he said. Because I wanted him to buy those things for me, I chose rugby.
How did it feel to beat South Africa in England?
I've never cried that much. I was very moved. It is proof that all our efforts were fruitful. The things we had done to that point were right, the previous four years were right. For those four years, we all wanted to change the history of rugby in Japan—and there were times when our hearts ached. So, it was a moment that has a huge impact on me. I will remember it forever. Although I couldn't be on the field at that moment in 2015, my teammates won against one of the strongest teams in the world. The experience will have a positive influence for the rest of my life, I'm sure.
Which of the RWC 2019 teams and players do you most fear or respect?
Since I was little, I have respected Stephen Larkham. He is a former professional rugby stand-off who played for the Australia national rugby union team, the Wallabies. Currently he is the team's attack coach.
I have always been more interested in international rugby than Japan Top League, so I used to watch Super Rugby a lot. I also watch Scottish stand-off Finn Russell, since I stayed with him when I was in New Zealand for the rugby study abroad programme. He is now in France, but should be back for the RWC 2019. As a team, I'm conscious of England, because our former Japan coach—Eddie Jones—is now their coach.
How can Japan boost interest in rugby?
After the RWC 2015, we couldn't sustain the surge in popularity, so we will have to surprise the world with our play at the RWC 2019. We must try to make rugby part of the sport culture in Japan. Everyone knows about the FIFA World Cup, but many people do not know that there is a Rugby World Cup and that it will take place in Japan in 2019. The event will help us gain more attention and so the sport's popularity will grow.
What do you do when you aren't playing?
When I have free time, I hang out with friends and we usually go to a café and chat over coffee. I also enjoy travelling. As I'm originally from Kyoto, I like visiting temples and shrines. They make me feel relaxed.
I try to eat three times a day and, even when I eat out, I first have a salad at our clubhouse. Of course, for maintaining muscle tone, I train at the gym every day.
What can be learnt from rugby?
There are not many sports in which you see 30 people on the field at the same time. We all have to help each other, so learning to be resourceful is most important. Rugby helps us learn to do this and to share our feelings, so that we connect from the heart. Rugby is a very tough sport, and through it we bond with each other.
Any advice for children who want to be like you?
I would like to continue playing rugby for as long as I can. One of the reasons is that the game embodies the hopes and dreams of children. I hope that I can help motivate them—not only by playing, but also by joining in their activities. Of course, I have my own dreams and goals and must put a great deal of effort into attaining them. But, no matter what we each choose to do, I believe we should do it because we enjoy it.
Any messages for our readers?
For the upcoming RWC 2019 and Tokyo 2020 Olympic and Paralympic Games, please visit Japan. Feel and touch our beautiful culture. Come and find beautiful things in Japan, and see the Japanese rugby players. I hope you will remember us.
My dream is to play for a team in the Super Rugby competition. Before I retire, I would also like to play for one of the European teams. Since I played for the Highlanders in New Zealand this year, I would like to experience playing for other rugby teams around the world. When I finally join one of those teams, please remember my name from this article in BCCJ ACUMEN.
---
If you're interested in learning more about sports events around the country, make sure to visit Japan Sports Journey.