As the home of association football, the UK has provided its fair share of legends of the game, and in the hyper-globalised English Premier League era, its football has permeated the far corners of the planet, raising the profile of its star athletes in the process.
Frank Lampard OBE—hailed by many football pundits as one of the greatest midfielders of his generation—is one such player. He stands as the top goal-scorer for Chelsea FC, where he spent most of his career, and was for many years a fulcrum of the England national team, earning 106 caps. Unsurprisingly then, he draws much attention wherever he goes, as he did during a recent visit to Japan.
As part of that trip, Lampard participated in a Chelsea Foundation training session on 9 November. On the lawn of the ambassador's residence at the British Embassy Tokyo, he shared tips with children aged 7–11 from the youth football team Shibuya Tobu Junior FC and the British School in Tokyo, reflecting the Chelsea Foundation's aim to engage and empower communities through football. The foundation has also partnered with Yokohama Rubber Co., Ltd. to support underprivileged children in Japan.
Football's future
BCCJ ACUMEN
asked Lampard about the recent success of the England team in the FIFA Under-17s World Cup and what the next steps should be for the players.
"What you hope now is that all those players, whether at Chelsea or anywhere else, can get experience in their first teams. That's important to try to bridge the gap from playing youth football to playing first team football—and then make it into the international first team", he said.
Lampard's "ghost" goal for England in the knockout round of the 2010 FIFA World Cup against Germany was arguably a pivotal moment for the implementation of goal-line technology. But Lampard believes that there must be a limit to the use of technology in the sport.
"It's important that we experiment—I think the next England game is going to have a video referee, so that's going to be something that we have to look at. But for me, before we start putting it in the major tournaments, we have to make sure that we are not trying to video every moment of the game", he said.
It is important that differences in opinion be taken into account, he explained, adding that those grey-area decisions that rely on the opinions of referees and linesmen are where technology can't have a role.
"I think some very black and white issues in the game like goal-line technology and video technology are a must. Things that are not black and white, things that are grey, things that are opinions … I think we need to leave that to the referee, but we'll see as we practice with it more and more", he offered.
BCCJ ACUMEN Publisher Simon Farrell sought advice from Lampard. "I'm trying to teach my two-and-a-half-year-old boy Kai to play football, but he keeps picking up the ball and throwing it away. What can I do?"
Lampard laughed, saying this is normal behaviour for a child that age. "I didn't start kicking footballs until I was about five years old and I did exactly the same as your kid to start with. Keep at it and he will eventually start kicking it".
Lampard said his father, Frank senior—who played for West Ham from 1967 until 1985 and was twice capped by England—used to patiently drill him from an early age on heading and other tough skills until he eventually got it.
More to learn
During a question and answer session led by British Ambassador to Japan Paul Madden CMG, Lampard spoke about his career and answered questions from the room and some of the embassy's Facebook fans.
Madden asked Lampard whether he always knew he would go into football, especially coming from a famous football family.
"My father wanted me to be a football player and my mother wanted me to listen at school and do well academically. So I had a nice mix and I appreciate that.
"I think it is important now that we talk to children", he said. "Balancing playing sport, keeping healthy and working on education is imperative for children around the world".
Lampard said women's football is continuing to grow, and England's national team has worked very hard to get to where they are. "The other thing that we have done now in England and around the world is to change the perception of the ladies game and give them the full credit that they deserve".
Lampard highlighted personality, attitude and humility as key forces in being an effective leader and being able to have a positive effect on teammates.
He added that he is looking at going into management, and is currently working with TV networks commentating on and analysing matches, while working closely with Chelsea and The Football Association in England to get his coaching licence. "Playing for 20 years doesn't necessarily make me a great manager, so I need to learn", he said.
"I would like to think that I could take the good and the bad from all the managers I had. I would love to work with young players and teams and train them, not just on the training ground, but as a man and as people".
Spirit, attitude and desire
When asked about his experience with fans in Asia, Lampard explained that he has visited the continent many times and support has grown not just for Chelsea but for the English Premier League, too.
"I think the main thing I always find when we come, is passion and loyalty. We are almost on the other side of the world, but we really feel close to the fans here and know how much they care", he said.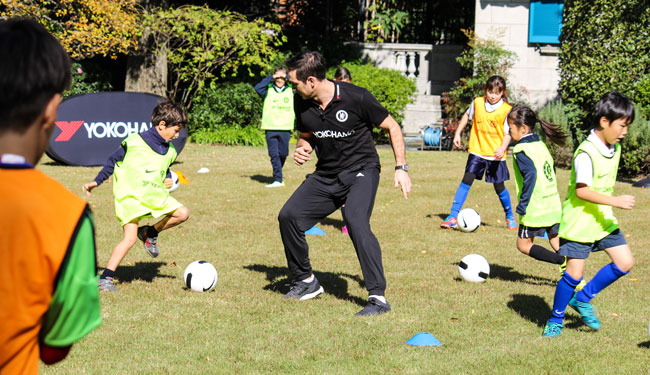 Japanese players have certainly made a splash in British football, notably Shinji Okazaki, who plays for Leicester City FC, which won the Premier League in 2016. But when it comes to the FIFA World Cup, Japan has a way to go to compete with some of it's European and South American rivals.
"It is difficult to give you the magic recipe to win the World Cup. But I will say from my experiences", he added, "that the spirit of the group is very important when you go to the World Cup. Spirit, attitude and desire can take you a long way, and I think those are the attitudes I sense in the Japanese team".