A Haiku Salut gig isn't much like your average concert. Comprising Gemma Barkerwood, Sophie Barkerwood and Louise Croft, between them the three members of the band use the melodica, guitar, drums, accordion, synthesizers, laptops, ukulele and trumpet, the trio crisscrossing the stage as they move from one instrument to another, the band never speaking to the audience.
The result is an intriguing mix of the artificial and the organic, the analogue and the digital that the band refers to as—tongue in cheek—"instrumental dream-pop-post-folk-neo-everything", but in music journalese, this might be termed folktronica. Haiku Salut's two albums, Tricolore and Etch and Etch Deep, have drawn strong reviews from various media, including The Guardian, the Financial Times, the weekly music magazine NME and the monthly Uncut.
Although hailing from the Derbyshire Dales, the group have a long-standing connection with Japan. Through a friend, Haiku Salut were pointed in the direction of Takahiro Kido, the owner of the Japanese post-rock and electronica imprint Ricco Label. He liked Etch and Etch Deep so much that he released the album in Japan in July 2015. Then, in late August and early September this year, the band performed for their fans in Kansai and Tokyo.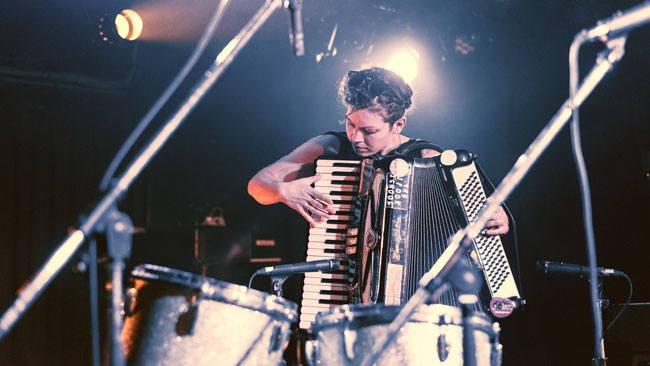 The trip was the band's first to Japan and, naturally, there was some apprehension regarding how things would work and their music would be received. However, not only did the tour go smoothly, but there were several pleasant surprises along the way.
"We were worried about not being able to translate, not being able to communicate what we needed and things like that [to sound engineers], but yeah, they're better than English ones I think, genuinely", said Louise, laughing.
"The audiences are quite different. A bit more reserved at first, and then after you play the show people are interested in what you're doing and want to talk to you and stuff, which is nice", said Sophie. "And the venues have been really different", she added.
Their gigs in Osaka, Kyoto, Kobe and Tokyo saw them play at an array of locales, from the live music venue O-nest in Tokyo's Shibuya district through to a sake bar in Kyoto, a dingy punk venue in Osaka and, in Kobe, a renovated colonial-style house built by a German merchant early last century.
Their fellow bands on the line-ups ran the gamut, too. Those sharing the bill included a Danish band that improvised their entire performance, through to a group that played what Gemma described as "weird electronic music—good weird".
But although Japan presented something of a shock to Haiku Salut, they are no strangers to Japanese culture, as their name hints.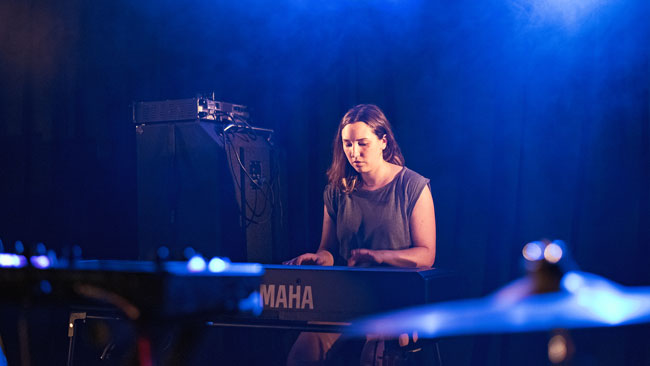 "We do take an interest in haiku", said Sophie. "We write haiku about different experiences or being on tour as a memoir".
"I think it's a really nice way to make a short snippet of something", added Gemma. "It makes you remember things that you wouldn't normally. We've been writing haiku every day so far this tour", she said, part way through the visit, "and I tend to like to write things that aren't the obvious memories that you'd have".
"I think you get a lot more from it", continued Sophie. "If you take a photograph, if you look again at the photograph, you just remember that. But with a haiku, if you read one back you tend to remember what happened before and afterwards".
This interest in Japan's unique form of poetry has manifested itself in the band's output. In 2014, they published an illustrated book entitled Japanese Poems Steal Brains, which collected together the haiku the band had written over the preceding few years, and reflected on the band's history to that point. The poems have also provided inspiration for the group's song titles, according to Sophie.
"I wrote one about having hay fever in France, and Foreign Pollen is a title that came from that, so it does inform it in that way.
"Have we written a song in five/seven?" she then asked. "We should do that".
Haiku Salut's Japanese literary influence extends further, with the band taking a particular interest in the surreal, melancholic writing of Haruki Murakami.
"With Murakami, it's the magic realism side of things", said Sophie. "You can do things in an ordinary manner, a mundane activity, you're getting on with everyday life, and then something off the wall will happen. I think we've taken a bit of an influence from that with certain aspects of song writing as well".
And naturally Haiku Salut enjoy and are influenced by a number of Japanese bands and musicians, too. The range of styles and genres by which they have been influenced reflect the group's own diverse combination of sounds.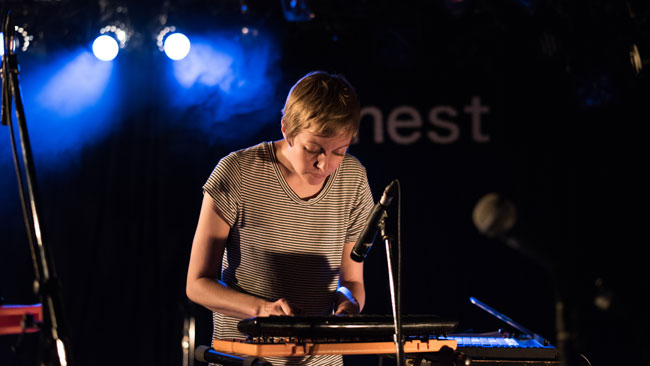 "There's quite a few Japanese artists that we really like anyway—like Shugo Tokumaru—although we've been told he's the equivalent of Bon Jovi in Japan", said Gemma, while Sophie highlighted the "glitchy, fidgety electronica" of artists World's End Girlfriend, Surf, and Ametsub.
By chance, the band's tour also afforded them the opportunity to check out one of their favourite Japanese bands: the jazz-punk outfit Otoboke Beaver. On the night they arrived in Kyoto, Gemma and Sophie happened to notice that the band were performing there, on their home turf.
"We literally went with all our suitcases straight off the flight", said Gemma, adding that "it was amazing, it was totally worth it"—a statement that would seem to sum up their whole tour.