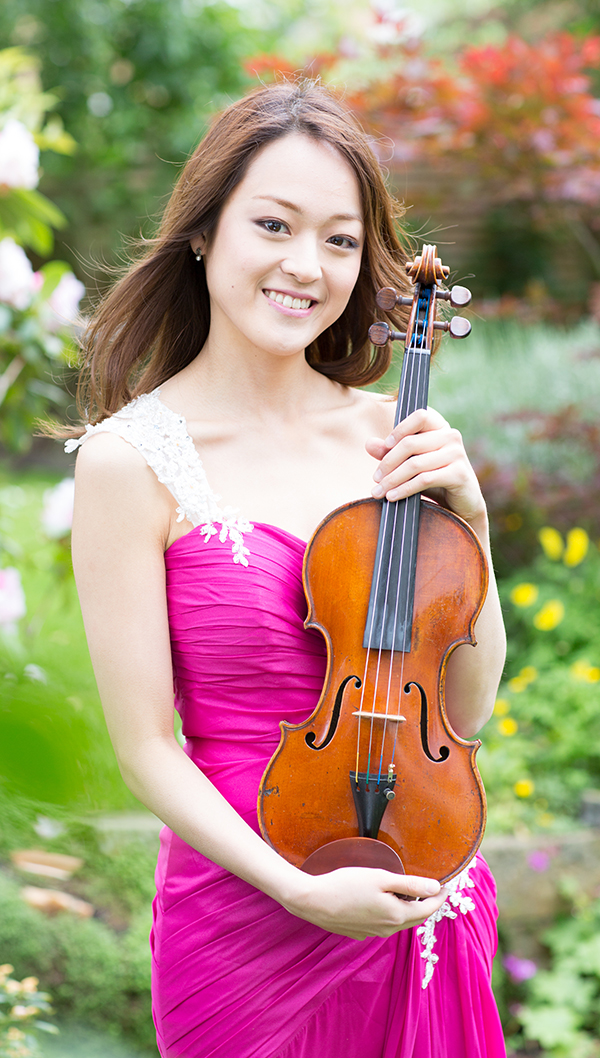 Music takes us on a journey—sometimes to unexpected places—as was the case for violinist Midori Komachi. Born in Tokyo, she now calls London home and is known as an authority on 20th-century British music. And like a great composition, the twists and turns of her story take disparate themes and bring them together.
First movement
It was business that set up the motif that would lead Komachi to the Royal Academy of Music. Due to her father's work, she moved in 1991 at the age of three to Hong Kong, where she would take up the violin. Five years later, her father was transferred to Zurich, and five years after that to London. By then, Komachi had become an accomplished young violinist and soon found herself on the path that would define her future and make the UK her home.
"It was quite a natural process for me to study at the Royal Academy because, before entering there as an undergraduate, I was already studying there as a Junior Academy student. They have a junior department where aspiring musicians under the age of 18 go every Saturday for music training," she told ACUMEN. "It is just one day a week, but they provide all possible music-related classes, from aural to theory to piano. I entered when I was 13".
When she was 14, Komachi's parents suddenly had to move back to Japan. She stayed behind.
"They asked if I wanted to go back with them to Tokyo, but I chose to stay in London because, at that time, I had just passed the audition to study with a renowned professor at the Royal Academy. That was a really important opportunity for me," she said. "The situation of studying with a pro-fessor at the Royal Academy was already quite serious, and I thought, okay, at this point there's no turning back. Luckily, my parents gave me the choice of whether to go back to Tokyo or to stay in London.
"But then I had to find a boarding school. There's this school just outside London called Marymount International School. They had a boarding house. So, I moved there and every Saturday I would go up to London to the Junior Academy. That was really hard—balancing my academic studies with musical training—but it gave me the chance to gain experience and become really independent".
Discovering Delius
After six years of undergraduate and post-graduate study at the Royal Academy, Komachi emerged in 2010 with a Master of Arts and a deep knowledge of classical music. But with the next movement not yet written, it would be a chance encounter that opened the door to her converging artistic and business paths.
"One of the composers I became really interested in was Frederick Delius, a British composer from the early 20th century. But I actually didn't come across his music until I  saw  a painting at the Courtauld Gallery. Their collection includes a painting by Paul Gauguin called Nevermore. I found out that the painting was first owned by Delius, and I became really interested in the exchanges between Delius and Gauguin. I started doing a research project based on this topic and produced a concert series with the support of the Courtauld Gallery".
This collaboration propelled Komachi to start doing her own concert series that would serve as a bridge between cultures. Her interest in Delius—and the research she had done—got her thinking about how classical music is viewed back in Japan.
"I realised that Delius was not quite well known yet in Japan. Even though there are a lot of Delius fans there, his music is rarely featured in the main concert programmes. So, I thought that there is still a lot to do in introducing British music in Japan, and also in the UK itself. There are so many neglected pieces yet to be featured.
"Sometimes there is a narrow perception that Mozart, Beethoven­—these main­stream 'famous' composers—are the only classical music worth listening to. But I thought that the audience will never know about the inspiring work of the unfamiliar British composers if we performers never intro­duce it to them".
Taking flight
Sharing British music with the world became a passion for Komachi as her research expanded beyond Delius to other composers. And, as her reputation as an expert on 20th-century British music grew—thanks in part to her writing on the subject—opportunities to do so began to take form. With the help of BBC producer Nick Luscombe, she presented an idea to British Airways.
The airline was already featuring her second album, Warp and Weft, which brings together a variety of violin works by 20th- and 21st-century British composers, and this had opened the door to suggesting another in-flight entertainment option.
"I thought that this sort of music would be perfect for a platform like British Airways' in-flight entertainment, where people are thinking about their journey, their destination," she explained. "Many of the 20th-Century British composers themselves were inspired by landscapes and different architecture around Britain. So, the music itself is connected to parti­cular places around the UK. I thought it would be really interesting to connect that theme of journey—
of landscapes around Britain—with music. And it's the right kind of listeners who would be listening on British Airways".
The idea was well received, and Midori Selects on British Airways is now available on all long-haul international flights. The seasonal programmes run for three months and feature a selection of music by UK composers curated by Komachi. She also presents background behind the works, providing an immersive and educational experience. The current programme features compositions by Frank Bridge, Benjamin Britten, Doreen Carwithen, Edward Elgar, Gerald Finzi, Ivor Gurney, EJ Moeran, Vaughan Williams and, of course, Delius.
Healing sounds
Another British firm with which Komachi is colla­bo­rating is Lush, the cosmetics retailer whose headquarters is in Poole, Dorset. Lush's largest market outside the UK is Japan, where it has more than 90 shops, including a new concept store which it opened in Harajuku last November, and
a new flagship shop that just opened in Shinjuku 
in July.
In conjunction with the launch of the Shinjuku location, Lush is introducing a Japanese head massage, which will be offered not only in Tokyo but also in the UK. They asked Komachi to colla­borate in making original music inspired by Japan to go along with the service and set the mood.
"It has to sound Japanese, modern and have a healing element to it," Komachi said of the composi­tion on which she is working. "They wanted some music that connects the UK and Japan. When the customers have their massage done in the store, the Lush staff will put on the music. The treat­ment itself is meant to go along with the music".
She has also composed for Maggie's Centres, which provide free practical, emotional and social support to those suffering from cancer.
Luscombe, the producer and host at BBC Radio 3, realised Komachi's potential as a composer, and—over the years—has produced several projects for Komachi, furthering their underlying mission of bringing Japanese music closer to the UK.
"I think he was quite interested in how I could write for these kinds of briefs, and at the same time the project emerged with Lush, which has always been a brand that incorporates a lot of music into their treatments and products. So, he introduced me to the Lush team.
"They told me about the  store that's opening in Japan, and they wanted to add a Japanese element to the music for this new treatment. Nick suggested maybe I would be the suitable artist for this collaboration. So, I was like, okay, why not? This music already had a purpose, it has a theme to it, and that intrigued me. And not only that, I have always liked the Lush brand itself. So, I thought, okay, it's interesting".
Komachi was on her way back to London to record the music for Lush the day after speaking to ACUMEN in Tokyo.
Musical diversity
One more way in which Komachi is trying to build bridges between the UK and Japan is related to gender diversity. BBC Proms has announced that by 2022 they aim to have 50% of the new commission go to female composers.
"You know, that kind of thing never gets talked about in Japan. People rarely talk about gender equality in music programming," Komachi said. "Maybe in the past it was difficult to choose works by female composers, simply because there was less out­put of orchestral works—maybe for orchestras it was hard to find the scores—but right now there are a lot of female composers active in Japan. Yet there is still a significant inequality in new commissions and programmes. So, I think there needs to be a change. UK and Japan are quite different in that sense, but initiatives in the UK could bring a positive wave to Japan".
Komachi would like to change this situation and believes her position as a London-based, Japanese graduate of the Royal Academy, as well as her business connections and successes, can help her raise the stature and visibility of these women.
"There is substantial interest on the UK side,
but the language barrier is a problem. A lot of Japanese female composers can't find opportu­nities in the UK because of the difficulty in commu­ni­­cation. So, I think this is where I come in, and it is my responsibility to introduce these composers to the UK," she said.
"One of the composers I'm trying to introduce further in the UK is Makiko Kinoshita, who is a distinguished, highly respected composer—particularly in choral instrumentation. She is so widely known in Japan, yet outside Japan her music is rarely heard. So, I'm trying to introduce more of her works in the UK. Even with her high calibre and most beautiful music, she says that being a female composer has not always been easy".
Coda
With British Airways, BBC Radio, Lush and her efforts as a diplomat of sorts for UK and Japanese music and composers, Komachi has a full plate. But that isn't slowing her down.
She is currently working on her second book, this one about the late British composer Ralph Vaughan Williams OM (1872–1958), to commemorate the 150th anniversary of his birth in 2022. To go along with the publication of the book, scheduled for 2021, Komachi is working on The Vaughan Williams Project, a collaboration bringing together artists, music experts and the audience.
"This project involves a lot of different aspects like concerts, some writing, and also performing and recording. So, I'm working towards that," she said. "Hopefully, I'm also going to be writing more music for other projects that connect Japanese tradi­tional music and British music. And, as a performer, I hope to continue playing in both countries. But, mainly, my focus is on intro­­ducing music from both countries and working with contem­po­rary composers".
This autumn, Komachi's album Colours of the Heart will be featured for sale at the Tokyo Metropolitan Art Museum together with a new compilation CD—Masterpieces of Impressionism, released by King Records—as part of the museum's Courtauld Exhibition.