Japan's G20 Presidency kicked off in earnest in May. Robert Goodwill, Minister of State at the Department for Environment, Food & Rural Affairs, was here for the G20 Agriculture Ministers' meeting in Niigata. I couldn't resist calling it a "goodwill visit".
In a single weekend in early June, we had the Chancellor of the Exchequer Philip Hammond attending the G20 Finance Ministers meeting in Fukuoka, as well as Trade Secretary Liam Fox at the gathering of G20 Trade Ministers and Department of Culture, Media & Sport Minister Margot James at the meeting of G20 Digital Ministers, both in Tsukuba, Ibaraki Prefecture.
Then, on 28–29 June, Prime Minister Shinzo Abe will host Theresa May and other world leaders for the G20 Summit in Osaka. That will be Xi Jinping's first visit to Japan as China's president. Given the current state of the interna­tional debate, there will be some delicate discussions on issues such as trade and climate change, where the UK and European partners are hoping to see ambitious outcomes.
At the end of May, US President Donald Trump became the first foreign leader to call on the new Emperor, and on 3 June he travelled to the UK for a three-day state visit. He didn't get to go to the sumo there, but did receive a welcome full of pageantry, including a State Banquet at Buckingham Palace.
---
I had a fascinating visit to Zojoji, near Tokyo Tower, to see a very interesting display of a large model of the original temple, which was destroyed in WWII, that had been sent to London for the Japan–British Exhibition of 1910, and then gifted to the British Royal Family. It was returned to Japan in 2015 and reassembled by master crafts­men, and is on long-term display by permission of the Queen.
---
Getting down to business
Another big theme in May was financial services, with the Secretary of State for Trade and Industry's Special Representative Viscount Trenchard in Tokyo again for a series of calls on business and government. I hosted him for a meeting with Hiroshi Nakaso, former deputy governor of the Bank of Japan who was recently appointed as Tokyo's new Deputy Mayor for Financial Services.
Later in the month, former Lord Mayor of the City of London Sir Roger Gifford was in town to front a seminar with the Tokyo Metropolitan Govern­ment on green finance. This is a fast-growing area with many opportunities for London and Tokyo to work even more closely together. I took Sir Roger to call on Governor Yuriko Koike, who is particularly interested in the Green Agenda. One of my predecessors, Sir David Wright GCMG LVO, who chairs City UK's Japan committee, also came through.
Mark Slaughter, director general at the Department for International Trade (DIT) who heads the UK's inward investment promotion work, visited Tokyo for a conference of DIT staff from across the region and to meet Japanese investors. He met some big manufacturing and financial services investors, and I also hosted an event with existing and potential capital investors who are showing a growing interest in UK infrastructure. This includes house-building, which is a big priority for the British government.
Never promised you a rose garden
May is also the time of year for hosting summer Gala Parties for various UK-linked friendship organisations. HIH Princess Akiko graced the annual event for the Japan-British Society, which was attended by nearly 200 guests. My Residence gardens were looking beautiful. No sooner were the sakura blossoms over than the azaleas were out, and now the roses are particularly stunning, lending a real "English country garden" feel to the place.
The Japan Chevening Alumni Network invited me to their summer reunion. This is a scholarship named after the Foreign Secretary's country house in Kent, funded by the Foreign & Commonwealth Office (FCO), which brings about 1,500 young people from all over the world to Britain every year on master's degree programmes. We try to talent-spot people who are going to go on to become leaders in their chosen fields and create enduring bonds of friendship with the UK. I always take a particular interest in this group, because, at an earlier stage in my career, when I was head of Public Diplomacy at the FCO, I was responsible for the Chevening programme.
---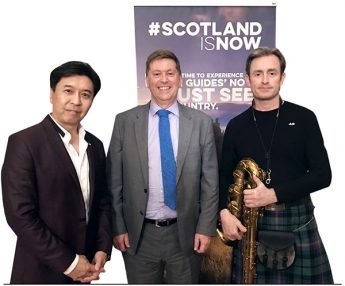 I also hosted a garden party for the Cambridge & Oxford Society. And, the house echoed with the sound of jazz, when representatives of the Scottish National Jazz Orchestra performed at a reception for the visiting chief executive of Scottish Enterprise, Steve Dunlop.
---
Sharing our values
In addition to all our work on business, foreign policy and security, we also have a lot of engagement with the Japanese government on the "values" agenda. We are working with the Ministry of Foreign Affairs to encourage high-level Japanese participation in the upcoming Global Conference for Media Freedom: London 2019, to be held in July, hosted by Foreign Secretary Jeremy Hunt, and led by the UK and Canada.
And at the Embassy, we are developing plans to implement an FCO-wide commitment to phase out all avoidable single-use plastic from our operations by the end of 2020—a task that is not always easy here in a country which has made packaging an art form.
I also gave a speech about gender diversity in British politics to a Diet committee which had commissioned a study into how some European countries have been successful in getting more women into politics. Two female prime ministers is better than many countries have achieved, but we still have a long way to go.
---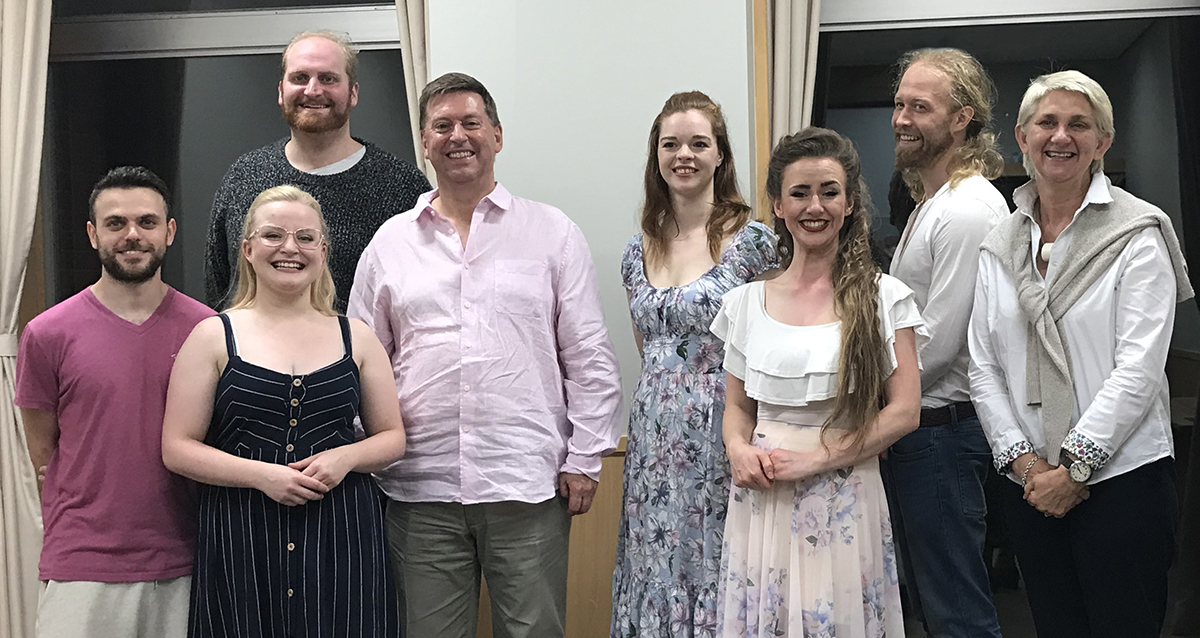 All the world's a stage
It is always a privilege to enjoy some of the best of UK culture on display through the many British artists who tour Japan. Theatre is probably the least represented, because of the difficulties of an English language-based medium for many Japanese audiences. But, every year, the International Theatre Company London brings Shakespeare to theatres and university campuses around Japan. My wife Sarah and I were delighted to watch their rendi­tion of A Midsummer Night's Dream, in which six actors play at least four roles each with great physicality and musicality—which the audience seemed to love. We also enjoyed a fantastic dance performance by James Pett and Travis Clausen-Knight, two young dancers who recently left Britain's Company Wayne McGregor to go solo. Chatting to them after the performance, they described their excitement at getting to dance on the unique stage of the Nogakudo—Noh Theatre—in Shibuya.