Pharma firm driven by innovative research and development
• New partnership with McLaren cars
• Helped make Olympics the fairest ever
• Group turnover of £27.4bn in 2011
• Soon to celebrate 300th anniversary
Innovation is the bedrock on which GlaxoSmithKline (GSK) plc. is built. Nearly 300 years after the founding of the pharmacy from which the modern firm has evolved, GSK remains committed to exploring directions that others in the sector choose to ignore.
It all feeds into the firm's philosophy of "Do more, feel better, live longer".
"Innovation is the engine of our business", emphasised Philippe Fauchet, president and representative director of GSK Japan. "We have built one of the strongest development pipelines of potential new medicines and vaccines in the industry.
"We have refocused our R&D organisation on the best science, which led us to break up the traditional hierarchical R&D business model into smaller units, to create an entrepreneurial environment in discovery and medicine development, with open approaches to external discovery", he added. "This has led to more product launches, increased participation of patients in clinical trials, and maintaining the late-stage pipeline without a significant increase in R&D expenses".
The firm's recent partnership with racing car developer McLaren Group will initially focus on GSK Manufacturing, R&D and Consumer Healthcare and is one example of "thinking outside the box" in the search for innovation, Fauchet pointed out. "The partnership brings together two UK companies focused on innovation and high-tech research", he said.
"Under the agreement, the McLaren Group will share its widely acknowledged leading capabilities in engineering, technology, analytics and strategy modelling—which it has developed over many years in its core business of Formula 1 motor sport—to help deliver world-class performance across GSK's global businesses".
GSK has played a critical role in the London 2012 Olympic and Paralympic Games. The firm provided facilities and equipment to enable expert anti-doping analysis, making the Games the fairest in history. They worked with King's College London, one of the world's leading research and teaching universities, and operated 24-hours-a-day, seven days a week to test 400 samples for some 240 banned substances.
The firm also participated in the Games in a very different way—three members of the GSK Japan women's hockey team took part in the Olympic event as part of the national team of Japan.
GSK has come a very long way since 1715 when, in London, apothecary Silvanus Bevan opened the Plough Court Pharmacy, which eventually grew into pharmaceutical manufacturer Allen and Henbury's Ltd.
Meanwhile, across the Atlantic, the druggist John K. Smith opened his first pharmacy in Philadelphia in 1830. His brother joined him 11 years later and formed pharmaceutical firm John K. Smith & Co. In 1842, chemist Thomas Beecham launched his Beecham's Pills laxative business in the UK. Some 17 years later, Beecham opened the world's first factory dedicated to making medicines in St Helen's in the north of the country.
The seeds of the Glaxo firm were sown when Joseph Nathan established a firm in Wellington, New Zealand. Back in the US, Mahlon Kline joined the Smith brothers and, by 1875, had become so important to the organisation that it was renamed Smith, Kline and Company. Five years later, Burroughs Wellcome & Co. was established in London by American pharmacists Henry Wellcome and Silas Burroughs.
The individual pharmaceutical firms made great strides in their development at the turn of the century.
In 1902, the Wellcome Tropical Research Laboratories opened and hired Henry Dale. He discovered, among other things, histamine and how nerve impulses are transmitted.
The Glaxo department of Joseph Nathan and Co. was established in London in 1910, while Smith, Kline and French released the Blue Line, which included poison ivy lotion and lozenges.
In 1913, production of Beecham's Pills laxatives reached 1mn per day and, in 1926, the firm launched their eponymous Beecham's Powders cold remedy.
In 1935, new facilities for Glaxo Laboratories were constructed at Greenford, near London. In the following year, Sir Henry Wellcome left sole ownership of The Wellcome Foundation Ltd. to a medical research charity today known as the Wellcome Trust.
Henry Dale was awarded the Nobel Prize for Medicine, and Beecham continued to expand. The firm acquired the household brands of Macleans toothpaste and Brylcreem's hair styling products, while their laboratories reported a series of pharmaceutical breakthroughs, including a treatment for TB.
The latter half of the 20th century was marked by the release of cutting-edge treatments, including the cold remedy Contac and Betnovate for skin complaints. In tandem with these discoveries, the firm increased their research and development capabilities and also acquired numerous smaller, specialist firms.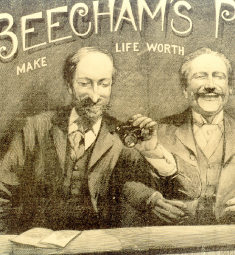 In 1989, SmithKline Beecham was created as the result of a merger, and two years later moved its global headquarters to the west London town of Brentford. Then, in 1995, Glaxo and Wellcome merged. The queen opened the new firm's Medicines Research Centre in Stevenage, Hertfordshire.
The firm as it is known today is the result of a 2000 merger that formed GlaxoSmithKline—which has maintained the commitment to researching illnesses and developing cures.
"Our brand is extremely important to us because it represents who we are and what we do as a company", Fauchet said. "In order to build trust with society, all employees are aligned with our company values of transparency, respect for people and integrity, and we are patient-focused in our internal and external engagement".
Their formula seems to be working; the firm reported a group turnover of £27.4bn in 2011. Fully 68% of that amount came from GSK's pharmaceuticals business, while vaccines contributed 13% and the consumer healthcare division the remaining 19%.
The firm is also justifiably proud of its £4bn reinvestment in research and development. It is this sort of investment that has led to the emergence of the RTS, S vaccine candidate for malaria. The positive results of the Phase III tests are an incredibly significant development, and this vaccine has the potential to save millions of lives in Africa.
In February 2010, GSK established an independent global unit to tackle the development and delivery of cures for rare diseases. While other firms choose not to seek cures for such illnesses, because the financial returns will not cover development costs, GSK believes doing precisely that is its corporate duty.
In addition, the Japan-based division formed a Rare Diseases Medicine Development Centre in April 2010 to support the firm's global activities, while GSK's Tres Cantos Medicines Development Campus in Spain accepted its first external researchers in June 2011.
Eight scientists converged on the Spanish facility to take up "open lab" placements to seek new treatments for many of the diseases that affect millions of people in some of the world's poorest nations.
"By opening the centre to more alliances and collaborations, and by continuing to drive our 'open innovation' agenda, we can help to provide a critical mass of knowledge and a drive for the discovery and development of needed new medicines for a number of neglected diseases", said Fauchet.
However, GSK's corporate social responsibility activities are not only aimed at people in developing countries. The firm sprang into action in Japan in the immediate aftermath of the country's devastating 2011 Great East Japan Earthquake.
Since then, the firm has provided medicines to medical institutions and associations worth a total of ¥270mn. In addition to its initial donation of ¥200mn to the Japanese Red Cross Society on 15 March, GSK's staff donations have raised ¥23.25mn.
GSK has started a firm-wide campaign that encourages staff to reduce their use of electricity. The money saved through the campaign has been ploughed back into the area that most requires assistance and enabled a scholarship fund, worth approximately ¥65mn, to be set up. Scholarships will be offered to 30 students from the Tohoku region who want to study pharmacy at university.
And when it comes to volunteering, those who signed up for Team Orange—so named for the distinctive orange anoraks that volunteers wear and the corporation's colour—far outstripped the firm's ability to get them to the Tohoku disaster zone to assist the victims.
"Innovation will continue to be our engine of growth alongside patient access to our medicines and vaccines", said Fauchet. "We are actively seeking new ways of delivering health care and making our products more available and affordable to people who need them, wherever they live.
"We do this not because it is good for our business, but because society expects us to, and it is the right thing to do".
GSK is the industry leader in adopting a flexible approach to pricing its medicines and products, based on a country's wealth and ability to pay. This has resulted in significant reductions in price, as well as increases in demand for GSK products in emerging economies—a positive outcome for patients, governments and the firm's shareholders.
Similarly, in Western markets, the firm has developed new reimbursement approaches for medicines, according to which it reaches agreement on risk-sharing arrangements with payers.
"New medicines and healthcare products are needed by people across the globe to address the many illnesses that are still not well controlled or treated", Fauchet explained. "At the same time, scientific research is continuously uncovering new understandings about disease processes and technologies.
"These two elements present us with the opportunity to investigate and develop new and improved treatments", he said. "We create value by applying science and technology to discover, develop, produce and distribute medicines, vaccines and consumer healthcare products.
"We are very proud not only of the company being recognised as having the most pharmaceutical approvals [of any firm in the industry] in the past decade, but also of having the biggest and most promising pipeline development in both Japan and our industry, and bringing new and innovative cures to patients".