Serving Japan and expats with global remittance and savings products
Although some two out of three adults in the UK enjoy a financial relationship with the Lloyds Banking Group, many residents of Japan are unaware of the firm's global size and long history. The Tokyo branch was opened in 1974, initially to serve corporate and institutional banking firms. Now in its 36th year here, Lloyds TSB Bank also caters for Japanese consumers and provides bilingual financial products and services for non-Japanese residents in Japan. The Tokyo branch specializes in overseas remittances and foreign-currency retail deposits.
Despite tough local economic conditions, the bank was able to complete a very successful year. Lloyds Banking Group announced in February it had returned to profit for the first time since it was bailed out by the government at the height of the financial crisis, with an impressive pre-tax profit of £2.21bn, compared with a £6.3bn loss in 2009.
Lloyds Banking Group has a branch network serving more than 22 million current account customers. With more than 21 million savings customers, the group held over £190 billion in retail savings deposits at 30 June 2010. As the UK's number-one mortgage lender, it provides home loans to one in three borrowers in the UK.
Wealth, Asset Management and International divisions operate in more than 30 countries with a number of important brands including UK Private Banking, International Private Banking, Scottish Widows Investment Partnership, International Banking and International Retail Banking.
Products and services
GoLloyds—Clients use any bank ATM or internet banking in Japan to transfer funds to a local account at GoLloyds, which then quickly completes the remittance abroad. Most major currencies are accepted, 170 countries are served, and exchange rates are competitive.
Lloyds Smart—One of the highest interest rates for foreign currencies (US and Australian dollar, sterling and euro) fixed-term deposits in Japan. Unlike some banks that demand several million yen be deposited, the minimum deposit is just ¥500,000.
International Personal Insurance—Worldwide property and personal liability coverage for foreign executives, including coverage for fire, flood, theft and earthquakes.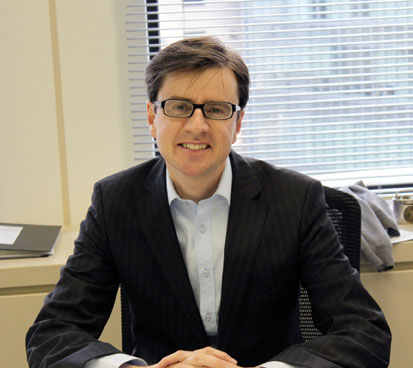 CV
Paul McEvoy MBE became Managing Director of Japan in February, joining Lloyds Bank after graduating from Oxford University. After his first two years as a management trainee in London, Paul worked for the audit team, conducting treasury reviews in Brazil, Argentina, New York and Madrid. He then developed his Lloyds Bank career in Guatemala, Paraguay and Panama becoming country manager in Honduras and then in Ecuador. In 2010 Paul was appointed an MBE for services to the British community overseas. In Ecuador, he was chairman of the Board of Governors at the British School Quito, active in charity projects (particularly for handicapped children) and was president of the British Group.
Interview
What future plans do you have for the Tokyo branch?
Paul McEvoy: We are committed to the Japanese market and aim to build upon our 35-year history in Japan, in particular our highly successful remittance service Go Lloyds and developing our savings business. We are also re-branding to Lloyds Bank over the next six months and will become the first part of the business to develop the brand for a local audience.
It's been a tough few years for global banks, so how is it going now at Lloyds in Tokyo, the UK and globally?
Lloyds Banking Group recently reported a strong set of results for 2010, with a profit before tax of £2.21bn. Highlights of the results included a good trading performance amid a benign UK economy, an improved funding structure, a stronger capital position and a reduction in impairments. Our significant progress in the year has positioned the group well to become the best bank in the UK for all our stakeholders, including our customers, shareholders and employees. In Japan, Lloyds has established a highly respected remittance business, with excellent levels of customer satisfaction, operating with high reliability and in a number of different currencies. In November 2010, we issued our first Samurai bond into the market. This was placed successfully amidst deteriorating conditions in global capital markets. The Tokyo branch had a very successful 2010 and we are expecting our success to continue through 2011.
What is your prime client and product market in Japan?
Our focus in Japan is on remittances and deposits with a real mix of customers — from domestic and foreign, to individuals and small businesses.
What set you apart from other banks in Japan?
We keep the customer at the heart of everything we do — developing innovative, efficient, bilingual, great-value products and services based on consumer insight. Along with our great history of achievements and financial expertise, we are able to truly deliver on our customer needs.
---
History
Celebrating its 250th anniversary in 2015, Lloyds can trace its illustrious past as far back as the 17th century, to the Bank of Scotland in 1695 and Birmingham-based Taylors and Lloyds in 1765. Through a series of mergers, Lloyds Bank has become one of the Big Four banks in the UK. Lloyds TSB was created in 1995, when the Lloyds Bank and the Trustee Savings Bank merged to create what was then the largest bank by market share. In January 2009, Lloyds TSB merged with HBOS plc, creating Lloyds Banking Group to become the largest retail bank in the UK.
Future
A significant landmark in the firm's history will be marked as Lloyds Banking Group moves most of its Lloyds TSB branded businesses to Lloyds Bank by the end of 2013, transitioning in several stages to minimize any possible disruption to clients—with the Tokyo branch rebranding this year.