Dame Judi Dench and Anish Kapoor accepted Praemium Imperiale awards in Tokyo on October 19, becoming the latest in a long list of Britons to receive the prestigious honour.
The annual awards were presented by Prince Hitachi, honorary patron of the Japan Art Association, to five laureates who have demonstrated extraordinary achievements in the areas of painting, sculpture, architecture, music, theatre and film.
Alongside Dame Judi and Kapoor were US painter Bill Viola, Mexican architect Ricardo Legoretta and legendary Japanese composer Seiji Ozawa.
"Forty years ago, I came to Japan with the Royal Shakespeare Company and we played Twelfth Night", recalled Dame Judi shortly before the presentations. "And at the end of a most glorious time, I was asked on the last night to make a speech in Japanese. So the whole of the play was taken up by trying to remember Shakespeare and trying to master a speech in Japanese.
"Much to the company's astonishment at the end of the play, I stepped forward and made my speech in Japanese", she added. "It went down so well that I thought I could do exactly the same thing this morning, but 40 years have passed and all I remember is 'domo arigato gozaimasu'."
Expressing her sense of honour at receiving the award, she added, "I feel very humbled when people speak of one's work, especially in the profession of acting, as it is very much a personal feeling about whether one likes somebody or not".
Dame Judi has always maintained that her first love is theatre, but she has appeared in numerous TV programmes and, famously, as spy boss M in James Bond films.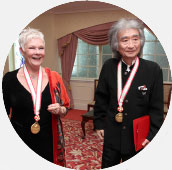 Lord Patten, chairman of the BBC Trust and British advisor for the prize, described Dame Judi as, "One of Britain's greatest actors and certainly one of our most popular and beloved actors."
"It's hugely important, given the contribution that Britain makes to the arts and I think people will really see the vibrancy of the UK in cultural terms", Lord Patten said at a British Embassy Tokyo reception earlier in the week.
Kapoor also said how honoured he felt at receiving the award.
"In a world where so much is in turmoil, it is very nice to see a prize that celebrates the arts which, after all, give us a sense not only of who we are, but also of community", he said.
He added that he has a long connection with Japan and its culture—and remains impressed by the Japanese notion that, by saying less, one says more.
"That has a particular kind of poetic, spiritual sense which can be profound", he added.
The laureates each accepted a specially designed gold medal and diploma from Prince Hitachi, as well as a prize of ¥15mn.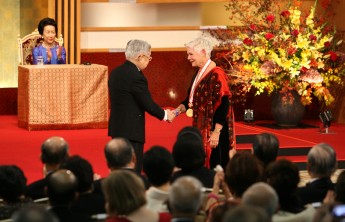 The association also awarded its annual Grant for Young Artists to two British organisations, the Royal Court Young Writers Programme and the Southbank Sinfonia. Each group received ¥2.5mn to nurture the involvement of young people in the arts.
The awards were first introduced in 1989 and are considered the artistic world's equivalent of the Nobel Prizes.
The Praemium Imperiale has marked the achievements of some of the world's foremost creative talents, ranging from Issey Miyake to Frank Gehry and Jean-Luc Goddard. Britain's previous laureates include David Hockney, Anthony Caro, Andrew Lloyd-Webber, Richard Attenborough, John Gielgud, Norman Foster, Peter Brook and Bridget Riley.