Gordan Ramsay protégé's mission to bring back British classics
Marcus Wareing is on a campaign to convince diners that British cuisine can be world-class and consists of more than roast beef and fish and chips, but he was also deeply impressed by the dishes that are being served by some of Japan's top restaurants.
Chef patron of his namesake restaurant—Marcus Wareing, at the Berkeley in Knightsbridge—which has been awarded two Michelin stars, Wareing in May opened The Gilbert Scott in the St. Pancras Renaissance Hotel.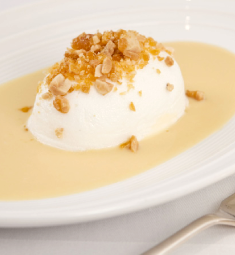 In February, Wareing was in Tokyo to see one of his former chefs, Shinya Maeda, who is now working at Gordon Ramsay's restaurant at the Conrad Tokyo. At the time, Wareing noted that the recognition Japanese cuisine has received recently means "it is definitely on the world platform and more people are aware of it".
"Given the accolades of late, namely Michelin [stars] and the top 50 [best restaurant awards], I had the impression that there was a lot going on in Japan", Wareing told BCCJ ACUMEN. "Most Japanese people I have come across in life have been polite and respectful, and in the workplace have been very skilled, so this is what I expected.
"I found the people incredibly polite and the entire place so structured, which I enjoyed", he said. "In terms of the food culture, it is similar to London, whereby you have a lot of international cuisines, as well as native cuisine".
"I do not think it is a fad", he said, dismissing suggestions that the popularity of Japanese food around the world is a temporary craze. "I think the world is so much more international in terms of choice today, and I believe that will only increase in the future".
Wareing said he has always liked clean but robust flavours, and that the secret of any good sauce is the stock, so he is a big fan of Japanese-style dashi.
But the best part of his visit, he said, was the early morning visit to the Tsukiji fish market, where the items on sale were "incredible, with the most amazing being the monkfish liver, which reminded me of foie gras".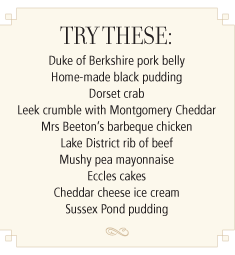 Born in Southport in 1970, Wareing joined Gordon Ramsay's Aubergine restaurant in 1993 and became sous chef behind Ramsay. He later ran the Grill Room at the Savoy Hotel on the Strand before opening and operating Petrus at the Berkeley Hotel, the forerunner of Marcus Wareing at the same hotel.
Petrus was awarded two Michelin stars and five AA Rosettes (by the Restaurant Guide 2003, put out by the Automobile Association) and, in 2004, Wareing was voted Restaurateur of the Year in the Tatler Restaurant Awards.
After an acrimonious split with Ramsay, Wareing took over the Berkeley Hotel property and began preparations for The Gilbert Scott.
The restaurant is named after the architect who won the competition, set by Midland Railways, to design a 150-bed hotel that would "add lustre" to its soon-to-be-completed St Pancras Station. Construction began in 1868 and the hotel opened in May 1873.
The finished hotel oozed extravagance. The Victorian decor was luxurious, had extensive decoration in gold leaf and open fires in each room.
Pillars of polished limestone lined the walls of the Coffee Room—which is now The Gilbert Scott restaurant—and were embellished with carvings of conkers, pea pods and pomegranates. After operating for 62 years, however, the hotel became too expensive to maintain and could not be extensively modernised, so it was used to accommodate British Rail staff after closing its doors in 1935.
Wareing and his team have breathed new life into the property and, inspired by the building, are serving up traditional British fare that utilises the very finest British produce.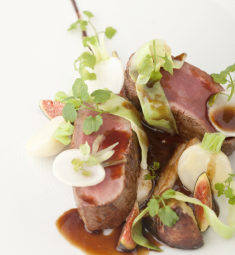 The starters, for example, include Duke of Berkshire pork belly, home-made black pudding or Dorset crab, while the main courses are as varied as leek crumble with Montgomery's Cheddar, Mrs Beeton's barbeque chicken, and Lake District rib of beef or London pride battered cod, served with mushy pea mayonnaise and chips.
Not to be outdone, the puddings range from Eccles cakes with cheddar cheese ice cream to Sussex pond pudding and that old favourite of bread and butter pudding.
"I think that a negative slant has always been given to British food, and not just by other cultures, but by the Brits themselves", said Wareing. "Having just opened The Gilbert Scott, which focuses solely on British food, I do hope we are lifting the image".
And many of his patrons tell Wareing that they did not realise British cuisine could be so good.