Akemashite omedeto gozaimasu. Happy New Year from all of us at the British Embassy Tokyo and Consulate General Osaka.
So, we enter the Year of the Rat or, as the Japanese would say, the Year of the Mouse. Neither the Japanese nor Chinese languages traditionally distinguished between the two rodents, whereas, for Brits, one is a potentially loveable pet while the other is a loathsome pest. In a similar way, I had always grown up thinking I was born in the Year of the Pig (2019 was one) but was pleased to find that, in Japan, it's known as the Year of the Boar—an altogether more noble-sounding animal.
We had a busy end to 2019, with visits and events capping off what had really been an exciting year. I was briefly back in the UK to attend a conference about Japan at Ditchley Park, a beautiful stately home in Oxfordshire that is now used as an international conference centre. It was good to meet Japan experts from all around the world, including the US and China.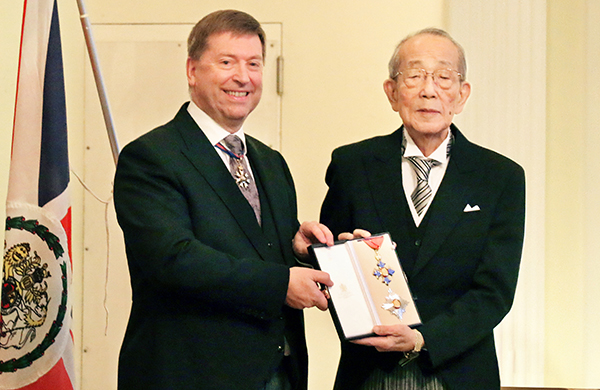 Honours and visitors
In November, I was delighted to host a ceremony to mark the investiture of distinguished Japanese businessman Kazuo Inamori (above), who had been honoured with a Knighthood by the Queen, for his contribution to UK–Japan relations as president of Kyocera Corporation, chairman of Japan Airlines, Co., Ltd., and chairman emeritus of KDDI Corporation, as well as his educational links to Oxford. It was also a big pleasure to see Professor Tim Minton of Keio University recognised by Her Majesty in the New Year's Honours with an OBE for his voluntary work leading so many Anglo–Japanese organisations here (page 20).
Bill Emmott, former editor of The Economist and now chair of both the Japan Society London and the International Institute for Strategic Studies, was in Tokyo to give the keynote speech at a big conference hosted by the Japan Institute of International Affairs. I enjoyed hosting a dinner for him.
There has been a change of guard at the Embassy of Japan in the UK. HE Koji Tsuruoka has returned to Japan after a sterling period in office over the past three years, during which he became a well-known figure on the London scene. We wish him well. I was delighted to be able to host lunch for HE Yasumasa Nagamine (right), the new Japanese Ambassador, who has moved there from Seoul, South Korea. He told me he knows the UK well, having studied at Oxford and previously worked at the London embassy. I look forward to working closely with him.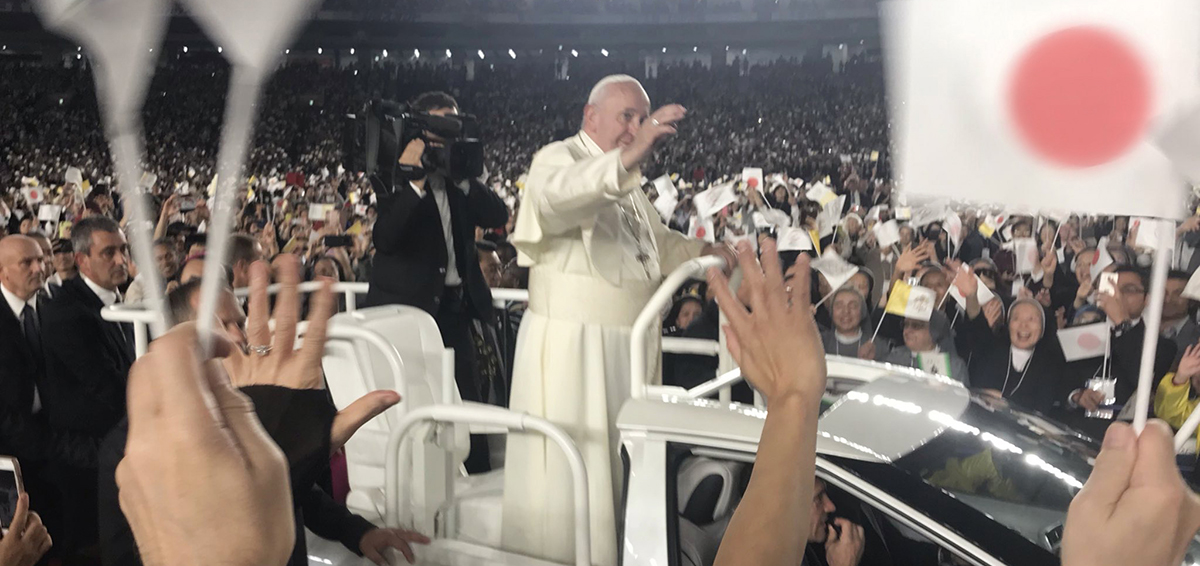 The visit to Japan in November by Pope Francis, which included stops in Nagasaki and Hiroshima, came at the end of the country's busy year of hosting global figures. As a Catholic, it was a great privilege to attend a packed Papal Mass at the Tokyo Dome, as well as a speech delivered by the Pope at the Kantei (the prime minister's official residence), in the presence of Japanese Prime Minister Shinzo Abe.
Christmas in Tokyo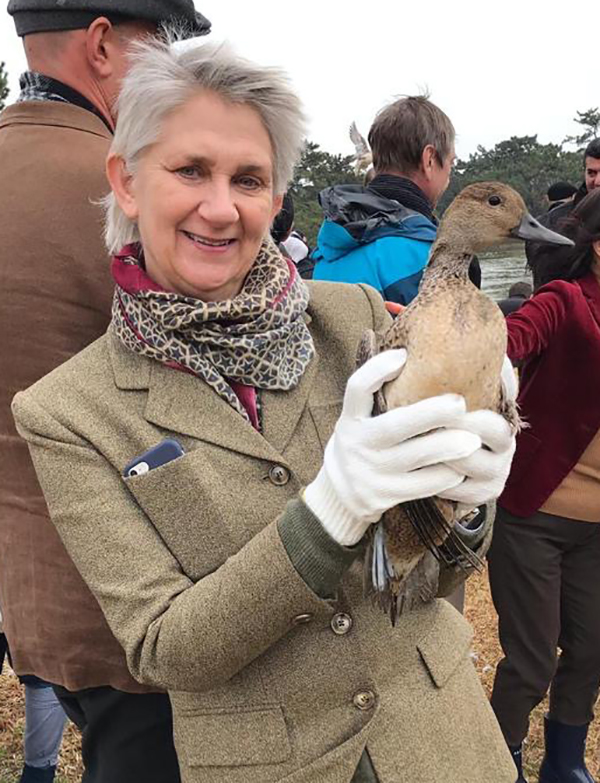 Just before Christmas, Sarah and I—along with a number of other Ambassadors—were invited to go duck-netting together with Their Imperial Highnesses Princesses Mako and Kako at the Imperial Wild Duck Preserve in Chiba Prefecture. The historic pastime is a very unique spectacle, with the assembled diplomats brandishing what appear to be large butterfly nets. After being tagged for research purposes, the ducks are all released unharmed afterwards. On New Year's Day, we visited the Imperial Palace for the traditional New Year's greeting ceremony: this year, for the first time, with His Majesty the new Emperor.
Our third Christmas in Tokyo included several Turkey Dinners for senior Japanese guests over the preceding week, Midnight Mass at the private chapel of the Papal Nuncio, our children gathering here from London and Sydney, and a brief trip to Hakuba, Nagano Prefecture, where we managed to find some snow.
2020: a busy year ahead
This year is going to be just as busy as the last. I am expecting five things to keep us particularly occupied at the Embassy.
First, with Prime Minister Boris Johnson returned with a massive majority—the largest for decades—the British government will now be able to get its business through Parliament after a protracted period when this appeared difficult. The Japanese government and Japanese investors will be reassured by this greater certainty as we depart the EU at the end of January. And Japan will be a top priority for negotiating an early new bilateral trade deal, based on the EU–Japan economic partnership agreement.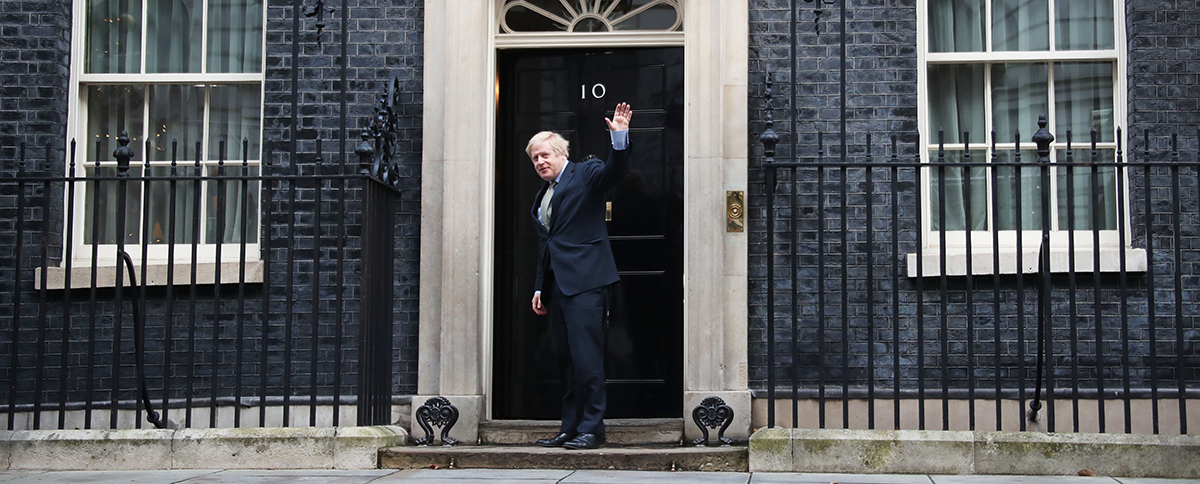 Second, it has just been announced that Their Majesties the Emperor and Empress have accepted an invitation from Her Majesty the Queen to pay a State Visit to the UK in Spring 2020. Their Majesties will stay at Windsor Castle. We are very much looking forward to welcoming the Imperial couple back to a country which they know well from their time at Oxford University, and for which they clearly feel a strong affection.
Third, Japan will once again host a major sporting festival, with the Tokyo 2020 Olympic and Paralympic Games this summer. We cycled past the new Olympic stadium over the Christmas holiday—it was looking impressive. We can expect strong GB teams at both events and large numbers of British fans, which will require a lot of support from the Embassy. The remaining half of our UK in Japan 2019–20 campaign will include a busy programme of "GREAT Weeks" linked to specific challenges for business and innovation, such as healthy ageing and the future of mobility. And there will be some blockbuster cultural visits, including by the London Symphony Orchestra, the Royal Shakespeare Company and works from the National Gallery.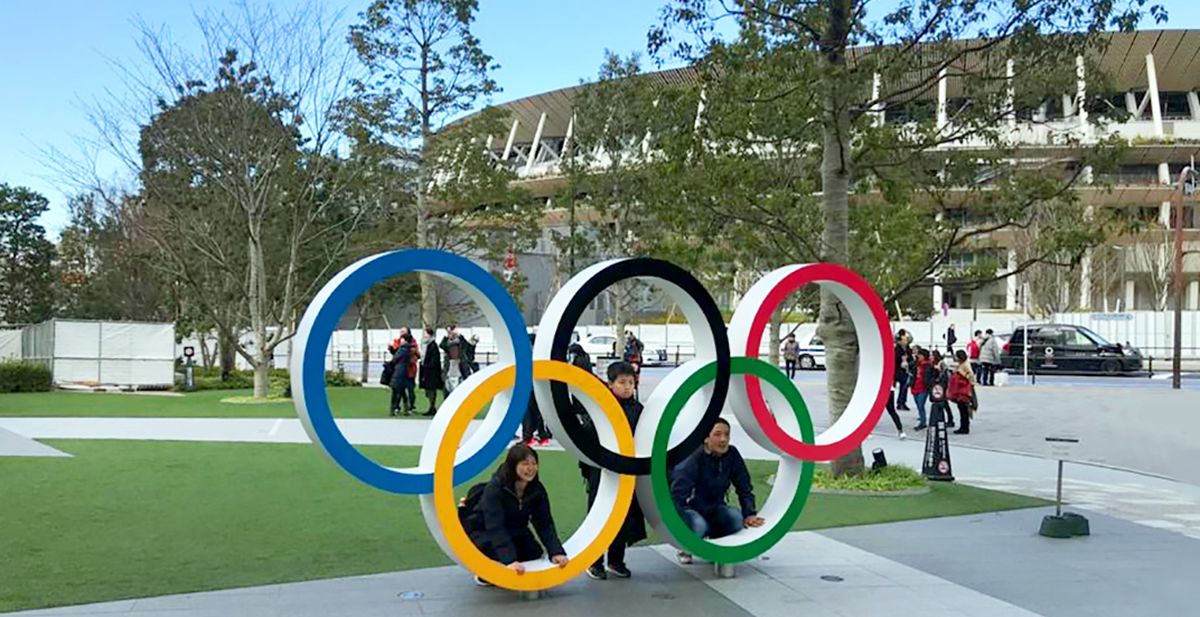 Fourth, as you may know, Britain will be hosting COP26, the meeting of parties to the UN Framework Convention on Climate Change, in Glasgow in November. This is a top priority for Her Majesty's Government and will be an important meeting where the world will be looking to see strengthening of emission reduction commitments from many countries, including Japan. The wave of unprecedented natural disasters in 2019—from typhoons in Japan to bushfires in Australia—reminded us of the importance of concerted action.
Fifth, we hope to see an early meeting of foreign and defence ministers, in the so-called 2+2 format. This will give renewed stimulus to the active programme for strengthening UK–Japan cooperation across many fields—including defence, security, science and infrastructure—which was agreed between our two Prime Ministers last year.
Finally, as we face a new year, and indeed a new decade, let us spare a thought for those—the majority of the world's population—who do not live in countries as prosperous, secure and healthy as Britain and Japan. Our two countries aim to be a force for good in the world through our policies and our major aid programmes. We can have even bigger impact by working together ever more closely.