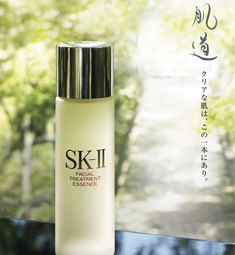 The studio is an oasis of understated calm, a breath or two away from a major Tokyo intersection. The artist working from it is a strikingly beautiful young woman dressed in an exquisite kimono; a base of white silk with a delicate floral motif in purple, the colour echoed slightly deeper in the obi sash that also bears at the rear a single white hydrangea. Appropriately, it is the obi's first airing this season, the wearer explains, because the flowers themselves will appear a week or two hence, harbingers of the rainy season. For this is the way with kimono: a woman changes them not with the seasons, but just ahead of their changing.
Shizu Usami is the fourth-generation president of a firm with more than a century's history producing soy sauce and other Japanese seasonings. She is also one of Japan's most respected young artists; a designer of the summer kimono known as yukata and—more significantly—a practitioner of the ancient art of calligraphy, albeit with a distinctly modern touch. A brand consultant to big-name Japanese manufacturers, her brush-work hangs in tokonoma of private homes, in galleries and also appears on brochures produced by the country's Ministry of Economy, Trade and Industry, as well as on packaging for commodities as varied as food stuffs and skin care.
Spend an hour with Usami and the apparent contradictions begin to make sense. Here is a woman steeped in the traditional values of her culture—she began studying calligraphy at the age of three, under her mother—but who is determined to find new ways of presenting her art. Hers is an essentially Japanese art form (Sho), yet she found inspiration studying at London's St Martin's School of Fashion and hopes one day to spend more time in the UK.
"I'd like to spend a more significant time immersed in another culture, say two or three years, taking in the atmosphere, soaking up the influences that the UK has to offer, because I believe it would give me a deeper understanding of where I want to go with my own culture".
Usami says her most significant influence was her mother, a professional calligrapher who died while still in her fifties. But she acknowledges, also, the influence of Toko Shinoda who, still working in her late eighties, is arguably one of the most celebrated Japanese artists to have begun her career as a calligrapher. Her works are now sought by collectors all over the world; Shinoda's daring use of flashes of colour in an otherwise black and white world making them unmistakable.
Shizu Usami, too, believes colour has a part to play, but her approach is a great deal more subtle. Beginning with the basic black of the sumi ink, she finds ways of adding in suggestions of blues, browns and purples. The colour is little more than a hint and yet, a kanji character rendered thus, takes on a new dimension. So, a hanging scroll with the stylized kanji for water is at once softer, more fluid, more accessible because there is the slightest trace of blue in the ink.
There is a certain whimsy, too, in her creations, a sense of humour that at first seems at odds with what's expected of a traditionally severe art form. But it is very much in keeping with the artist's personality.
"Sometimes I have an idea for a piece that I work on literally for years. At other times a piece will emerge all at once". Commissioned to create a piece for a specific client, Usami says she strives to uncover the soul of that person. "If it is a corporate commission, then I will study the client's brief, the company and its products, as well as the competitors.
"I approach each piece with an open mind, however. Sometimes the brush work is slow and gentle; sometimes it is swift and more powerful. There is no single way to express a character".
Looking around the gallery, no two pieces are the same and yet they are so obviously the work of the same artist; an artist with vision and passion, and one who seems destined to make a unique impression.
shizu@shizuusami.com
www.shizuusami.com