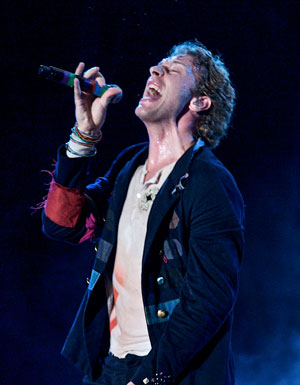 I've interviewed Coldplay twice, both times in very different situations. The first was in 2005 with all four members at a Tokyo hotel, and then in 2016 I had a phone conversation with their guitarist, Johnny Buckland.
I wonder if you've ever met someone with the same name as you, or bar one letter? I have, but only this one time, and it was a funny experience. I'd had a few years to get used to seeing Coldplay's bass player Guy Berryman's name whenever I read about the band, but he had no idea about me. When we met for the first time and I introduced myself, he was totally gobsmacked. The band loved it and Chris Martin insisted on getting both of us to re-introduce ourselves over and over again. It was a good laugh and a great icebreaker.
Once things calmed down, we got talking about the band and their music. They had just completed the X&Y album and I was curious about the studio recording process—at what point do you stop and say the record is done? To quote George Lucas, "A movie is never finished, only abandoned".
Coldplay agreed, and said if you keep on tinkering in the studio you'll never release the music. They acknowledged an album is a snapshot of a band's life, so the recording process must not drag on; and a band is only as good as their last album, so you must keep moving forward. All four members remarked that suddenly there's a moment in the studio when they are desperate to go out and play the songs live, and this is the moment when the recording is done.
Do they think about the audience while recording? Martin compared creating an album to building a house. With all the members inside looking out, it feels and looks good, but they have no idea how other people see it.
Well, millions around the world have liked what they have seen (or listened to) because Coldplay, now one of the most successful bands on the planet, have mastered the business of music. In doing so, they've followed in the footsteps of The Rolling Stones and U2, who became brands in their own right. But were they always ambitious and in possession of a master plan?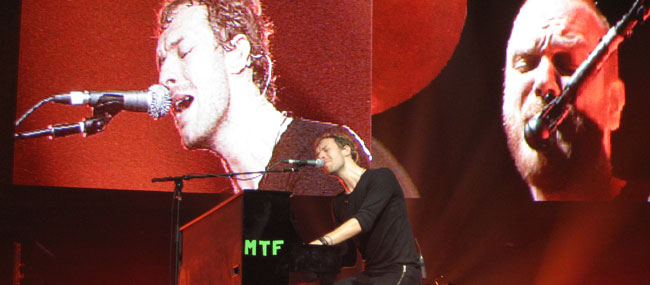 Buckland and Martin, when they first met in 1996 at University College London, thought just getting a record deal was the "promised land"—they had no idea one day they would play a stadium in Japan. Fast forward to 2017, and their upcoming stop at Tokyo Dome will have followed massive gigs around the world. In 2016, these included career highlights for the band, such as headlining Glastonbury Festival and performing at the halftime show of the American Super Bowl.
When I first interviewed Coldplay, we talked about the melancholy feeling in their songs, which always build to a euphoric high. Interestingly, they talked about the difficulties of being in a band and the power of group dynamics. If they are too polite to each other, the music ends up sounding soulless—just like a bunch of session musicians going about their business. But when they go through incredible downs, uncomfortable silences, argue over tense dinners and then jam, the sound becomes harder, more real emotionally and ends on a high. They said that no matter what happens between the four of them, they always "kiss and make up" and find an "up to end on".
Today, Coldplay spend much less time together, as family commitments and living in different countries affect the way they interact and create. With no line-up change in their 21-year run, Buckland said the secret to that success is appreciating each other. All four bring something to the group the others can't so, together, they are better than they would be individually. He said, laughing, that he respects the others and hopes they respect him. But I noticed a little seriousness, or even a hint of uncertainty, in that comment. And maybe therein lies the key to Coldplay's success—a need to be liked and respected. And a need to stay together.
Experience, maturity and challenges bring changes to your perception of life, and Buckland said now more than ever what he enjoys most about his role in Coldplay is performing live, where he can lose himself and just play. And when asked about the power of music in difficult times, he said, "A good song can always make you feel a bit better—even if it's only for five minutes".