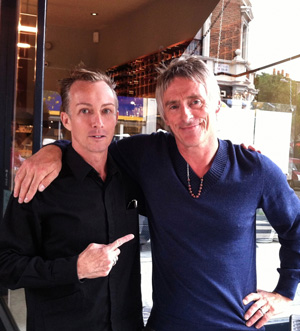 Since 1977, Paul Weller has been writing socially and politically aware lyrics accompanied by a whole range of musical styles, and while doing so has always been exquisitely dressed. Now, almost 40 years to the day that his three-piece band, The Jam, exploded onto the British music scene, he has released his 13th solo album—A Kind Revolution. He is still the sharply dressed revolutionary.
I've interviewed Weller three times. In the backstage sweat of Summer Sonic Tokyo in 2008, on the terrace of a Maida Vale café in London in 2012 and at a Tokyo hotel in 2015.
Before I first interviewed him, I was a little apprehensive. Would he be difficult, disinterested? No, he was surprisingly disarming and very easy to talk with, his answers short and to the point, just the same as his rapid-fire songs.
Weller's lyrics, frequently from a working-class perspective, make me wonder if he thinks music can change the world?
"Music changes individuals and individuals change the world", he said, adding a more personal anecdote. "Hearing the Beatles at eight or nine years old changed my world and opened up so many possibilities. It made me see beyond the little suburban town I came from and realise there's a big colourful world out there".
I mentioned that The Jam and Style Council's sometimes-angry lyrics, swimming in glorious melodies, still seem relevant today. He responded: "I don't think much has moved on from what makes me angry. In a rather depressing way, I don't know what's changed".
Discussing the enduring legacy of The Jam, he said, "I thought it was powerful at the time. You could see that at gigs and what [the band] meant to people. I didn't know it would last as long as it has. That's a brilliant testament to the music and the songs".
Regarding disbanding The Jam at the height of their success in 1982, he added, "I think the fact I stopped it when I did served us well really. We could've carried on for 30 years making records no one listens to, but we didn't, and I think it's left the music intact. And the idea of the band hasn't been compromised in any way".
London town
The Jam were always a London band and the city has always been an inspiration for Weller's song writing. While on my way to meet him at the Maida Vale café he chose for our interview, The Jam's songs were playing in my head. They are the perfect soundtrack to the metropolis in so many ways.
"London was a big inspiration for me, still is. It's got a real energy and so many interesting sides to it. So much history next door to modern architecture. The contrast between rich and poor. It's fascinating".
There's nothing he loves more than walking around the West End on a summer evening, with a late sunset, taking a detour off Oxford Street "which is always heaving with people, and suddenly you're in Victorian London".
I haven't asked the clichéd questions "Is he Going Underground or does he ever go Down In The Tube Station at Midnight?" I'll save those for another conversation.
Happy together
Weller has collaborated with a wide range of artists, including singing with Noel Gallagher, writing for Olly Murs, producing for Stone Foundation and, more surprisingly, performing a duet with Boy George on a very chilled dub track on his new album.
"I'm very open minded with what I can do with music and working with different people. It's about music now, not about categorising or tribes. That's a cool thing".
And when asked about the difficulties of song writing?
"Try and take the good times, and when you've got the creative spirit run with it".
Not only a prolific songwriter, Weller is also a prolific father, seeing the birth of his eighth child this year. When I asked what makes him happy, it was not a music-related answer, it was about family—"The prospect of picking my kids up from school and spending the night with them makes me happy".
Now that I've interviewed Weller a few times, I see he's much gentler inside than his lyrics may suggest, and the title of his latest album supports that. Perhaps he's gone through a kinder revolution himself?
"Music adds to culture. It doesn't necessarily start a revolution, but is there to mirror what's going on, and to inform people", he said.
And when I asked if he could say just one thing to the world right now what would it be? "Stop killing each other".
Paul Weller continues to change the world one person, one song at a time. And of course always doing it all sharply dressed.