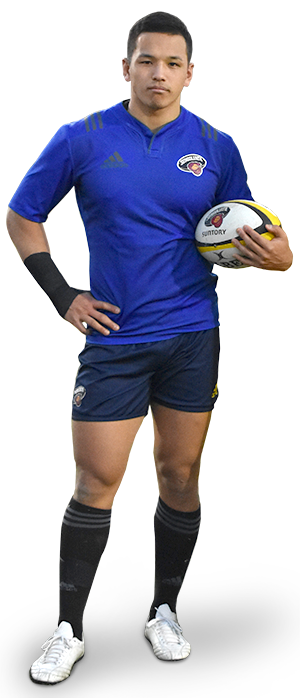 When the Rugby World Cup (RWC) 2019 kicks off in September, Osaka will play host to four matches and local-born superstar Yusuke "Kaji" Kajimura will get a chance to thrill the home crowd.
The 180cm 23-year-old graduated from Meiji University just last year, yet is already making his mark in Japan's Top League as a centre with the Suntory Sungoliath. Kajimura is also the youngest player chosen for the Japanese national team, the Brave Blossoms, and in November 2018 took part in an official training camp in the UK, where he played in the England–Japan test match.
To learn more about his dreams and recent high­lights of his burgeoning career, ACUMEN met up with Kajimura on the rugby pitch.
What most attracted your attention in London?
In the UK, players—and people in general—have much more freedom to express their opinions in public. This is one thing that made an impression on me.
While I was on the bus going to the England vs Japan test match, I saw how people on the street cheered for us. And on the last day, we all went out for beers at a pub near Cheltenham, and there I also saw a love of rugby. This, I thought, is the biggest difference between the UK and Japan. People in the UK are more interested in rugby and value it greatly. In any pub, people are waiting to watch a match, and even before the match they are already enjoying drinks together. When I saw how people value the game—as not only a sport but also part of their culture—I was amazed and felt respect for their way of thinking.
Which British player do you respect most?
Without a doubt it's England's number 10, Owen Farrell. What a player! When we played against them in November, as soon as he joined the match he made a difference. At that moment, I fully understood what it means to say that a player changes the flow of a game. He is a real game-changer.
It was the first time I had joined the official training camp and test match, so everything was new for me. When I lived in New Zealand, on a university study-abroad programme for rugby, I had the chance to see real world-class rugby matches. In the future, of course I'd like to play for a Super Rugby team and, if possible, I'd like to play for a British club. There are many Japanese playing for clubs in New Zealand and Australia, but not many in the UK. I'm sure it would be a big wall to break down, but I would definitely like to try.
What do you like most about rugby?
My kindergarten had a rugby club and it was there that I started playing, together with my little brother. Since it was for kindergarten children, there wasn't much contact. In rugby, you cannot tackle a player unless they have the ball. But I loved chasing the ball and scoring a try. That is one of the most interesting parts of both playing and watching rugby—players chasing one ball together, no matter what team they belong to. I also loved the feeling of winning.
What are your most memorable moments?
One is when I first played in the Top League. It was 1 September, 2018, and was my debut match as a pro. I remember very well how the match ended dramatically—a 27–25 win over the Toyota Verblitz.
I decided to become a pro when I was in my final year of high school and was selected to the U-19 Japan national team. That was the first time I took the field for the country, and it gave me the confidence I needed to go pro.
What drives you?
Ever since university, before a match, I always listen to the same song: "World in Union" by British singer Paloma Faith. It was the official theme of the 2015 Rugby World Cup in England. When I listen to this song, I can pull myself together. As a player, I always try to perform at my highest level for as long as possible. I know that one of my weak points is not being able to stay at that level in a long match. So, I need to show more consistency, that I can sustain a high level of play.
To perform more productively, I try to mix things up when I have free time. Since becoming a professional player, I don't go out much and I spend more time at the clubhouse for training. But, recently, I have been trying to go out more. For example, I will go shopping in town or go to the cinema. I try to separate my private time from my work. When I communicate with the team, we hang out for dinner sometimes and occasionally organize events. Last month we had a rice-cake-making event together! I like whiskey, so we sometimes go out for drinks. I really appreciate the friendship of my teammates.
What is your motto?
When I was in high school, I had to choose one motto and write it in my notebook. At the time, I was watching other good high school rugby players on television and dreaming of becoming like them. I knew I wasn't yet good enough, so I looked for a motto to inspire me. I found a Chinese poem that says: "A great horse runs a thousand miles in a day. But even an ordinary horse, if he runs for 10 days, will catch up with the great horse". It means that even an ordinary man will achieve greatness if he consistently tries hard. It is not a well-known poem, but I remember it whenever I feel negative or down and it spurs me to rise to the challenge.
There is also a proverb that made an impression on me. It was taught to me by my junior high school rugby coach. "You may feel uncomfortable. You may want to say that you are dissatisfied. You may get angry. You may want to cry. It is the ascetic practice of a man to bear these still". This was first spoken by Isoroku Yamamoto, who served as a marshal admiral of the Imperial Navy and was commander-in-chief of the Japanese Combined Fleet during World War II. These words have supported me through challenging times.
Any message for our readers?
I was born in Minoh City, in Osaka. It's my mother's hometown. Osaka is well known historically as a big rugby town. The sacred place for Japanese high school rugby is located in the Hanazono area, so I feel deeply attached to the city. Osaka is one of the greatest cities to visit in Japan, and I recommend visiting Tsuruhashi—the Korea Town—for good food and Tenma for great pubs and drinks.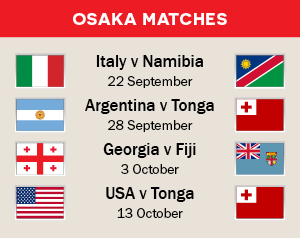 The Rugby World Cup will be held in Japan in September, and I hope everyone comes to watch the matches and visit our country for food, culture and sightseeing. When you see me playing on the Japanese national team, please call me Kaji and cheer me up in the stadium!

---
If you're interested in learning more about sports events around the country, make sure to visit Japan Sports Journey.