They often say about London buses that you wait for ages for one, then they all come at once. It's a bit like that with ministerial visits nowadays, as the parliamentary arithmetic means that they can only travel when Parliament is in recess. So, we had a very busy September of VIP visits.
The highlight was Jeremy Hunt, our new foreign secretary. He wowed the media here and at home by being the first British foreign secretary to give a speech in Japanese.
I have known him for some years because of our mutual love of Japan: he lived in Kyoto, Nagasaki and Tokyo in the early 90s, learning the language. I have hosted some of his homestay families for tea at my residence and the affection that he holds for this country was clear. From his Strategic Dialogue session with Foreign Minister Taro Kono, and the fact that Prime Minister Shinzo Abe made time in his busy electioneering schedule to meet him, it is clear that our bilateral relationship is in very good hands.
UK Foreign & Commonwealth Office (FCO) Permanent Secretary Sir Simon MacDonald came separately for talks with his opposite number and met foreign policy experts. He gave a lecture to a packed audience of young Japanese diplomats. Meanwhile, I took him for his first experience of sumo. As he watched the giant wrestlers grappling with each other, I think he saw some parallels with diplomacy.
Foreign policy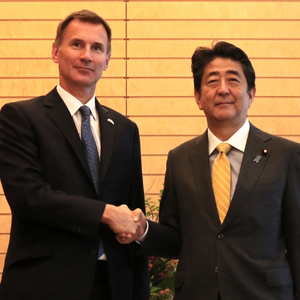 At the beginning of October, our ambassadors from Beijing and Seoul, and the FCO's Asia director joined me in Tokyo for discussions on the UK's foreign policy in Asia.
We also had a visit by Earl Howe, minister of state for defence, who met his Japanese ministerial counterpart, and some leading Diet members who follow defence and security issues. It has been a busy year in the bilateral defence relationship, with two Royal Navy ships having visited already and HMS Argyll visiting later in the year, and a group from the British Army in October.
John Glenn, economic secretary to the Treasury, had a busy programme at the end of September, calling on two Japanese finance ministers, central bank Governor Kuroda, and the heads of many financial institutions.
He brought upbeat messages about the progress of Brexit negotiations. He also attended the FINSUM exhibition and promoted opportunities for UK–Japan cooperation in the fast-growing field of fintech, where British firms lead the world.
Automation delegation
And we had a delegation of MPs from the Business Select Committee in Tokyo and Kyushu on a study tour to look at the impact of automation on the workplace. They were interested to find that, while some in the UK fear that innovations such as AI, robots, IoT and big data will destroy jobs, here in Japan with its rapidly shrinking population, these new technologies are seen as a solution.
I had a fascinating trip to Kashiwasaki-Kariwa in Niigata Prefecture, the largest nuclear power station in the world. We went inside the two advanced boiling water reactors of the type that Hitachi is hoping to deploy in Wales. I called on recently elected Governor of Niigata Prefecture Hideyo Hanazumi, who talked about public attitudes in Japan regarding nuclear power, which had been a significant issue in his election campaign.
I was also down in Osaka, visiting some British and Japanese firms, and having dinner with the Kansai Economic Federation Chairman Masayoshi Matsumoto. I met with members of the Kansai Cambridge and Oxford Society, some of whom told me they first came to Osaka as English teachers in the run-up to the 1970 Expo. I also called on Cardinal Maeda who, earlier this year, had been elevated from archbishop by Pope Francis—who may visit Japan in 2019. Some damage from the earth­quake and typhoon earlier this summer was still visible around the city.
Rugby-related activities
I hosted an event with Sports Travel & Hospitality (STH) at my residence to mark one year until the Rugby World Cup 2019, with former Wallabies captain Michael Lynagh. We also launched a new travel advice webpage with lots of useful information for the 40,000 or so British fans we expect to visit Japan for the event. I hope you enjoy the Twitter video we used to launch it on @PaulMaddenUK.
Alongside the main tournament there are going to be a number of other rugby-related activities: Paul Farrelly MP popped in to tell me about a parliamentarians rugby tournament; and I also heard about plans to stage some exhibition matches for the relatively new sport of blind rugby, for visually impaired players.
Anyone for… music?
It was also a tennis month. Jaguar's brand ambassador, tennis star Kei Nishikori was the main guest at the launch on the Japanese market of the I-PACE, Jaguar's first fully electric sports
utility vehicle. Jaguar CEO Magnus Hansson invited me to take part in the event. I previously had a chance to test drive this beautiful car at the embassy. We also managed to get to the Toray Pan Pacific Tennis tournament and catch Japan's new tennis sensation Naomi Osaka making it into the finals.
It was a privilege to host a reception and recital to welcome the London Symphony Orchestra (LSO) back to Tokyo, together with their new Musical Director Sir Simon Rattle. You may remember him conducting the LSO during the opening ceremony of the London 2012 Olympic and Paralympic Games. In my speech, I couldn't help expressing regret that Mr Bean wasn't joining them on this occasion.