Despite quirks, UK fashion exporters love Japan market
The Japanese fashion market has challenges and quirks, but it is one place in which British firms taking part in the recent UK Trade & Investment mission here most definitely want to be.
"Japan is my favourite market; they appreciate quality and are very straightforward and trustworthy in business", said Jonathan Morss, founder of Mors Footwear. "I'd like to increase my business in Japan more than anywhere.
"Japanese customers appreciate quality and are very fashion aware", he added. "They can recognise the difference in materials, design and manufacturing and don't just buy in response to clever marketing techniques".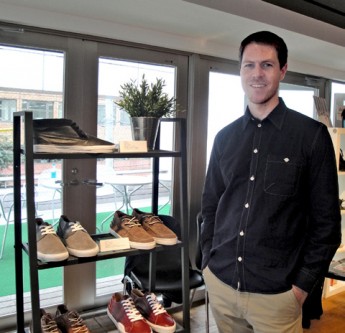 Morss—who has sold to International Gallery Beams for three seasons, and taken orders from Edition and American Rag Cie for delivery in December—was also impressed by the industry as a whole.
"The stores and the brands are fantastic, with much more interesting offerings than in Europe", he said. "The fashion industry seems very strong, with many of the retailers having excellent own-brand collections and more Japanese brands leading fashion.
"The store buyers also pick up on quality European brands quicker than European buyers".
Morss set up his firm in 2009 and is based just outside London. Previously a footwear designer for firms such as adidas, Nike and Levi's, his designs have quickly become modern classics, including the Set tennis shoe and the Hoop-Hi Top sneaker.
"I am looking for an agent or distributor that can sell to smaller stores and those outside Tokyo", said Morss. "It is great selling direct to select stores such as Beams, but I would like to increase my business beyond Tokyo".
No fewer than 17 UK-based firms took part in the mission, ranging from those producing men's and women's wear to children's lines, jewellery, bags and accessories. But demand for a spot on the trip was far greater, according to Barbara Wilson, the London-based fashion sector specialist for UKTI.
"We had over 40 applications this year, but we are limited in the number that we can take because of the space available for the showcase", she told BCCJ ACUMEN. "We also like to give a lot of attention to the companies, and if we take too many that is not possible".
The aim of the Fashion Mission—which has been organised in different formats for more than 20 years by the British Embassy Tokyo, the British Consulate-General in Osaka and the government fashion team in London—is not necessarily to achieve immediate sales, although that is always welcome, Wilson said. Of more importance is helping firms to study the market and achieve long-term success here.
"The most useful part of the exercise is to understand this very complicated market, with its high demands and unusual distribution structure", she said.
"They love the Japanese retail scene and the people, but are confused by the distribution networks and ways of doing business, such as the small sample orders", she said. "It is also hard to understand that, if your business does not work out with one partner, it is very difficult to terminate the contract and find a new agent.
"Japanese fashion is so much larger and more complex than other markets".
"Therefore, choosing the right partner initially is of the utmost importance". Adam Atkinson, founder of Cherchbi, was on his second UKTI trip to Tokyo, buoyed by the success of his previous visit.
"That first mission was such a success", said Atkinson, whose firm was established in 2007 in Cumbria, home to the Herdwick sheep from which the company makes its tweed. This year, the growing firm has moved its headquarters to London to be closer to buyers, international visitors and the press.
"In addition to establishing business with United Arrows and Everly, we attracted some press interest and secured a good relationship with Sam Sugure, of Office SAM, who has excellent experience in growing British brands in Japan", Atkinson said.
"Japanese fashion is so much larger and more complex than other markets", Atkinson explained. "The fashion industry and Japanese consumers are very knowledgeable and serious in their approach to all aspects of fashion.
"I am very new to the Japanese market, but already have a huge respect for it and an eagerness to learn more".
Atkinson accepts, however, that building a firm's reputation and the contacts he needs to be successful in this market will take time—"decades, rather than years," he said, but he knows that solid foundations are required.