Freedom, adventure, authenticity and passion drive up sales 70%

The Jeep has traditionally been driven by those who think a little differently compared to the person behind the wheel of a sedan or a hatchback. Previously, this sturdy and reliable vehicle has been synonymous with people who wanted to get off the beaten track and explore new places. The philosophy was to take the road less travelled.
Those roads can be difficult to find in Japan, which is far better known for elevated motorways and traffic-cluttered back streets. But the vehicle that emerged from the toughest possible proving ground —war-torn Europe of the 1940s—has a spirit that can also be seen in its owners.
"This year is the 70th anniversary of the arrival of the Jeep and, right now, we can see a lot of people adopting the lifestyle that is associated with the brand", said Alessandro Saita, general manager of the marketing department for Chrysler Japan Co., Ltd., which owns the Jeep name.
"That lifestyle has always been the rugged, outdoor existence, but there is also an evolving spirit of freedom here in Japan", he said. "You can see it in a new entrepreneurial spirit, the sense that more people are doing things by themselves and for themselves, whether that be in business or their everyday lives.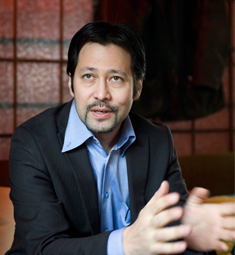 "It's a sense of being authentic and staying true to your own tastes and beliefs, and that is something that we at Jeep share very deeply", he said.
That trend towards individuality and apparent desire to escape the humdrum is manifesting itself around the world, with global sales for Jeep up 41% last year: shipments in mainland Europe having risen 44% and sales in Japan having rocketed 70%.
"We really are seeing a lot of new interest in the brand, among people who may not have been able to express themselves before", he said. "There is a switch happening in this market and a real desire for a freedom of spirit—to take a different route—and that is why, we believe, people are so receptive to Jeep today".
The firm has recently launched its Jeepstyle magazine that promotes its vehicles, but also sets them in the context of like-minded people, organisations and firms here. Saita sends out a team every week to find one-off venues that fit with what the firm is trying to achieve.
One such place is Kinfolk, an out-of-the-way bar in the back streets of Daikanyama, where Facebook founder Mark Zuckerberg, goes when in Tokyo on business. An unpretentious establishment in a converted upstairs apartment, it has black-and-white photos on the wall, the original wood panelling, and sofas and easy chairs that do not match.
And that is exactly the sort of off-beat relationship that Saita is trying to build up. Jeep has had no fewer than five major launches in the first three months of the year, with updated versions of some of its most well-known vehicles complemented by completely new models and an array of limited-edition releases.
As well as the completely updated Wrangler—which is being launched in the three eye-catching colours of orange crush, dozer yellow and gecko green—the Grand Cherokee has undergone a major overhaul for its newest editions, with the inclusion of more trim options and two additional powertrains.
Available at three levels—entry, limited edition and the 5.7-litre engine Overland version—the price tag has been brought down to ¥3.98mn to attract domestic buyers who might otherwise spend more on a "top-end German import", Saita said. The tactic has been effective, as demand currently outstrips supply.
The product has been such a hit in the US that it has won more than 30 awards from an array of organisations, making it the most decorated SUV ever.
Chrysler is also releasing its sporty SRT8 model, which is positioned to rival the Porsche Cayenne, while the Jeep Patriot hit roads in Japan on 11 February—the holiday that marks the founding of the nation.
"This version is more square and closer to the roots of Jeep", Saita said. "For us, this is the first time we have entered Japan with a four-by-two, which is really a requirement in the smaller SUV segment. It's for people who do not need the four-by-four functions, but still want the look, the feel and the lifestyle".
The 2-litre engine has good fuel consumption figures and, for the first time in 15 years, the price point is below ¥2.6mn.
On 3 March, the firm launched the Jeep Compass—which Saita describes as being "a whole different animal"
Another four-by-two with a 2-litre engine, the Compass has been strongly positioned as an urban vehicle with a modern feel and is part of a shift in some sectors of Jeep's appeal to the city driver over the outback explorer.
Limited edition releases include the Arctic Edition of the Wrangler Unlimited, inspired by the hunt for the legendary yeti. It comes in winter chill bodywork over a black chassis and wheel details, but with a number of fun details, such as a yeti footprint on the bonnet and the seats.
A further 60 limited edition versions of the Call of Duty Wrangler, which appears in the latest version of the hugely popular computer game "Modern Warfare 3", have been ordered for the Japanese market.
"We have four core values that we want to share with our customers", Saita explained. "Freedom, adventure, authenticity and passion. We try to build on those values and our message is that a Jeep driver should live his life to the fullest and be true to his own values".