York craftsman creates custom-made instruments in Osaka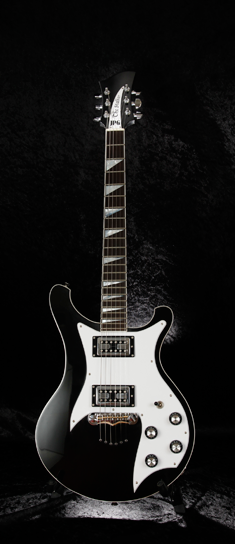 • Custom and standard designs on sale
• 65% of revenue from sales of parts
• Established shop in five months
• 30 hours' work goes into each guitar
Josh Parkin Guitars (JPG) is a good example of what you can do if you have a honed skill—and the wherewithal to get on an aeroplane, leave your native country, and set up a small, but highly specialised business in a distant land.
The Josh Parkin shop and workshop are situated a few minutes from Umeda, Osaka's teeming business district. The operation is run by 25-year-old Josh Parkin, who is originally from York.
After gaining a degree in musical instrument technology, he crafted guitars as a freelancer in London's Denmark Street—the epicentre of the city's guitar world.
"I worked at different places, but I made the decision not to start a retail guitar business in London. The economy had collapsed, and I would have been in direct competition with my friends", Parkin said.
So he left London. "I came here in 2009. I had travelled in Asia, but I knew that I would not make any money [in continental Asia]. Japan is very Westernised and it has a good guitar market", he said.
He taught English for just under two years to earn money and to see the lay of the land. After searching for suitable retail space and finding it, JPG was in business. "It was five months from quitting teaching to opening the business", he said.
Today, there are two JPG guitar lines: the F-line, and the more expensive custom models that are made to order. The F-lines are semi-made in the US, then brought to Japan and assembled at the shop.
"They are imported from Washington State. We then build them up with high-quality boutique parts; they sell for between ¥170,000 and ¥220,000", he said. The F-lines, as well as some custom models, are displayed near the shop entrance, to allow customers to try out the goods.
Substantial capital investment was necessary before the guitars could be made. Parkin spent ¥200,000 on a used surface planer and another ¥350,000 on a thickness planer. "But they will last me for as long as I have the shop, with a bit of maintenance", he said.
An array of hand tools and other machinery, as well as a paint shop had to be bought. Blocks of wood are run over the surface planer first. "Once this is done, they go through the thickness planer, where the flat surface you have just planed sits down on a steel bed. You use it to take the wood down to the right thickness", he said.
These are the rudiments, before the extras are added. And, to a guitar layman, there are more parts than expected. Parkin spoke of the pick guards—the plastic shields that protect the surface from the plectrum used by players—that are fashioned in his workshop, where they are cut from large plastic sheets.
He imports a lot of high-end pickups, the electronic devices that pick up the vibration from the strings. Parkin imports British-made Bare Knuckle Pickups that are used by such guitarists as the Stone Roses' John Squire, and ex-Smiths' guitarist Johnny Marr.
Japanese customers, Parkin said, are willing to pay for quality. "The average guitar player in Japan will spend a lot more money on his equipment than he would back in the UK. Everyone here wants something really nice, even if they don't play that much", he said.
A typical JPG guitar takes two months to make, but that, of course, is not time devoted to a specific instrument. There are other daily jobs to take care of; in total, from start to finish, Parkin can expect to work around 30 hours on any one guitar.
The custom-made JPG guitars cost from ¥250,000 to ¥500,000 but, he pointed out, the upper price rises when people request exotica, such as special types of wood. This year, he expects to make 10 (20 would be ideal) custom guitars, and between 15 and 20 stock models.
In addition, the firm undertakes repairs and modifications. To demonstrate, Parkin clutched an absurd-looking object: a guitar with a portion sliced off and a banjo stuck beside it. A customer had asked for the two instruments to be joined together, as a sort of hybrid string instrument.
The firm also makes effects pedals and sells parts and accessories. Some 65% of turnover is generated by parts sales: vital revenue, bearing in mind the time needed to make the guitars. "This keeps the money flowing", he said.
For a small, cottage industry like this, the focus has to be on quality. There are no lengthy production lines, no anonymous manufacturing personnel. Each one of Parkin's guitars carries the JPG logo and he alone is accountable. "It is my name at stake if the quality is not good", he said.
Josh Parkin Guitars: Turnover and Guitar Types
Some 65% of JPG's turnover is generated through the sale of parts, while 20% is earned through guitar sales, and the remainder from repairs and modifications.
As time goes on, it is hoped more orders will be received and guitar-making will account for a larger proportion of business, he said. He currently employs two staff.
Guitars are divided into two main categories: bass and lead guitar. The latter is known simply as the guitar.
In addition, there are different instrument configurations. "There is the through neck; then the set neck, for example the Gibson; and the Fender, which is made using the bolt-on style.
"The centre of gravity is important; it has to be in the right place. Weight is also an issue. We can make a lighter guitar for players with back problems, but that means less tonal quality", he said.