I guess we're all in rugby fever right now. Since the impressive opening ceremony—with lots of British School in Tokyo students singing in the choir, which many British Chamber of Commerce in Japan (BCCJ) members watched on a big screen at my Residence—the country has been gripped. As I have travelled round the country visiting various host cities, I have been really impressed by the Japanese omotenashi welcome and the way ordinary Japanese people have taken the Rugby World Cup to their hearts, dressing up in the colours of the various teams and joining in the chants. At one point, I found myself on the tube next to a lady who appeared to be Googling the words to "Swing Low, Sweet Chariot" so she could join in. The nice thing about rugby is the way fans of the different teams mix so harmoniously, chatting happily away in the pubs and Fanzones.
Of course, it's great fun for the Embassy, getting the chance to watch some of the games and meet some of the sporting heroes. For me, it was a particular thrill to spend time with the legendary Sir Bill Beaumont, president of World Rugby, former England captain and, for my generation, genial team captain on the long-running TV quiz show A Question of Sport. Going down to the England changing room after their opening match against Tonga, to chat with Eddie and the team, was also a rare treat.
But there's also a lot of hard work for our various Embassy teams. In particular, the Consular team has been busy producing advance travel advice—including on Japanese customs and etiquette—on our social media and deploying to each city where our teams are playing (nine of the 12 host cities). They made me do a short video, catching a rugby ball in the middle of a very busy Shibuya scramble crossing, whilst talking to camera. The end product looked great: but I won't tell you how many takes it took.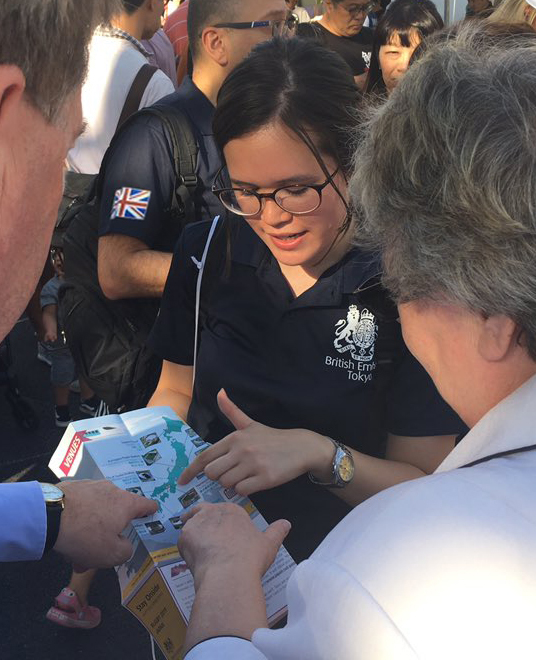 Consular staff visit Fanzones and stadia in recognisable British Embassy T-shirts and stand ready to assist any British visitors who get into difficulties. As I write this, we have not seen any significant problems so far, but a typhoon on the opening weekend threatened to wreak havoc on flights from Sapporo. Those of us who live here are used to that sort of thing, but for the first-time visitor to Japan it can be a disconcerting experience, so we make sure our travel advice is regularly updated.
Our trade team has been mounting pop-up Food is GREAT Galleries to show­case food and drink from England, Scotland, Wales and Northern Ireland. I dropped into the one in Sapporo and was impressed to see that it was focused on some newer products that Japanese consumers might be less used to, including English sparkling wines and craft gins from all round the UK.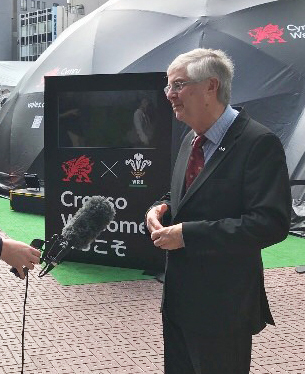 VIPs here for the rugby
We are also supporting lots of VIP visitors who are in Japan around the rugby and using these visits to promote the various nations of the UK and our union. I hosted a dinner with Japanese firms who invest in and trade with Scotland, attended by several members of the team, and will be hosting Fiona Hyslop, Scottish Cabinet Secretary for Culture, Tourism and External Affairs.
I also hosted a big reception for the First Minister of Wales, Mark Drakeford (right), whom I accompanied to the Wales–Australia match. Princess Anne, The Princess Royal, is visiting as patron of Scottish Rugby, and will undertake events with a number of organisations that she is associated with. Foreign & Commonwealth Office Minister for Asia and the Pacific Heather Wheeler MP (below, second left) was in Japan for talks with her opposite numbers, and enjoyed meeting English supporters in a Fanzone before attending the England–Argentina match.
Around the official tournament there have been many other rugby-related events. There was a parliamentary rugby competition, in which the team from Westminster (including, by chance, the MP for the constituency of Rugby) took part. The British Armed Forces team were runners up in the military rugby tournament, and Britain competed in an exciting wheelchair rugby tournament.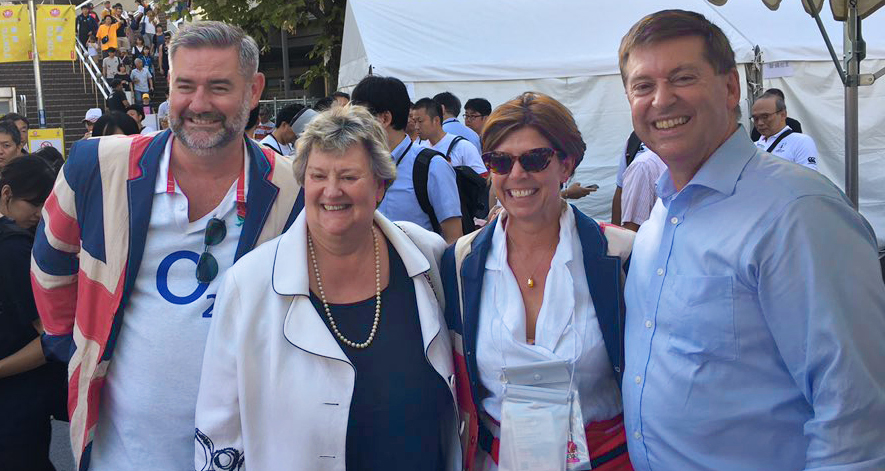 Away from the rugby …
October enthronement
HRH the Prince of Wales visits Japan on 22–23 October to attend the enthrone­ment of the new Japanese Emperor. I well remember when he came here 30 years ago for the enthronement of the previous emperor, when I was serving at the Embassy on my first posting. The links between the Royal and Imperial Families are very close, and a valuable pillar of the two countries' relationship. We are most fortunate in having a Japanese Emperor and Empress who not only studied at Oxford, but who feel such affection towards Britain.
Sparkling launch for UK in JAPAN 2019–20
We launched our year of UK in JAPAN 2019–20 in September, with a specta­cular showcase of British food and drink presented by the renowned British creative team Bompas and Parr. Linked to a weather theme, it included a huge "whisky cloud" in the garden, a gin "tornado" and sparkling wine bubbles. We had our first GREAT week on the Future of Financial Services, including events on Green Finance, Women in Finance and Fintech. The cultural season is now well underway, too. We went to see the Royal Opera House's Otello, and the BBC Scottish Orchestra will be here this month staging the first Proms series in Japan.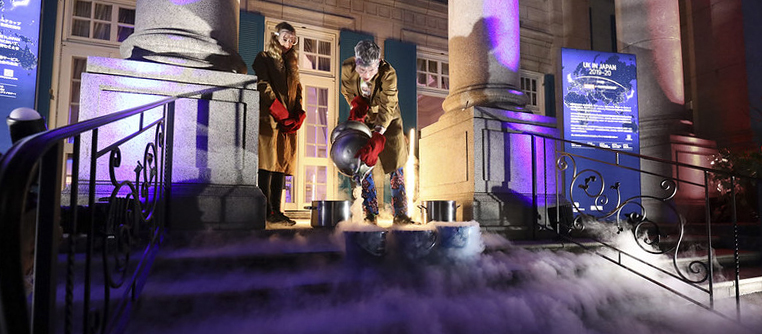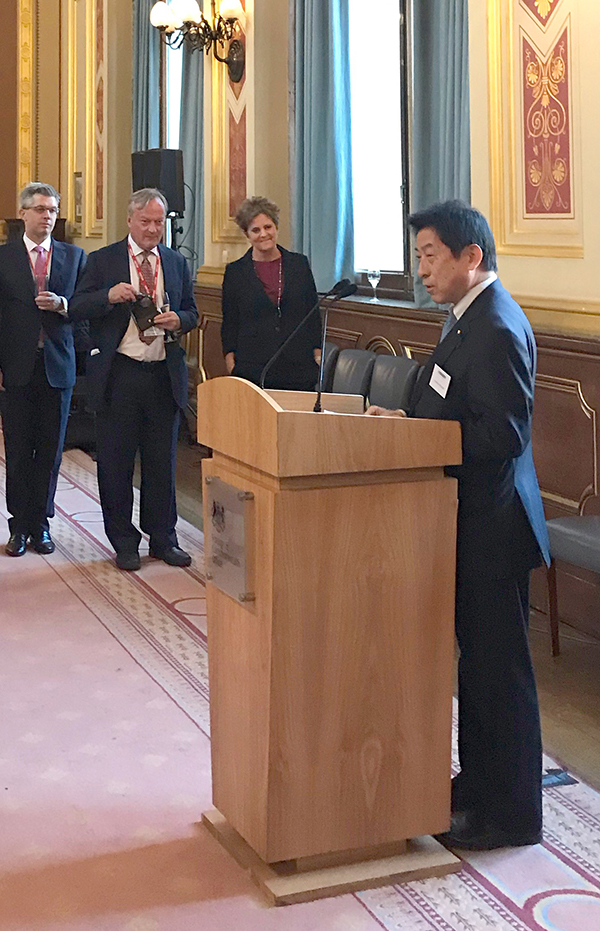 At the beginning of September, I was very briefly back in the UK for the annual UK–Japan 21st Century Group meeting, which brings together politicians, businesspeople and academics from both countries, led by former Cabinet ministers Lord Lansley and Yasuhisa Shiozaki. This year's conference took place in the beautiful city of Canterbury and, in addition to some excellent discussions, there was a memorable dinner in the ancient cathedral close. Whilst in London, I addressed a reception at Parliament hosted by the All Party Parliamentary Group on Japan, in honour of the Rugby World Cup.