Even before the curtains came down on the Rio de Janeiro 2016 Olympic and Paralympic Games, the British Olympic Association had laid the groundwork for Tokyo 2020. And Dr Paul Ford, sport engagement manager for Team GB, believes that preparatory work has put the athletes in a strong position to build on "the biggest achievement in British sporting history".
"We won 67 medals in Rio, and it was the first time in Olympic history that a nation had won more medals in a Games after hosting an Olympics", said Ford. "And it is possible—although maybe not probable—that we can do better again in Tokyo.
"We have a lot of very talented athletes coming through and we're building on a strong base", he said. "And what we did in Rio was amazing, so we're here to give these guys every possible chance of replicating that".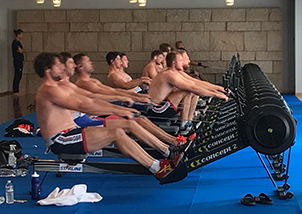 Getting ready
Ford was paying his ninth visit to Japan in mid-October, accompanying 45 members of the British rowing team and six archers on a five-day acclimatisation trip. For most of the athletes, it was their first visit to Japan. Ford said the trip was a critically important part of their preparation for the Games—both mentally and physically.
"All of us need to walk what is effectively going to be the shop floor", he told BCCJ ACUMEN in an interview at Keio University's Hiyoshi Campus in west Tokyo, which will serve as Team GB's ground zero.
"We need to know what it is like to come to Tokyo and where Team GB will be preparing immediately before the Games.
"Next, we need to do some physical training. We have to learn to be flexible in dealing with different time zones, and we're seeing just how important the first few days after the athletes arrive are. Plus, we need to assess the quality of the training environment.
"We will also be touring the venues—including the Minato Mirai district in Yokohama where Team GB will be based and the Olympic Village [in Harumi, Chuo Ward]—so that it's not daunting and completely new when the team arrives for the Games and they all get a good 'soft' arrival into Japan".
The final component of the mission is to build cultural awareness among the team. "We want to be the best guests that we can be" and build a rapport with the Japanese people so that, when they're not shouting for their own athletes, they are backing British competitors, Ford said. To help achieve that, the rowers and archers were taking part in a number of events at schools around the city—including some of the winners from the Rio Games showing off their medals.
Rowing team members also took part in the first of a planned series of seminars at Keio University. They addressed performance management in the sporting arena.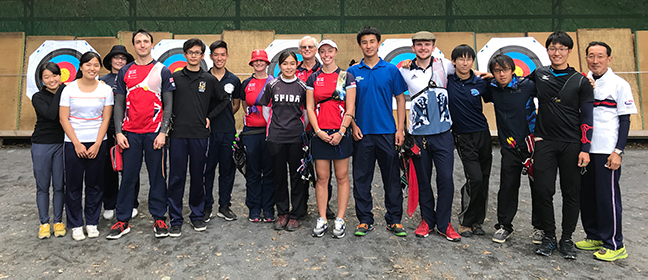 Prime location
The Team GB advance party first came to Tokyo in search of high-quality training bases in March 2015, just 18 months after the International Olympic Committee announced that the Japanese capital would be hosting the XXXII Olympiad. Very quickly, they settled on Yokohama for a number of reasons, including its proximity to event venues in Tokyo, accommodation and Haneda Airport.
In late 2015, a memorandum of understanding was signed with Keio University—in large part because of the quality of its sporting facilities. Team GB is also involved in the construction of a state-of-the-art gym at the university that will be a legacy of its stay in Japan.
The men's and women's football teams, the rugby sevens and athletics competitors will be training at the nearby Kawasaki Todoroki Stadium—home of the Kawasaki Frontale football team—while the swimmers and divers will be using the facilities at the Yokohama Inter­national Swimming Pool. Both venues are a 15-minute drive from the Keio University Hiyoshi campus.
"It pays to be prepared, to be on the front foot in these situations", Ford said. "We did it in Rio, and we know that it contributed to our athletes' performances there; so now we have to look to Tokyo".
Pole position
There will, inevitably, be hurdles that the team and individual athletes will need to overcome, he said, including changing time zones and the notorious heat and humidity of the Japanese summer. But, the association is doing everything that it can to make the transition into Japan as smooth as possible.
"Everything we are doing is simply to mitigate the risk so that, when each athlete is at the start line, all they have to do is focus on what they need to do to win", he said. "If we have got it right in the environment that surrounds them, then that gives them the perfect platform to perform at their very best".