For four weeks this summer—from mid-July to mid-August—I worked at the Team GB Performance Lodge in Odaiba, as one of about 40 volunteers supporting British Olympic Association (BOA) staff and the athletes of the successful British Team during the Tokyo 2020 Olympic and Paralympic Games.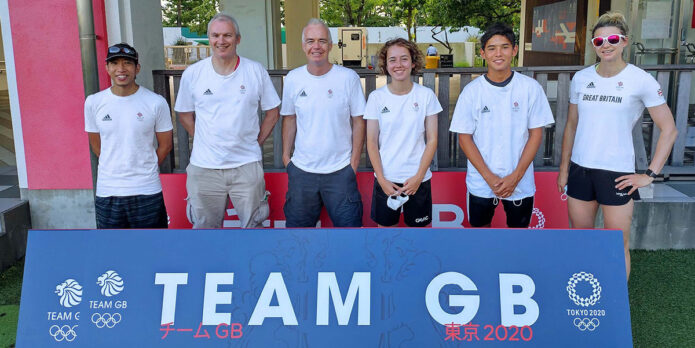 The Lodge was set up in Odaiba Gakuen School, Tokyo Bay, to provide a unique training and relaxation environment for British athletes away from the Olympic Village—a benefit that very few other national teams enjoyed.
Location and facilities
Pleasantly situated on the shores of Tokyo Bay, Odaiba Gakuen boasts an indoor swimming pool and a 300m outdoor running track, but during the first week of activity—immediately prior to the Opening Ceremony—it underwent a rapid transformation from a Japanese secondary school to a state-of-the-art sports facility.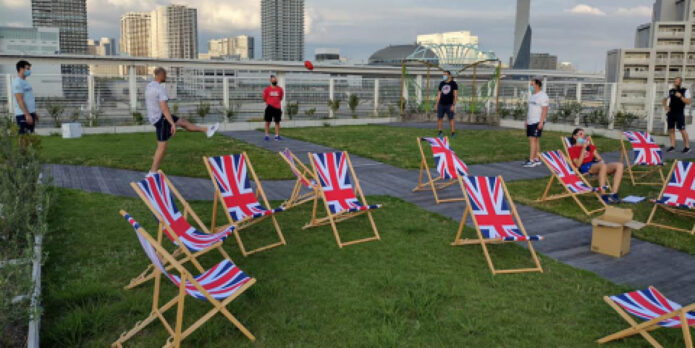 Heavy-duty mats, weight machines, exercise bikes, rowing machines, punching bags, a boxing ring, a power-lifting platform and other sports equipment arrived at the school gates. There they were duly set up and assembled, as the two empty school halls were rapidly converted into two state- of-the-art gymnasia—one for general fitness and weight training (the Performance Gym) and one for training in specific sports, such as judo, boxing, fencing and table-tennis (the Technical Gym).
With the arrival of yet more equipment, the upper floors of the school were converted into a medical centre, performance analysis rooms, administrative offices and relaxation spaces for athletes. The outdoor roof—with its sweeping views of Tokyo Bay, Rainbow Bridge and the nearby triathlon course—was used for media interviews.
The school canteen was stocked with supplies— much brought over from the UK—ready to swing into action delivering healthy meals to athletes and staff.
Athletes' arrival
As the Games kicked off, volunteer duties settled into a rhythm of day-to-day support activities, such as signing people in and out of the Lodge, booking taxis for senior staff, forming official cheering squads to congratulate new medallists and providing directions inside the facility.
With Covid-19 an ever-present concern, a significant aspect of our role was to keep the facility clean, safe and sanitised by regularly wiping down surfaces and door handles, and spraying the training area flooring. We were also required to take a PCR test prior to each work shift, since all athletes and staff from the UK were operating within a designated bubble.
Since the goal was to provide the athletes with a secure, hassle-free relaxation and training space, there was a clear understanding that volunteers should not cross the line into overtly fan-like behaviour. Photography and social media posts were discouraged, and selfies a definite no-no.
However, we did sometimes get to talk to the athletes in the course of our duties, and it was fine to exchange ordinary pleasantries with them. Hence, when Andy Murray took a wrong turn coming out of the gym, I was able to direct him towards the recreation area he was seeking, and enjoyed a brief but pleasant chat about the "auld country".
Task talk
One of my first tasks was to translate the school's extensive lighting panel into English so that the UK staff would know which lights they were operating. This was prompted by an incident on the first night of operations, when a neighbouring resident called the police after some outdoor floodlighting was accidentally turned on late at night.
Another challenging assignment involved interpreting between the BOA Chief Medical Officer Dr Niall Elliott and a visiting Japanese technician over the replacement of a defective machine leased to perform checks on athletes for coronavirus and other ailments. The assistance of an impressively bilingual young lady from the British School in Tokyo (BST) sixth-form greatly facilitated this process.
The PE department at BST coordinated the volunteer effort, with support from the British Chamber of Commerce in Japan (BCCJ). The wider British community in Tokyo was extremely well represented—with BST school staff, sixth-formers and parents, and BCCJ members comprising the bulk of the volunteer complement.
Rewarding work
Overall, the massive effort that went into the Lodge was judged to have been a significant success.
I appreciated the chance to learn new skills, the friendships formed, the delicious food in Olympian portions available to all in the canteen, and the opportunity to meet several present and past medallists, such as boxers Pat McCormack and Ben Whittaker, pole vault athlete Holly Bradshaw, tennis player Andy Murray, cyclist Bethany Schriever, triathlete Alistair Brownlee, skateboarder Sky Brown, and BMX racer Kye Whyte.
The safety-first ethos that informed the operation of the Team GB Performance Lodge was a significant factor in enabling our athletes to remain healthy and thrive, without any adverse effect on the wider Tokyo community.
On behalf of all my fellow volunteers, I would like to express our deep gratitude to the British Olympic Association and to Roisin Campbell of BST for providing such a memorable opportunity to play a small part in this successful chapter in British sporting history.