With a slight squeak of rubber on the surface of the court, Shingo Kunieda changes direction and stretches out his racket to meet the ball. In one fluid motion, it returns over the net and lands unerringly within the white lines.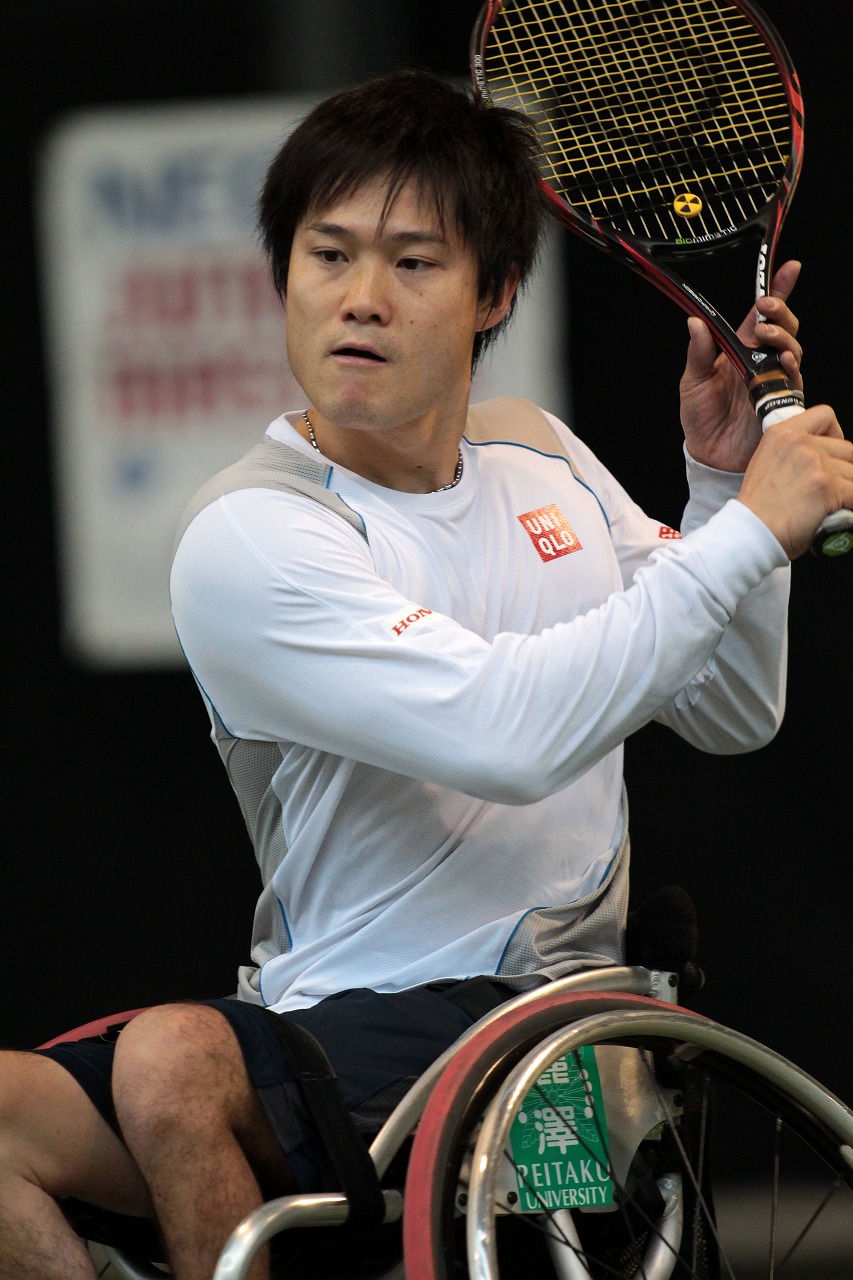 Kunieda, 27, is the top-ranked player in his sport in the world and has his eyes set firmly on winning the gold medal at the London 2012 Olympic and Paralympic Games in the summer. This is remarkable, given that he has not been able to walk since the age of nine.
"I contracted cancer in my spinal cord and had to undergo surgery", said Kunieda, the world top seed since winning the Australian Open in January 2007. "They were able to take the cancer out of the bone and I've been fine since then, but I lost the use of my legs. It took me six months to completely get over the surgery and I've been in a wheelchair ever since".
A baseball player before being taken ill, it was his mother who encouraged Kunieda to first pick up a tennis racket at the age of 11.
"I just wasn't all that interested before then; I didn't know the rules and thought it was a game for women", he admits.
Initially he found it tough manoeuvring his wheelchair and hitting the fast-moving ball. But, gradually, he got the hang of the game under the guidance of specialist coaches at Kashiwa City's Tennis Training Center—arguably the best facility of its kind in Japan.
Kunieda entered his first tournament at age 12 and lost in the first round, "but what I did get out of it was that tennis was fun for me", he said.
Kunieda does not believe that his fierce determination to succeed is a result of his illness—he says he was so young when he was diagnosed with cancer that he didn't really think about it too much—so he would have always had his single-minded drive to be the best. He does not like losing, he admits.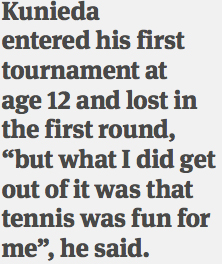 One year later, he made the semi-finals at his second tournament and, at the age of 15, took part in his first international tournaments: in the UK, where he won the British Junior Open in Nottingham, and in the Netherlands.
Kunieda turned professional in 2009 and is at present sponsored by Uniqlo Co., Ltd., Honda Motor Co., Ltd. and BNY Mellon, while Dunlop sponsors his rackets and Ox Engineering provide his wheelchair.
"My footwork is my biggest weapon", he said. "From the very beginning, I was very fast, even when I was very young. Coordination can be very hard and, for the first three months that I was playing, I was not able to push the wheelchair very well. But that came with practice".
Kunieda's chair has dents and scrapes, but he said he generally keeps one for up to four years.
"I don't like changing them because, each time, it takes a little while—a month or two—to get used to the new one", he explained. "I don't think of them as wheelchairs; they're my legs".
The wheels are angled at 22 degrees, for better rotation on the court, and the frame is made of aluminium, with each wheelchair costing about ¥300,000. His training regime involves three hours of tennis practice every day, along with an hour of fitness work and 6km in his wheelchair on a running track to build stamina.
Kunieda is gearing up to contest the Australian Open in Melbourne this month, with the tournaments for wheelchair players to be held in tandem with the four Grand Slam events, as in most years. Due to the Olympics, the US Open will not be held this year, so after Australia he has a series of matches in Florida, the World Cup in South Korea in May, Roland Garos in Paris in June, followed by Wimbledon and the British Open, with the Paralympics to top it all off.
It is such a hectic schedule that he has not yet been able to set a date for a honeymoon, following his wedding to Ai on 29 October. That has to wait until after London.
Kunieda took the gold medal at the 2004 Paralympics in Athens for both the doubles and the singles, and four years later in Beijing he took the bronze for the doubles.
"And this time, I plan to come back with two gold medals", he said.